22% of Australian parents surveyed by Canstar Blue told us they tend to buy the most expensive brands of baby products. But do they really? We take a look at some of the most amazing luxury baby gifts on the market.
All prices listed have been converted into AUD.
Crib: Fantasy Coach, starting from $48,000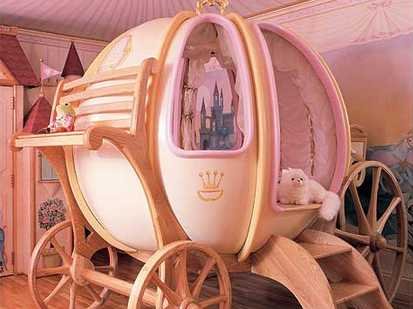 You won't want to put your baby in any ordinary crib when you see the Fantasy Coach. Handcrafted in the US to individual customer specifications, the coach is constructed from wood and fiberglass. The construction and delivery time is over 6 months, so you should order it the second you find out you're pregnant.
Bathtub: MagicBath Baby Hot Tub, $2,770
It must be hard work being a baby – eating, burping, learning new things all day… Italian creators Blubleu have designed a mini-whirlpool spa bath so your bub can wash their stress away with bubbles. Made from acrylic, it has LED lights with programmable colour displays. For the parent, the MagicBath has a digital display for testing the water temperature. Because of its ergonomic design to support a newborn, this model will only cater for your child up to 12 months old.
Give your child a giant toy taller than their father… Sounds like a great idea. This giraffe is nearly 2.5 metres tall and is handmade. Even the fabric used to make the giraffe's spots is custom-designed to match the patterns on real giraffe's bodies. Originally created for exclusive European collectors, Hansa toys are renowned for being finely-crafted. As your child grows, you can read the "Toys that Teach" tag on your giraffe to them to teach them about the giraffe's habitat and lifestyle.
It requires courier delivery because it's just that big.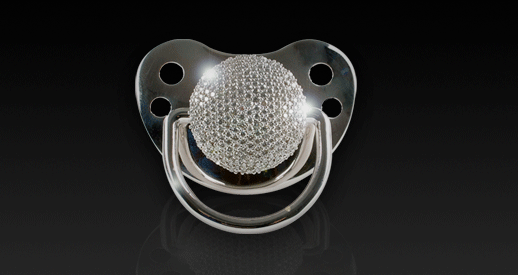 Will a sparkly dummy make your baby stop crying faster than a regular dummy? We're not sure and in fact, the manufacturer says that this item is only intended to be a keepsake and is not recommended for real life use.
Diamond Pacifiers feature over 278 pave-cut white diamonds totalling 3 carats, set in 14K European white gold. It has a genuine silicone nipple and a moving handle. You can customise your baby's dummy by adding extra coloured diamonds or by engraving it with their name, birthday or birth weight.