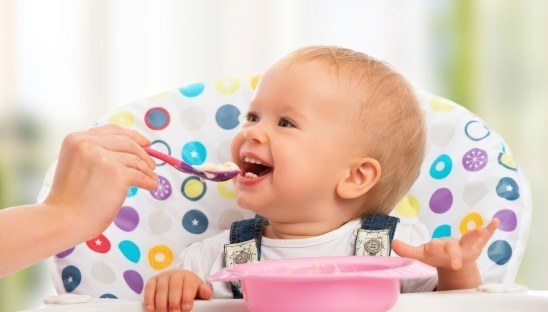 Aussie babies are enjoying a healthy diet of superfoods and organic produce – and in many cases eat better than their parents.
Canstar Blue surveyed more than 1,300 parents of young children and found that 66% spend more time preparing their baby's food than their own, while 61% spend more money on food for their little one than themselves.
Survey findings:
61% predominantly feed their child/ren organic produce
50% feed their child/ren a reasonable amount of superfoods
62% say their child/ren eats better quality food than they do
Head of Canstar Blue, Megan Doyle, said many parents are more concerned about their baby's healthy diet than their own.
"With increasing concern about obesity in Australia, parents seem determined to get their children off to a healthy start in life, even if it means sacrificing quality food for themselves," she said. "If they didn't enjoy the best of diets when they were young, they won't want their children to go down a similar path.
"Parents always want the best for their children and as we continue to become better-educated about food choices it's natural that we'll pass on that knowledge to our children. But it seems some parents don't practice what they preach and live their life through their children when it comes to food."
Is fast food OK for kids?
While the majority of parents make an effort to keep their babies on a healthy diet, 61% of mums and dads think it's OK to feed their little ones fast food from the likes of McDonald's or KFC, and 58% have done exactly that. However, half of those (51%) who have fed their children fast food said they felt guilty for doing so.
"Some parents are set in their ways and wouldn't dream of feeding their child anything remotely unhealthy, but others don't see any harm in the occasional treat," added Mrs Doyle. "All food in moderation is perfectly fine, but some parents only want to feed their children healthy, organic options – and that's their right."
More than three-quarters of parents (78%) prefer to make their own baby food so they know exactly what it contains, but 81% believe that packaged baby food is improving in quality.
Our findings featured in a special report on Channel 7 news, which you can watch below.
What do parents expect from baby food?
A survey of parents who have bought packaged baby food in the last three months, found that their baby's enjoyment of the food was the biggest driver of satisfaction for mums and dad, but they also want to get good value for money.
"If your baby doesn't enjoy the food that's provided then all the other aspects of it become irrelevant," said Mrs Doyle. "It's encouraging that many parents now see packaged baby food as a great alternative to making food from scratch, particularly for those busy families who can't find the time to spend hours in the kitchen.
"But quality baby food can often come at a high price, so parents are also determined not to pay more than they have to – particularly if much of it usually ends up on the floor, or in the bin!"
| | |
| --- | --- |
| Drivers of baby food satisfaction | % of respondents |
| Something my child enjoys | 28% |
| Value for money | 25% |
| Use of quality ingredients | 19% |
| Variety of flavours and options | 17% |
| Ease of opening and dispensing | 7% |
| Different packaging options available | 4% |
Source: Canstar Blue Baby Food survey 2015
Mums and dads were asked to rate the baby food they buy across a range of categories, with Rafferty's Garden the only brand to earn a five-star rating for overall satisfaction.
Click here to read our full ratings report for baby food.
"Parents are convinced that ALDI provides good value for money and Heinz has all the packaging variants they are looking for, but ultimately they – and their babies – are most satisfied with what Rafferty's Garden serves up," said Mrs Doyle.