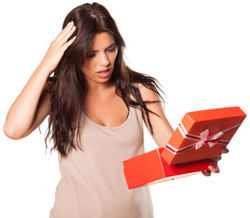 Tis the season to be giving, but the 2,528 respondents to our special Christmas survey admit they sometimes don't like what they receive.
Although almost nine in ten have simply kept their unwanted gift and never use it, more resourceful gift receivers are looking at ways of making the most of their unwanted presents.
Nearly two thirds of Australians have re-gifted an unwanted Christmas present at a later date. Similarly, close to a third sold their gift on eBay or another website and about two in ten have taken the direct route and asked for the receipt to return the gift.
If you're struggling to figure out what to buy that special someone for the holidays, here are some items you should think twice about:
More survey respondents who received clothing, shoes, and accessories didn't like / want their Christmas present (24%). Beware incorrect sizes and out-of-style wares!
Second on the list of unwanted gifts are fragrances and make up (17%), followed by home wares (15%).
So, how can you avoid unloading a gift on someone that they won't like? One way might be to take matters into your own two hands.