According to the Australian Competition & Consumer Commission's 2014 review, about 90% of injuries that occur to children are caused by falling from a pram or stroller.
In 2013, the ACCC's market surveillance found that only 75% of prams and strollers complied with safety standards. This means it is vital that parents understand what the safety requirements are for their pram or stroller, and learn how to spot unsafe models.
New safety standards were introduced in July 2008 to deal with prams and strollers sold in Australia. You can read the full Standard online, but we have summarised its contents for you here.
Parents should also check the list of recalled models on the Recalls Australia website before buying or inheriting a second-hand pram or stroller. According to Canstar Blue's survey data, 27% of Australians had a pram handed down to them by family or friends. In 2011, Gen Y in particular were more likely to have bought or acquired a second-hand stroller.
Key requirements of the Standard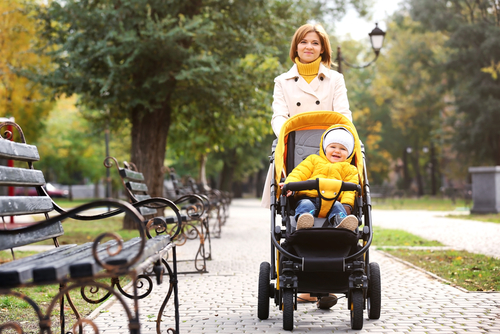 The key hazard prevention requirements for prams and strollers currently addressed by the mandatory Standard are as follows:
Harnesses must prevent falls from the pram or stroller when the child is restrained effectively.
Strollers must have a permanently attached harness including waist and crotch straps for the child in any seating position.
Waist and crotch straps must be at least 2cm wide and must be secured to each other and to the frame or seat of the stroller.
Brakes and tether straps must prevent the pram or stroller accidentally rolling away and putting the child in danger.
Prams and strollers must have one or more parking devices.
Parking device mechanism must be coloured red with high contrast, so that it can be found in a hurry.
Parking release mechanism must not be accessible by the child.
Prams and strollers must have a tether strap so that the operator of the stroller is tethered to it while in use, to prevent the stroller rolling away.
Tether straps must be permanently marked with a safety warning indicating that the strap is to be used at all times to prevent the pram or stroller rolling away.
Tether straps must be as short as possible and less than 3.6m long, to prevent a strangulation hazard for the child.
Tether straps for non-reclining strollers must be marked with a safety warning that this model is not recommended for a child under 6 months old. This is because newborn infants cannot hold their heads up.
Head barriers and foot enclosures must not be able to trap the child's body in the pram or stroller.
Strollers with a backrest that reclines more than 150° must have a barrier that does not trap the child's head.
There must be minimum hazardous access by the child, to prevent the child's fingers getting cut off by pram or stroller hinges and other moving parts.
Safety warnings must be visible on prams or strollers:
Put on all brakes whenever parking the pram or stroller.
Never leave child unattended.
Never carry extra children or bags on the pram or stroller to prevent tipping.
Make sure child is clear of any moving parts before adjusting the pram or stroller to prevent injury.
Performance testing must be performed on all prams and strollers to test requirements for impact, strength, load, durability and stability.
The ACCC was considering in 2014 whether additional requirements that are currently voluntary safety standards should be made into mandatory standards. For example, new models like jogging strollers and strollers with removable bassinets or car seats, have different risks associated with them.
Other ACCC recommendations for parents
When using a pram or stroller, the ACCC recommends that parents should take care to:
Never leave children unattended in pram or stroller.
Always follow safety instructions for assembling and folding pram or stroller.
Always use tether strap, parking brake and stroller harness, especially when in public places or while using public transport.
Always supervise children to prevent them from climbing on pram or stroller while in use.
Avoid hanging shopping on handles to prevent tipping pram or stroller over.
Avoid letting children sleep in prams where there is a suffocation or strangulation risk.
The ACCC debunks some common myths about pram and stroller safety on their website, including that "there will always be time to stop a pram or stroller from rolling away", "children who are properly restrained won't be able to reach dangerous parts of the stroller", and "cheap strollers will not meet the safety requirements but expensive ones will".
Standards for other mobile baby carriers
Australian safety standards for baby carriers such as slings or harnesses can be found here.
Australian safety standards for baby walkers and other toys can be found here.
Picture credits: Romrodphoto / Shutterstock.com, Africa Studio / Shutterstock.com.