If you're a parent who is carrying their baby in a sling or backpack carrier, you will know it does put some strain on your body. In particular, carrying your baby around has potential to strain your back muscles – but there is a way to improve your strength and reduce strain.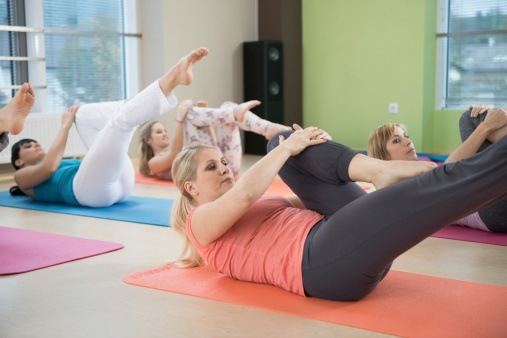 The answer is Pilates. Why Pilates? Because it is designed to improve posture, core stability, and strength – all of which you need to carry your baby around all day.
Here are a few beginner Pilates exercised to try – although please try them at a pi8lates studio for the first time rather than at home!!
Balancing
Get down on all fours, making sure your hands are in line with your shoulders, and your knees are in line with your hips. While maintaining this position, get your back a little more comfortable – this is called 'neutral spine'.
While maintaining the position, reach forward with your left arm, while simultaneously stretching your right leg behind you. Hold your arm and leg in line with the rest of your body.
Once you are still in this position, stretch just a little further, before slowly returning to all fours.
Continue this, alternating between legs.
This exercise is designed to improve balance, as well as core strength. While balancing so you don't fall over, your core strength helps to keep you steady.
Swan Dive
Roll over onto your stomach, and find your neutral spine position. Ensure your arms are bent to your hand line up with your shoulders, and spread your legs roughly hip-width apart.
Inhale, and draw your shoulder blades in towards your spine, but keep your head down in this step.
Now that your shoulder blades are stretched, extend your neck outward and slightly upward as you exhale. You can push up slightly with the forearms while you do this. Stretch like a swan.
To support you back, use your core strength. The swan dive is designed to activate the core in order to support the lower back, just like when carrying a baby.
Spine Twists
This exercise is not as painful as the name suggests.
Begin in the all-fours position as described in the balancing exercise. Once you have found your neutral spine position, inhale as you lift your right arm up towards the ceiling.
As you exhale, bring that arm under the torso in a diving motion, stretching it to rotate your spine.
Repeat this again to the left, and then do another two cycles of right and left. To support the torso and keep your pelvis stable, use those abdominal muscles.
This exercise stretches the chest and back muscles.
Planks
Some dread this workout, but it really is excellent for core strength.
In a regular plank, you will be down on your forearms, and toes, using your core strength to stabilise the torso. However, if you still find a plank daunting, there is another way you can try.
A beginner's plank is similar, but you begin on all fours.
While on all fours and maintaining neutral spine, lift your knees just slightly off the ground as you exhale, then hold. Just as you would with a regular plank, use your abdominals to stabilise and support your body.
6 or 8 repetitions of this will be enough. This exercise strengthens the abdominal and chest muscles.
As mentioned, try it in a Pilates studio at first, to ensure that you're getting the technique right.