While many parents choose to only feed their children home made food, the vast majority believe the quality of packaged baby food is improving.
Canstar Blue's survey of parents who buy baby food found that 61% spend more money on their child's good than their own, while 66% spend more time preparing food for their little one than themselves.
So to get an idea about what parents are looking for from baby food, we asked Brooke Tierney from Rafferty's Garden – our 2015 Most Satisfied Customers Award winner for baby food.
Q)Naturally the biggest driver of customer satisfaction from parents who buy baby food is that the food is enjoyed by their child. Can you tell us, how does Rafferty's Garden go about testing its products on babies and how is success measured?
A) Parents want their babies to have food that's natural, free from preservatives and nutritious – and it needs to taste good. We have an Infant Dietician who ensures that our products are nutritious for babies and it's the little foodies themselves who decide the flavours we go with based on the success of the products.

Q) Having a wide variety of flavours to choose from is also important to parents. As the only brand to achieve a five-star rating in this area, can you tell us about your product range, which products are proving most popular, and any new recipes you may be releasing?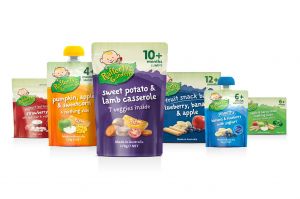 A) Rafferty's Garden has a product range that suits babies from four months to more than 12 months old, with different textures and flavours to cater for a variety of tastes and developmental needs. Some of these include the best-selling Smooth range, Just Veggies which came from consumer feedback to products offering different textures like our Mash and Lumpy range. We are also actively looking at food trends and working with our new Chef, Zoe Bingley Pullin, to develop new formulations.
Q) Rafferty's Garden was also the only brand to score top marks for quality ingredients – another significant driver of parent satisfaction. Can you tell us about the efforts you go to provide quality ingredients and offer some examples of ingredients used in popular products?
A) Rafferty's Garden Pouch Baby food works to the 'Nothing Else' mantra that has made our products a winner among parents since their inception. It's about making sure kids get the nutrition they need by using only premium quality ingredients, without anything artificial or nasty such as added sugar, salt, preservatives, additives.