Alienware's Area 51m is a powerhouse of a gaming laptop that also happens to be completely upgradeable, writes Krishan Sharma.
Weighing in at almost 4kg and twice the thickness of a regular gaming notebook, the Area 51m is a desktop replacement in every sense of the word. It is designed to replace that tall and bulky gaming rig on your desk but with the added convenience of a laptop form factor. What's impressive is that it achieves this feat all while offering the upgradability that desktop PC owners are accustomed to.
Not that you'll feel the need to upgrade the machine anytime soon.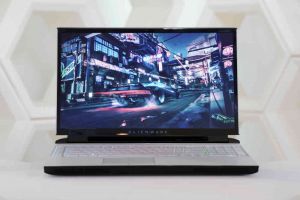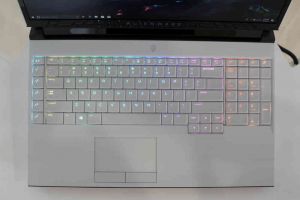 What does the Area 51m cost?
The unit we tested was the top of the line spec $7,999 model with the fastest consumer desktop processor money can buy in the Intel Core i9-9900K, paired with the second fastest graphics card, Nvidia's GeForce RTX 2080, in addition to a whopping 64GB of RAM and a 1TB SSD rounding out the package.
The thing to remember here is that these are desktop parts and not mobile components normally found in gaming notebooks. In real world performance, the full powered RTX 2080 on the Area 51m, is around 40 percent faster than the mobile equivalent RTX 2080 Max-Q graphics, resulting in significantly smoother performance in games.
Unless you have $8,000 burning a hole in your pocket, our recommendation would be to opt for the entry level $3,999 model. It sports the RTX 2060 which has enough horsepower to run most games at their maximum visual settings at close to a buttery smooth 144Hz refresh rate of the Area 51m's 17.3-inch FullHD resolution display. Nvidia's G-SYNC is also onboard, removing tearing and stuttering in games from the equation.
Alienware says it plans to release GPU upgrade modules in the near future so that customers have the option of upgrading their machines to an RTX 2080 if they so wish. While the GPU parts will need to be purchased from Alienware directly, all the other components including the CPU, RAM and storage can be upgraded with off the shelf PC parts.
Of course, putting desktop parts into a laptop doesn't necessarily equate to like-for-like desktop performance purely because a laptop doesn't have as much space within the chassis to push the heat out as effectively as a desktop tower resulting in throttling speeds.
The Area 51m is a different beast entirely
The machine was able to sustain speeds throughout heavy workloads and we were able to comfortably overclock the CPU, GPU and RAM through the preinstalled Alienware Command Centre software with no issues. The side effect to this is that the fans get extremely loud so we mostly preferred to keep the laptop at its default speeds which provide a nice balance between acoustics and performance.
Swapping out the RAM and storage is as simple as removing the back panel, while the CPU and GPU is a little more involved as it is hidden away behind other peripherals, but those who have at least some experience in building a PC will be right at home. Dell also provides a detailed manual and supporting tutorial videos that step through the process of upgrading parts for newcomers.
Just be aware that gaming on the go involves lugging around two – count 'em, two – beefy power bricks. This is because the Area 51m draws 510 watts of AC power which, in case you're wondering, is unheard of in the laptop world but par for the course as far as desktop class gaming rigs go.
The design is surprisingly understated when compared to other gaming laptops and past Alienware gear with sleek lines and a magnesium alloy frame complete with a soft touch matt finish. Alienware's unique design flourishes are thrown in for good measure such as the gigantic rear exhaust punctuated by a blue LED ring of light.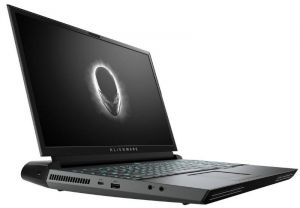 Good looks and practicality
The Area 51m's good looks don't come at the expense of practicality with a healthy smattering of ports onboard, including a Thunderbolt 3-enabled USB-C port and even an Alienware Graphics Amplifier port, both of which can be used for connecting external graphics cards and various other high-performance peripherals. There's also a 2.5Gbps Ethernet port for ultra-fast wired networking.
While there are thinner and lighter gaming laptops on the market, such as Asus' ROG Zephyrus S and Razer's Blade 15, none of them can keep up with the Alienware Area 51m. What's more, unlike other gaming laptops, you can just swap out the CPU and GPU when the time comes, making the Area 51m an absolute powerhouse for years to come.
Summary: With its cutting-edge design, unrivaled performance and upgradeability, the Alienware Area 51m likely takes the crown as the best gaming laptop money can buy.
Internet Plans for Gamers
The following table shows a selection of published NBN 50 plans on Canstar Blue's database, listed in order of monthly cost, from lowest to highest, and then by alphabetical order. Use our comparison tool to see plans from a range of other providers. This is a selection of products with links to referral partners.