Anthem is an online multiplayer action role-playing game available on Xbox One, PlayStation 4 and PC, as you can go solo or take friends as you explore a distant planet and find out what Anthem is all about.
Pick your Javelin suit as you fight against the Dominion's and its leader, The Monitor, as they try to harness the Anthem to carry out their objectives and rule the planet, writes Tom Doyle.
This is Electronic Arts (EA) and Bioware's first original IP in roughly 10 years, as fans have been clawing to get more info on the game's origins, weapons, characters etc as soon as they heard word of Bioware and EA teaming up for their twist on the emerging online looter shooter genre. Watch below for the official Anthem Launch trailer!
What's the Combat like?
Four distinct styles of mechanised suits called javelins, which allow you fly off in any direction at nearly any moment, allowing for some fresh exploration and unique contact during combat, you can use flying to flee a situation or gain another angle on a fight against your opponent. Each confrontation causes you to think of a strategy involving flight, as the game is refined to put players in a quick-thinking scenario while not inflating the importance of being airborne. Combat mechanics are unique to each suit with an elemental approach being the path taken for Bioware and EA.
Use four elements comprising of Fire, Ice, Electric and Acid as you utilise these elemental effects to your advantage against opponents in combat. Each element has a select ability that can be useful for various different scenarios and environments, with every one having strengths and weaknesses against different opponents. Fire causes enemies' health to decrease after the attack has been landed, with the element also being useful against physical shields and armour. Ice causes enemies to slow down, with them eventually being frozen solid after enough attacking.
Electric creates AoE damage towards rivals, damaging and chaining anyone in the area of effect, with this element being particularly strong against energy shields. Acid is different to the rest of the elements, as it creates a defensive strategy which weakens opponents more when they are being damaged while the acid status is active.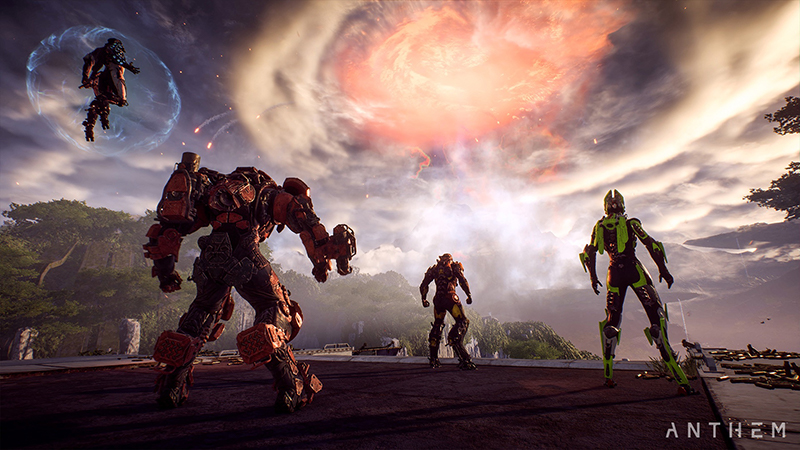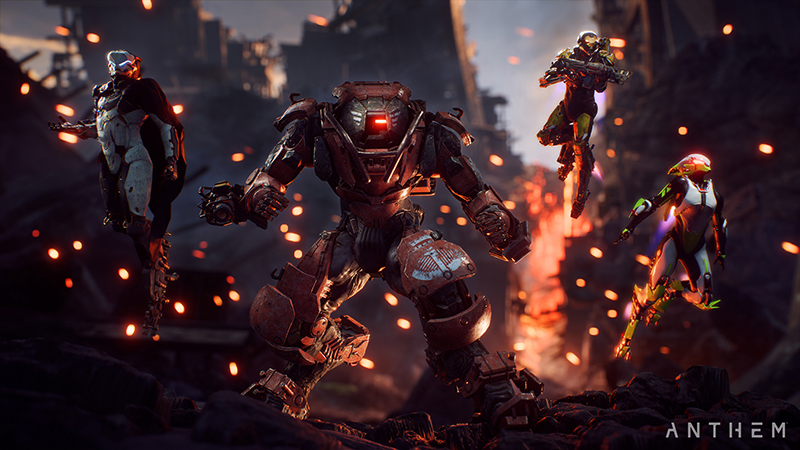 What Missions and Weapons are there?
Complete missions and objectives across the map including Academy Ruins, Great Falls Canyon, East Gate and more as you take on the Dominions and The Monitor in fierce battles. Also included in the RPG aspects of Anthem are side quests and helping out in dynamic events happening across the map as you take on the open world with friends and help your team, the Freelancers in battles.
Complete these side missions to collect various loot which can contain anything including heavy support gear, shield reinforcements, special arms ammo, storage augments and most importantly weapons. The firearms in Anthem are categorised into different weaponry, with some backlash hitting creators for not enough imagination and distinction from other weapons in similar games.
These guns include assault rifles, shotguns, heavy launchers, auto cannons and more as each have different rarities including common, uncommon, rare and epic. With each individual category of weapon differentiating itself quite a bit from its peers providing variety and a nice range of options, use loot to upgrade your favourite weapons and make them unique to your preferred playstyle. Watch below to check out some of the weapons in the official Cinematic trailer of Anthem!
Is it Worth It?
Anthem is a dynamic loot and shoot game, a genre which is growing rapidly in both the gaming and streaming community. The open world adventures, Javelin suits and elemental effects make this game a satisfying and explorative experience, as this EA creation is one of the hottest games to come out of 2019 yet. Anthem is out on 21st Feb, $99.95 at all participating stores.
Game release date: 21st February
Available on: Xbox One, PS4 and PC
RRP: $99.95