Games have never sounded better, which is why a good pair of headphones is a must for any gamer's arsenal. Whether you're hurling commands at your team-mates in Division 2, or want to get immersed in the harrowing soundscape of Resident Evil 2, having a good gaming headset that is up to the task matters.
There's no shortage of options on the market, from wired and wireless to surround sound and everything in between. Headphones can also vary wildly when it comes to audio quality, comfort, durability and features, making the task of shopping for a pair of headphones all the more daunting.
Luckily, we've done the legwork for you and tested dozens upon dozens of headphones to come up with a shortlist of the best three gaming headsets available on the market regardless of whether you're gaming on a Playstation 4, Xbox One, Nintendo Switch or PC, writes Krishan Sharma.
Best budget headset: Cooler Master MH752
Price: $119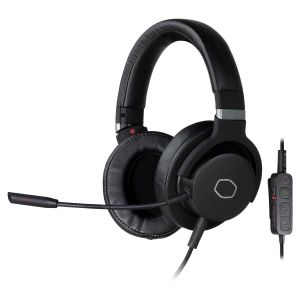 Cooler Master may not be a name you typically associate with gaming headsets, but its new MH752 is a supremely comfortable pair of headphones that combines good sound quality with a classy understated design at a budget-friendly price tag of $119.
Connecting the MH752 to a PC via USB allows you take advantage of the built-in amplifier with virtual 7.1 surround sound, while games consoles can be connected via the stereo 3.5mm connector. The detachable boom mic works on PC or consoles and the microphone volume can be adjusted using the inline controls.
For those willing to forgo the virtual 7.1 surround sound feature, Cooler Master offers a step-down model in the MH751 for $20 less.
Best mid-tier headset: Razer Nari Ultimate
Price: $349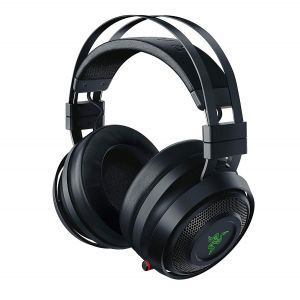 The Nari Ultimate from Razer differentiates itself from every other pair of headphones on the market with its unique haptic technology that physically vibrates the ear cups at varying intensity levels to replicate the punch of a dedicated subwoofer in your ears. It adds an extra dimension to the listening experience, allowing you to feel every bit of the in-game action and it's a feature we definitely miss when we switch to other headsets.
The haptics are each connected to a different audio channel to provide stereo feedback so if a tank rolls by from the left, stronger tactile feedback through vibrations will be felt on the left side, providing a sense of direction and spatial awareness. As the haptics inside the headphones are done in real time, it will work across any device that has a headphone jack and on any piece of content be it games, movies or music.
The Nari Ultimate can be used wirelessly via the included 2.4GHz USB dongle on PC and PS4 or a wired connection on the Nintendo Switch and Xbox One via the headphone jack. On PC, there's support for THX Spatial Audio for virtual surround sound and there's also a piece of software that allows you to adjust the intensity of the vibration.
The haptic motors along with the large 50mm drivers mean that the headphones sport a bulky design, but it is very comfortable and the material on the earcups breathe nicely so you won't ever feel the need to take them off even after a marathon gaming session. The boom mic is retractable and there's even a spring-loaded holding slot for the USB dongle for easy storage when not in use.
With its addictive haptic technology, great sound signature and comfortable build, the Razer Nari Ultimate is easily one of the best gaming headsets on the market.
Best high-end headset: Audeze Mobius
Price: $599
The Audeze Mobius brings audiophile grade listening to the gaming arena with its 100mm planar magnetic drivers and unique head-tracking 3D audio tech that combine to deliver the widest soundstage and best overall sound we've heard from a gaming headset to date.
The Audeze Mobius connects to a PC via a USB cable which enables full 7.1-channel surround sound support while the 3.5mm analog connection supports stereo audio from any device with a headphone jack. It also works wirelessly over Bluetooth so you can take calls on your smartphone and seamlessly switch back to your game audio once you're done.
Both the headband and the over-ear earpads use a soft memory foam with just the right amount of padding to muffle outside noise without overheating your ears or feeling like there's too much pressure on your head. The headset is so comfortable you'll forget you're wearing it after a while.
The controls on the exterior are smartly located on the left earcup so you can change the volume or mic levels, turn 3D audio on/off and make equaliser adjustments without ever having to take your right hand of the mouse. There's also vocal confirmation that accompanies every setting change, so you're never flying blind.
The jump to more expensive planar magnetic drivers over the dynamic drivers typically found in headphones, result in a much cleaner more defined sound with less overall distortion. The Mobius boasts a frequency range of 10Hz to 50kHz, well beyond the 20Hz to 20kHz range of most headsets and it shows.
The nice thing is that the DAC is built into the headset as opposed to being external so you get impressive audio quality regardless of whether you're using a USB, 3.5mm headphone jack or Bluetooth connection.
With 7.1 surround sound emulation turned on and 3D head tracking audio enabled, the soundstage really opens up, making it easier to pinpoint the direction of gunshots and footsteps in games. The 3D head tracking meant that every time we turned our head right, we heard more in our left earcup than the right, allowing for more precise positional audio.
Audeze is looking to take its 3D head tracking a step further with a future software update that will enable users to lean out of cover in games by actually leaning their head.
Even with the 3D head tracking disabled, the Audeze Mobius delivers the most convincing virtual surround sound we've ever heard on a pair of headphones.
The Audeze Mobius prove you get what you pay for with impressive sound quality that shines not only in games, but in music and movies as well.