Gaming keyboards have become hot property over recent years, with the market fast becoming flooded with an array of options. Gamers also have their own preferences when it comes to keyboards – some prefer the compactness of a TKL (tenkeyless) which ditches number keys for a smaller footprint, while others prefer the extra features that a full-size keyboard affords. The type of mechanical switches can also be an extremely subjective thing.
Your choice of keyboard is ultimately going to come down to the type of gamer you are. For this reason, we have broken up our recommendations into seven different categories – making it easier for you to decide which gaming keyboard should be on your shortlist.
Best budget wired gaming keyboard
Cooler Master MK730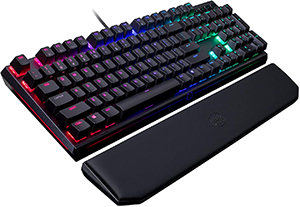 The Cooler Master MK730 has all of the features you need in a quality gaming keyboard without the hefty price tag to go with it. It has fast and responsive Cherry MX switches, good build quality paired with a restrained and classy design that would complement any desk and the ability to customise your key colours with different effects. There's some thoughtful quality of life features such as the detachable USB cable and included carrying case for easy portability. The smaller footprint leaves more surface area for the mouse – which is particularly handy for sweeping mouse movements common to twitch based shooters.
Connection: Wired | Switch: Cherry MX Red | Size: Full |
Backlight: RGB | Wristrest: Yes | Street Price: $159
Pros:
Programmable macros that don't require software
Detachable USB Type-C cable
Impressive build quality for the price
Classy design
Fast and precise Cherry MX switches
Cons:
Inability to remap macros to Windows commands
Coated keycaps are made from ABS plastic
Best keyboard to replace a gamepad
Cooler Master MK850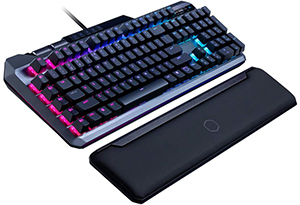 Keyboards aren't ideal when it comes to racing games or third-person action games where the pressure sensitive analogue triggers and the sticks of gamepads are sorely missed. Cue the MK850 from Cooler Master which uses a technology called 'Aimpad' that transforms the main eight keys used for gaming (Q,W,E,R,A,S,D,F) into analogue inputs without the need for a controller. Each Aimpad key features an IR sensor that's able to measure precisely how far each key is being pressed, enabling the keys to function the same way as an analogue joystick or trigger button on a gamepad. This means that you can now smoothly accelerate and decelerate in a racing game and in a third person action game like Hitman 2, you can creep up behind enemies and tip-toe between cover much easier.
Outside of Aimpad, the MK850 is packed with all of the essentials that make a great gaming keyboard with a row of dedicated macro keys and media controls complete with dials for volume and brightness adjustments, two USB 3.0 ports for connecting accessories, Cherry MX Red switches with raised keycaps to highlight the backlighting, magnetic wrist rest and an anodized aluminium backplate.
Connection: Wired | Switch: Cherry MX Red | Size: Full size |
Backlight: RGB | Wristrest: Yes | Street Price: $279
Pros:
Pressure sensitive keys is a game changer
Software-free macro programming
Dedicated media controls with scroll wheels for volume and brightness control
2x USB 3.0 ports
Detachable USB-Type C cable
Attractive design
Cons:
Analog buttons aren't as shallow as controller buttons
Best gaming keyboard for the living room PC
Corsair K63 Wireless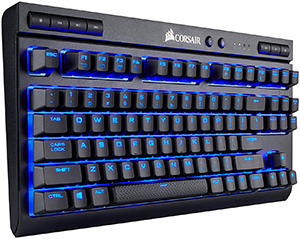 Corsair's K63 Wireless packs everything that made the K63 great, but made wireless. In our wireless saturated test room, the K63 had no problems maintaining a solid wireless connection with our PC on other side of the room devoid of input delays and drop-outs.
This makes the K63 Wireless the ideal pairing for the Lapboard accessory (sold separately). Pair the setup with a wireless gaming mouse and you have a killer combo for couch-based PC gaming that feels perfectly balanced on your lap.
Battery life with mechanical keyboards, particularly those with backlighting, is a challenging hurdle for most manufacturers but the K63 Wireless performs admirably, with our review unit lasting for 25 hours with the blue backlight set to 75 percent brightness. Corsair claims disabling the backlight entirely will increase runtime off a single charge to 75 hours.
At this price point, we would have like to have seen an aluminium frame and a better quality palmrest. These missteps aside, the K63 Wireless paired with a Lapboard and a wireless mouse, is the best option for those who prefer to do their PC gaming from the comfort of a couch.
Connection: Wireless| Switch: Cherry MX Red | Size: TKL |
Backlight: Blue | Wristrest: Yes | Street Price: $179
Pros:
Perfect couch gaming when paired with Lapboard (sold separately)
Lag-free and rock-solid wireless connection
Decent battery life
Dedicated media keys
Cons:
No RGB (blue backlight only)
Plastic frame
Flimsy palmrest clips
Best portable gaming keyboard
Cooler Master SK621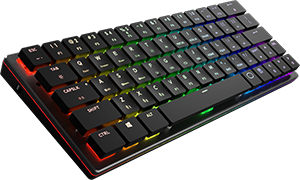 For the mobile gamer who wants a compact keyboard that they can easily throw into their bag, it's hard to look past Cooler Master's latest entry, the SK621. The keyboard is one of the lightest and thinnest gaming mechanical keyboards on the market thanks to its use of the Cherry MX low profile switches which have a shorter travel distance and actuation point than standard Cherry MX switches. It's also ultra-compact thanks to a 60 percent keyboard layout, which means it's smaller than even a TKL, as it not only ditches the number pad, but it also lacks a Function key row at the top and the navigational keys on the right.
This cramped design may not be for everyone, particularly those who plan on typing quite a bit outside of gaming sessions. It took us some time to become accustomed to the ultra-compact design even for gaming. The SK621 pairs wireless via Bluetooth 4.0 and there's a physical switch on the side of the keyboard for seamlessly switching between wired and wireless modes.
The incredibly sleek design is complemented by per-key RGB backlighting in addition to a surrounding light bar which looks incredible. However, the light show won't last long when using the keyboard in wireless mode with our review unit lasting a little under 8 hours before needing a charge. There are no feet on the underside of the keyboard so typing at an angle is a no go. Still, despite these drawbacks, the SK621 mechanical gaming keyboard is hard to beat as far as portability goes.
Connection: Wireless | Switch: Cherry MX low profile switches | Size: 60% |
Backlight: RGB | Wristrest: No | Street Price: $169
Pros:
Classy design
High quality aluminium build
Super thin and light
RGB lighting is stunning
Seamless switching between Bluetooth and wired via physical switch
Cons:
60 percent keyboard layout isn't for everyone
Poor battery life with RGB lighting on
No feet
Best full-size wireless gaming keyboard
Logitech G613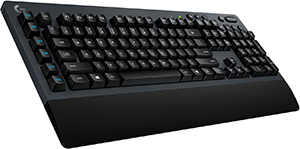 The G613 was one of the first wireless mechanical gaming keyboards to hit the market and it still stands as the best option for those looking for a full-size keyboard with next to no compromises.
Logitech's proprietary LIGHTSPEED wireless connectivity matches wired peripherals in terms of stability and responsiveness. It also bests the competition as far as battery life goes with a pair of AA batteries pushing runtime beyond one year of continuous use. The extra-long battery life does come with a compromise – no backlit keys which might be a deal breaker for some. Still if you can look past that, Logitech's Romer-G switch is a solid alternative to the traditional Cherry MX Red switches with the added benefit of being quieter which makes it more adept for both gaming and typing.
The G613 can connect via either a wireless dongle or Bluetooth – or both, if you want to jump back and forth between typing on your computer and typing on your phone.
Connection: Wireless | Switch: Logitech Romer-G Tactile | Size: Full-size |
Backlight: No | Wristrest: Yes | Street Price: $199
Pros:
Class leading battery life
Lag-free and rock-solid wireless connection
Quite Romer-G switches make it a better option for both gaming and productivity
Dedicated media controls
Cons:
Bulky design
No backlighting
No USB passthrough
Internet plans for gamers
The following table shows a selection of published gaming-ready NBN plans from MyRepublic and Aussie Broadband on Canstar Blue's database, listed in order of monthly cost, from the lowest to highest, and then by alphabetical order of provider. Use our comparison tool to see plans from a range of other providers. This is a selection of products with links to a referral partner.
Best premium gaming keyboard
Razer Huntsman Elite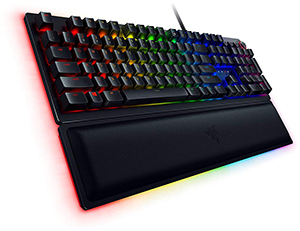 With Razer's unique opto-mechanical switches that combine lasers with traditional mechanical switches, it seems safe to say that you won't find a faster keyboard on the market than the Huntsman Elite. It feels incredibly satisfying to game on and thanks to a nearly perfect keyboard layout and low actuation force, the typing experience is one of the best around.
We also love the clean aesthetic that can be customised almost endlessly thanks to the RGB lighting that extends from the keys to the outside frame and palm rest. The clean look is somewhat marred with a chunky braided cable that requires two USB ports to power. There's also no USB ports built into the keyboard itself which is a head scratching omission given that cheaper wired keyboards at least offer one.
At $349, the Huntsman Elite doesn't come cheap, but in our opinion is worth the cash for someone looking for the best possible gaming keyboard around.
Connection: Wireless | Switch: Razer Opto-mechanical | Size: Full-size |
Backlight: RGB | Wristrest: Yes | Street Price: $349
Pros:
Fastest keyboard on the market
Great keyboard layout
Attractive and durable design
Magnetic wrist rest
Cons:
Requires two USB cables for power
No USB passthroughs
Pricey
For the aspiring eSports player
Logitech G Pro Keyboard
Logitech's G Pro has been a favourite for competitive players for a while now, and it's easy to see why. Its shorter actuation distance allows for key presses that are up to 25 percent faster than standard mechanical switches while also remaining relatively quiet by comparison. The response time on the keyboard is also slightly quicker than with the majority of the mechanical keyboards on the market. Admittedly, this is likely to be imperceptible to casual players but something that competitive players will appreciate.
The G Pro is also built to withstand a great deal of punishment thanks to a reinforced steel back plate that adds stability during gameplay, while its fairly compact design and detachable USB cable means it can be quickly thrown in a bag for the next LAN party or tournament.
Connection: Wired | Switch: Logitech Romer-G | Size: TKL |
Backlight: RGB | Wrist rest: No | Street Price: $179
Pros:
Faster and more responsive than standard mechanical keyboards
Relatively quiet
Built to withstand punishment
Compact design
Detachable USB cable
Cons:
Pricey
Wrist rest not included