A quality gaming monitor can make any PC shine for years to come but picking the right one can be intimidating, particularly for newcomers.
Ideally, you'll want the lowest response times, fastest refresh rates, excellent picture quality and the largest possible screen size your budget can handle. So, which monitor should be on your shortlist? Read on to find out, writes Krishan Sharma.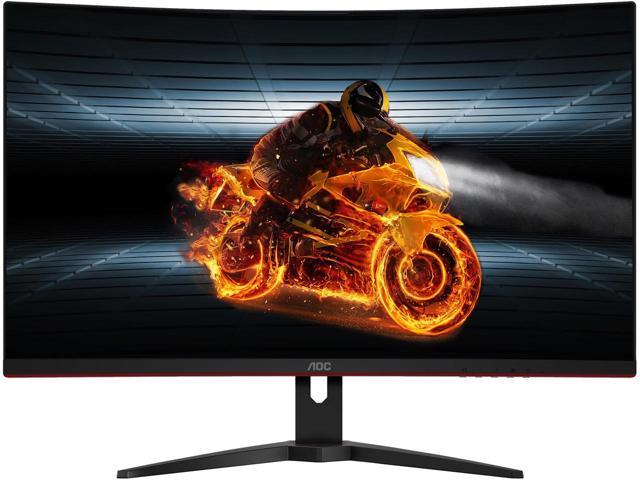 Best Budget Gaming Monitor
AOC CQ32G1
The AOC CQ32G1 is the affordable big-screen curved gaming monitor we've been waiting for. It eliminates superfluous extras such as fancy RGB lighting and instead focuses on nailing the core elements that make a gaming monitor great.
It's difficult to find anything beyond 27-inches at the sub-$500 price point but AOC takes things up a notch by delivering a near bezel-less 32-inch display that is also curved for a much more immersive gaming experience. What's more, it boasts a blazingly fast 144Hz refresh rate with AMD's FreeSync 2 (plus unofficial support for Nvidia's G-Sync technology with GeForce GTX 10 series cards or newer) backed up by a pixel response time of just 1ms with an impressively low input lag. It uses a VA panel which traditionally suffers from ghosting but AOC has done an excellent job at keeping it to a minimal level.
It runs at a sweet spot resolution of 2,560 x 1,440 as it looks significantly sharper than FullHD while also being a lot easier to drive than 4K. The image quality outperforms more expensive rivals with colours appearing vibrant and punchy backed up by an impressive contrast ratio so the action on-screen always pops.
About the only knock we can level at this budget king of a monitor is that it is a little on the dim side in adverse lighting conditions but that's a minor nitpick when you consider what you're getting here as an overall package. At just $479, the CQ32G1 from AOC simply can't be beated.
Price: $479 | Screen size: 32-inch | Aspect ratio: 16:9 | Resolution: 2,560 x 1,440 | Panel type: VA | Brightness: 335 nits | Refresh rate: 144Hz | Response time: 1ms | Viewing angle: 178/178 | Contrast ratio: 3,000:1 | HDR: No |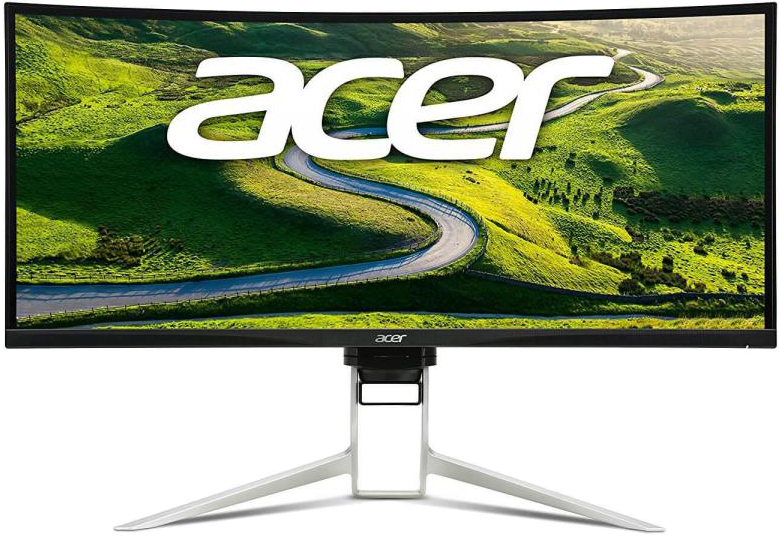 Best Mid-Range Gaming Monitor
Acer XR382CQK
Ultrawide monitors aren't just great for productivity, they also happen to be incredibly immersive for gaming and Acer's XR382CQK is one of the best out there. The 38-inch curved display completely fills your field of view and the Freesync support at 75Hz keeps games running smooth and stutter-free.
The XR382CQK sports a higher resolution (3840×1600) spread across a slightly wider aspect ratio (24:10) than your typical ultrawide. The IPS panel is also very well calibrated out of the box delivering crisp and accurate colours with good contrast.
The only downside is that once you experience the stellar performance that an ultrawide of this class offers, it's hard to go back.
Price: $1399 | Screen size: 38-inch | Aspect ratio: 21:9 | Resolution: 3840×1600 | Panel type: IPS | Brightness: 300 nits | Refresh rate: 75Hz | Response time: 4ms | Viewing angle: 178/178 | HDR: Yes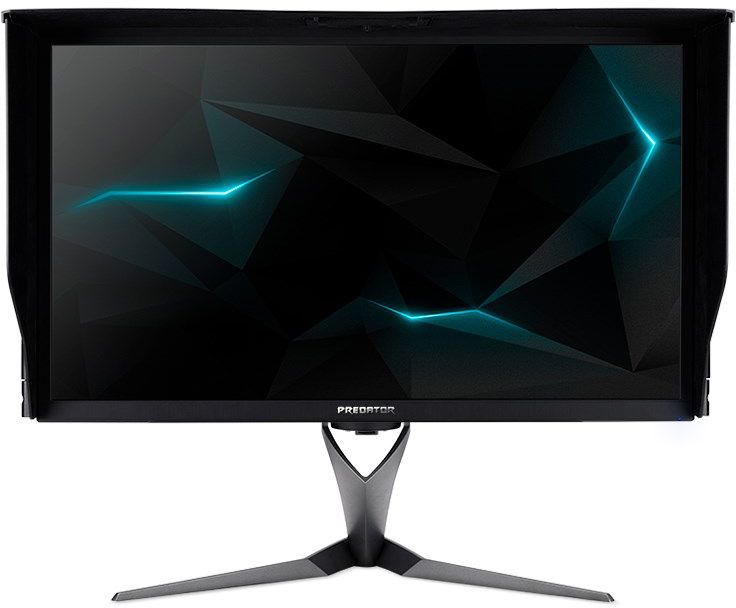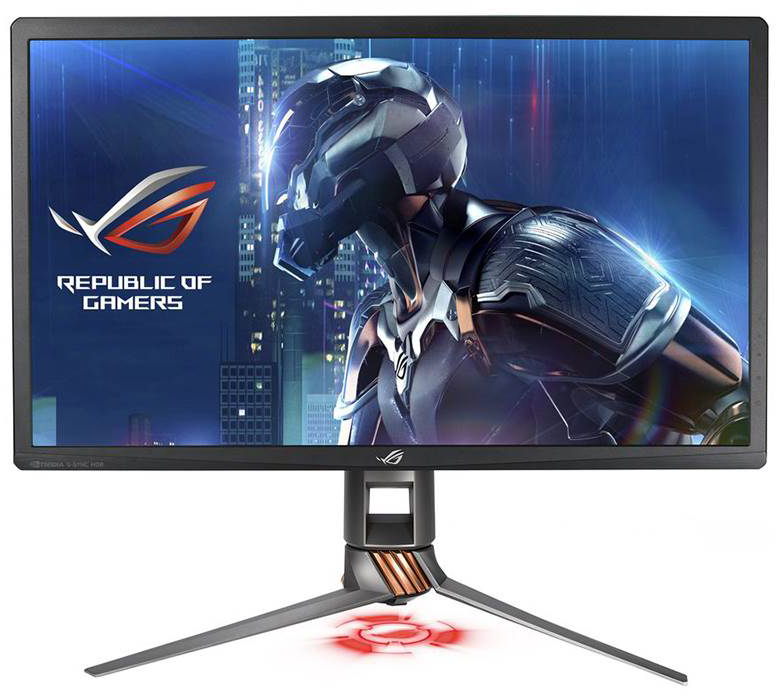 Best High-End Gaming Monitor
Acer X27 or Asus ROG Swift PG27UQ
The frustration with gaming monitors was that you always had to choose between high resolution and high refresh rate. At least that was the case until the debut of Acer's Predator X27 (pictured above) and Asus' ROG Swift PG27UQ (pictured below) late last year. Both these monitors boast 4K resolution, 144Hz refresh rate, Nvidia G-SYNC and HDR – a combination of tech that no other monitors on the market can match.
The panel used inside both monitors feature an LED backlight that's dynamically controlled across 384 zones, which provides an impressive contrast between light and dark scenes. It also has quantum-dot technology and achieves more than 90 per cent coverage of the DCI-P3 color gamut, which means both monitors can display much more accurate colours making it a great choice for not only gamers but also for creative professionals doing colour critical work. The panel can also pump out up to 1000 nits of peak brightness, allowing for some truly impressive HDR in games that support it.
Both monitors use identical panels so the picture quality and performance is largely the same regardless of whether you go with the Asus or the Acer. That said, we found the Acer X27 to have a better factory calibration, a more uniform panel while also boasting a cheaper price tag, though the Asus monitor has a slightly faster response time (4ms vs 5ms).
The downside with both of these monitors is that most gamers aren't going to have the necessary hardware to drive the latest games in 4K resolution at anything close to the 144Hz refresh rate that these displays can deliver. The steep price point of $3,000 for the Asus PG274UQ and $2,500 for the Acer X27 doesn't exactly soften the blow either but at least you won't need to upgrade again for many years.
Provided you have the money and a PC powerful enough to drive these monitors to their potential, then Acer's X27 or Asus' PG27UQ is worth the investment.
Price: $2,499 Acer X27 | Price: $2,999 Asus PG27UQ | Screen size: 27-inch | Aspect ratio: 16:9 | Resolution: 3,840 x 2,160 | Panel type: IPS | Brightness: 1000 Nits | Refresh rate: 144Hz | Response time: 4ms | Viewing angle: 178/178 | HDR: Yes
Internet Plans for Gamers
The following table shows a selection of published NBN 50 plans on Canstar Blue's database, listed in order of monthly cost, from lowest to highest, and then by alphabetical order. Use our comparison tool to see plans from a range of other providers. This is a selection of products with links to referral partners.
Image credit: Sezer66/Shutterstock.com