Looking to build your dream PC? There's plenty to consider when it comes to creating a rig that will give you the edge over your opponents, as well as good bang for your buck. While finding the ideal monitor, keyboard, chair and RAM will make you feel comfortable when you sit down for a gaming session, you won't get far without a graphics card. But with plenty of numbers, brands and products thrown around in the market, where should you start looking, and which one is the best option for your gaming needs? Canstar Blue investigates below.
What is a graphics card?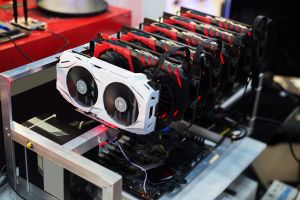 A graphics card is a piece of computer hardware that produces the images you see on the display device – essentially converting data (or pixels) into a signal that your screen can understand. What you see on your screen is particularly important for gamers, as not only does it allow you to really enjoy your game by immersing yourself in the environment, but it can also give you a competitive advantage by allowing you to see things clearly, and at a faster speed.
Types of graphics cards
While there are plenty of brands and models available, graphics cards can be broken down into two main categories: integrated and discrete. Integrated models are those built into the motherboard where no add-ins are used, and are generally what you'd find in standard computers, while discrete graphics cards are installed onto the motherboard as an extra component. Depending on your motherboard and computer, you can also add additional graphics cards in expansion slots, although this will be more in the realm of competitive gamers.
So, a graphics card is an important piece of equipment, which is why we've compiled this list of some of the graphics card models and brands you should keep an eye on if you're looking for an upgrade while keeping to a budget. This is not an endorsement of these graphics cards – we're simply providing some examples.
Best Budget Graphics Card for Gaming
AMD Radeon RX 580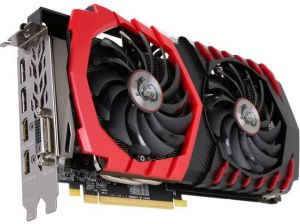 The AMD Radeon RX 580 is built on advanced Polaris architecture, with its 8GB GDDR5 memory offering incredible virtual reality and gaming experiences. The graphics card offers a dual-slot cooling solution for maintained and consistent gaming performance without over-heating, providing quality performance with 1080p capabilities and 4K resolution, ideal for when you want to feel like you're in the game.
The AMD Radeon RX 580 is one of the best graphics card options for budget-conscious gamers, owing to its native Asynchronous Compute, allowing it to keep up with currently popular games and upcoming PC tech.
Best Mid-Tier Graphics Card for Gaming
AMD Radeon RX 5700 XT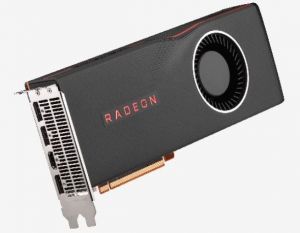 The AMD Radeon RX 5700 XT is built for high-quality gameplay without the high-quality price tag, with compute units and a multi-level cache hierarchy resulting in some highly responsive gaming with little to no latency. With capabilities of 1440p resolution, experience the AMD Radeon RX 5700 XT's advanced gameplay alongside RDNA architecture – specifically engineered to improve Radeon Image Sharpening and FidelityFX – for some of the best performance in the mid-tier price range.
With Radeon Anti-Lag dramatically reducing input lag, you can sit back and enjoy your game, with AMD Radeon FreeSync technology generating highly receptive gameplay. Equipped with 8GB of cutting-edge GDDR6 memory, which provides bandwidth of up to 448GB/s, the AMD Radeon RX 5700 XT is built for gamers who are looking for high performance and cost-effective gameplay.
Best High-End Graphics Card for Gaming
Nvidia GeForce RTX 2080 Ti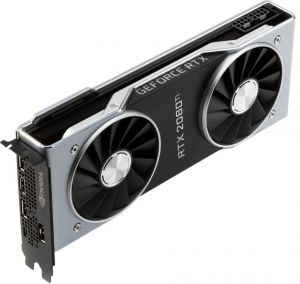 The Nvidia GeForce RTX 2080 Ti is one of the most highly-advanced and sought-after graphics cards in the gaming industry right now, owing to its state-of-the-art ray tracing capabilities and 11GB ultra-fast GDDR6 memory. Powered by the Turing GPU architecture and the innovative RTX platform, this graphics card gives you six times the performance of previous generations graphics cards.
Bringing the power of real-time tracing and AI to your favourite games, the Nvidia GeForce RTX 2080 Ti delivers hyper-realistic graphics with a next-gen 13-phase power supply for maximum overclocking, along with an advanced vapour chamber for quiet performance and ultimate cooling. With 4k gaming capabilities, the Nvidia GeForce RTX 2080 Ti is arguably one of the most advanced graphics cards on the shelf, and is ideal for players looking to take their game to the next level.
How do I find my computer's graphics card?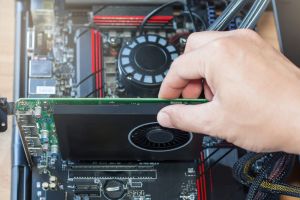 To find your computer's current graphics card, go to the desktop or Start menu and right-click 'Run'. In the open box, type 'dxdiag' and then press 'OK'. Click the Display tab on the DirectX Diagnostic Tool and then look at the Device section to find the information surrounding your graphics card.
What's the difference between a graphics card and GPU?
A GPU, otherwise known as the 'Graphics Processing Unit', is part of the graphics card, and is in charge of processing the display to your monitor, while the graphics card is the whole unit responsible for what you see and how well you see it.
Which graphics card is right for me?
Working out what graphics card you'll need is largely based on your gaming habits and your budget. The three graphics cards listed above all differ in prices and performance quality, but are all appropriate for the majority of PC systems and gamers' needs. However, if you're looking to get the edge, or you're just really big into how a game looks on your screen, researching into all of your options, as well as what your current setup can handle, will give a clear picture of what graphics card you should be running.
Internet Plans for Gamers
The following table shows a selection of published NBN 50 plans on Canstar Blue's database, listed in order of monthly cost, from lowest to highest, and then by alphabetical order. Use our comparison tool to see plans from a range of other providers. This is a selection of products with links to referral partners.
How did we pick some of the best graphics cards for gaming?
At Canstar Blue, we're experts on lots of consumer-related topics, but we can't claim to be experts on everything. That's why, in picking some of the best graphics cards for gaming in this article, we've drawn on our general gaming knowledge and online research to bring you this selection. Therefore, it should be treated as a general guide only.
Photo credits: socrates471/shutterstock.com, Nikita Anokhin/shutterstock.com, nvidia.com, amd.com, Arthito/shutterstock.com