There's plenty that goes into the computer of your dreams. There's the hardware, the airflow, the CPU speed, even the aesthetic of the case can give you the edge. But there's one area that both amateur and pro gamers consider hugely important for online gaming – RAM. But with plenty of numbers, brands and products thrown around in the market, where should you start looking, and which one is the best option for your gaming needs? Canstar Blue investigates.
What is RAM?
Short for Random Access Memory, RAM is a short-term storage unit used to temporarily hold data from games and store needed variables and content on your PC. The size of your computer's RAM capabilities determines loading times for games and their overall experience, as well as influencing other functions such as editing and rendering, which are important areas to consider for those looking to make it big in the streaming or YouTube markets. If you're thinking about upgrading your RAM, or you're venturing into the computer market for the first time, read on to find out what option may be the best fit for your gaming rig, and your budget.
Best Budget RAM for Gaming
Corsair Vengeance LPX DDR4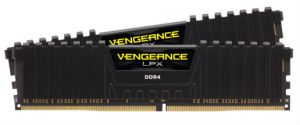 The Corsair Vengeance LPX DDR4 is up there with the best RAM on the market when considering more affordable alternatives to the other advanced kits available. This RAM's memory is said to be designed for high performance overclocking as the heatspreader is created from pure aluminium for quicker heat dissipation.
The customised PCB helps manage heat and provides excellent overclocking headroom, as each IC has been individually tested for the greatest performance potential. With speeds of up to 2400MHz and 8GB (1 x 8GB) memory size, the modest yet seemingly effective Corsair Vengeance LPX DDR4 could be a perfect RAM kit for gamers on a budget.
Best Mid-Tier RAM for Gaming
Kingston HyperX Fury DDR4

The Kingston HyperX Fury DDR4 has some of the most affordable and reliable RAM performance seen in recent years as Kingston is one of the most dependable names in the industry when it comes to memory products. The RAM provides a powerful performance upgrade for gaming, editing and rendering as it has speeds capable of 2400MHz – 3733MHz.
Single module capacities of 4GB – 32GB and kit capacities of 16GB – 128GB give gamers flexibility when looking at upgrading their old PC or building a new system. With an updated low-profile heat spreader design to keep cool and a lifetime warranty, the HyperX Fury DDR4 Ram is likely one of the best mid-tier RAMS on the market.
Best High-Speed RAM for Gaming
Patriot Viper Steel DDR4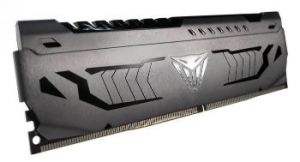 The Patriot Viper Steel DDR4 is probably one of the highest speed RAMs on the market today when looking at cost-effective kits as it has speeds of 3000MHz – 4400MHz with 16GB (2 x 8GB) storage. Said to be built specifically for the latest Intel and AMD platforms, this RAM provides some of the best performance and stability in a diverse range of demanding PC environments.
Keeping the kit simple yet effective has given Patriot room to equip the RAM with enhanced timings that boost the performance of certain programs, making the Patriot Viper Steel DDR4 one of the best options for gamers looking for a moderately priced and high performance RAM.
Best High-End RAM for Gaming
Corsair Dominator Platinum RGB DDR4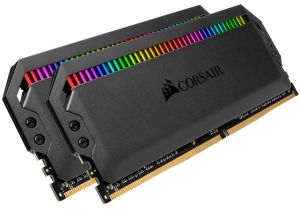 The Corsair Dominator Platinum RGB DDR4 is one of the best high-end RAMs in the gaming industry, as its sleek design, new Capellix LED tech and DHX cooling technology have made it one of the most sought after RAMs in recent years. Kit capacities include 16GB (2x 8GB) and 128GB (8x 16GB) varieties, with clock speeds of 3000MHz – 4800MHz.
This powerful kit combines high frequency memory chips with 12 ultra-bright individual Capellix RGB LEDs to redefine the limits of RAM. The Corsair Dominator Platinum RGB DDR4 is made from aluminium and could be the ideal RAM for gamers looking to invest in an expensive yet superior RAM kit.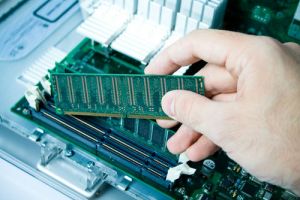 How do I find my computer's RAM?
To find your computer's RAM capabilities, simply go to the desktop or Start menu, right-click on Computer or PC, then select Properties. In the System Properties tab, the system will list "Installed memory (RAM)" with the total amount detected. This will be shown in GB and can vary from 4GB – 128GB depending on your current system.
How much RAM do I need for gaming?
8GB is the minimum RAM for any gaming PC currently on the market, as 8GB will let your PC smoothly operate most titles available without a hitch. When looking at the near-future, 16GB RAM is your safest bet, as new and more challenging games are released with higher quality graphics and rendering.
How do I know when I need more computer RAM?
To find out if you need more RAM on your PC, right-click the taskbar and select 'Task Manager'. Select the 'Performance' tab and look at the bottom left corner to see just how much RAM is currently in use. A RAM upgrade is recommended if the 'Available' option is less than 25% of the total RAM installed.
Which RAM is the best for me?
Working out what RAM you'll need is largely based on your gaming habits. If you're looking at live-streaming then you might need a higher RAM – such as 32GB or 64GB – but for general gaming purposes, most experts recommend 8GB or 16GB as the benchmark for affordable and high-performance gaming. Regardless, it's best to look into all your options before ordering new RAM, as you may be able to snag a better deal, or a better chance of logging off with the win.
Internet Plans for Gamers
The following table shows a selection of published NBN 50 plans on Canstar Blue's database, listed in order of monthly cost, from lowest to highest, and then by alphabetical order. Use our comparison tool to see plans from a range of other providers. This is a selection of products with links to referral partners.
How did we pick some of the best RAM for gaming?
At Canstar Blue, we're experts on lots of consumer-related topics, but we can't claim to be experts on everything. That's why, in picking some of the best RAM for gaming in this article, we've drawn on our general gaming knowledge and online research to bring you this selection. Therefore, it should be treated as a general guide only.
Photo credits: hkhtt hj/shutterstock.com, corsair.com, viper.patriotmemory.com, hyperxgaming.com, vtwinpixel/shutterstock.com