As Infinity Ward and Activision come together for another controversial instalment in the Call of Duty franchise, gamers across the world are all wondering – is Modern Warfare worth the hype? With the introduction of multiplayer cross play, new tier-one operators, nostalgic combat and an entirely new, cutting-edge game engine, it seems as if Call of Duty has listened to the fans of the 15+ year gaming franchise and decided to focus on the essentials, writes Tom Doyle.
With the developer's core modes showing an all new Campaign, Special Ops and Multiplayer, gamers are provided with a wide array of diverse combat scenarios in this new chapter. With even more detailed environments and both new and re-imagined weapons, this game is reinvigorating Call of Duty fans and providing a beam of hope for the once-dying franchise. Watch below for the Call of Duty: Modern Warfare launch day trailer.
The Campaign + The Return of Captain Price
Long-time COD fans were ecstatic when news broke leading up to the recent release of the game that Captain Price would be making a return in the campaign's storyline, as the widely-beloved character has been a staple in the Call of Duty community for over a decade and is representative of the Modern Warfare golden era of the franchise. Other characters that share the journey alongside you include the fierce Commander Farah Karim, Sergeant Kyle Garrick and CIA agent 'Alex'.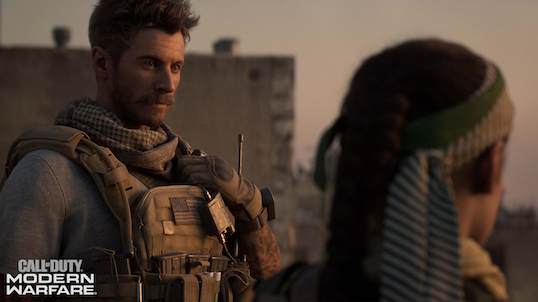 The campaign is set in a realistic environment with real historic conflict being referenced and influencing the narrative as you fight in visually striking locations across Europe and the Middle East such as London, Syria and more. Utilise several characters in the CIA and British SAS forces in the campaign as you assist rebels from the fictional country of Urzikstan in defending against terrorist 'The Wolf' and his Russian forces who have invaded the country. The developers have created more initiative for people to try out the campaign rather than sticking their guns to multiplayer, as with further progression throughout the campaign you are rewarded with several elite operators which are available for use in other facets of the game. Watch the Call of Duty: Modern Warfare campaign trailer below.
New Multiplayer Content + Season Pass is Gone
The developers of Modern Warfare were searching for a fresh multiplayer experience that their fans could sink their teeth into, as the newly-released game boasts the most photo realistic environment in franchise history. With tons of new locations, remastered weaponry and fan-favourite modes, gamers are spoiled for choice. The season pass has been excluded from this instalment of the franchise as the creators are scheduling free DLC and modes to be dropped routinely on every platform, giving the chance for gamers to enjoy the full experience without having to commit to micro-transactions.
There are several new features in online multiplayer which include Ground War, a mode that caters to 64 players in massive wide-scale combat and Realism, a mode that removes the HUD to create a more intense experience for the COD veterans looking for a challenge. The most popular new feature is Gunfight, as you and a friend take on 2 enemies in 2v2 close-quarter action with an exclusive array of small sized maps being designed for the mode. The Battle Royale mode is scheduled to be released in December with a bunch of other free content being available in weeks to come.
Is it worth it?
With Call of Duty's released games in the past having received mixed reviews, Call of Duty: Modern Warfare substitutes the advanced form of warfare seen in latter video-games for a nostalgic yet modern take on the widely-beloved Modern Warfare sub-instalment. Call of Duty: Modern Warfare is available now at all participating stores.
Game release date: Out Now
Available on: Xbox One, PlayStation 4, Microsoft Windows
RRP: AU$99.95
Internet Plans for Gamers
The following table shows a selection of published NBN 50 plans on Canstar Blue's database, listed in order of monthly cost, from lowest to highest, and then by alphabetical order. Use our comparison tool to see plans from a range of other providers. This is a selection of products with links to referral partners.
Photo Credit: EB Games