Death Stranding is the latest unnerving creation by legendary game creator Hideo Kojima (Kojima Productions), as this new PlayStation 4 exclusive takes you on an open world post-apocalyptic journey with protagonist Sam Bridges as you try to help the remaining isolated colonies after the cataclysmic event of Death Stranding. With Kojima Productions using state-of-the-art motion capture technology, the impressive renditions of the characters in-game speak for themselves, with the creators using innovative and advanced techniques to produce a terrifically detailed and one of a kind game, writes Tom Doyle.
Kojima isn't known to be an idle game creator, as the roughly 40-60 hours in gameplay surrounding an intense and dangerous journey across a dystopian landscape is sure to keep gamers entertained for weeks on end. Popular actors joining the cast for this gaming masterpiece include Norman Reedus, Mads Mikkelsen, Léa Seydoux with iconic film director, Guillermo del Toro playing the character of Deadman. Watch below for the Death Stranding launch trailer!
Breaking Down the Plot
Death Stranding's lengthy 40-60 hour playing time and perplexing story can prove to be baffling to some gamers as essentially the game's plot is all about reconnecting the world after those disastrous event of Death Stranding, which marks the day when ghostly "Beached Things" (BTs) suddenly started appearing in the world of living.
The BTs started initiating "voidouts" which destroyed everything in their path, leaving craters behind in a rocky, desolated landscape which was formerly known as the United States of America. Transporters (porters) are recognised as some of the most valuable people that are left in the reminisces after Death Stranding, as they are journeymen who deliver essentials on-foot to communities living in isolated cities known as KNOTS on the brink of collapse.
What's left of humanity hide in these remote locations in order to distance themselves from the BTs and avoid attracting them to lifeforms, as doing this could trigger another voidout and cause even more irreparable damage. Take charge of Sam Bridges (Norman Reedus), a brave and expert porter who has been tasked with a mission by his dying mother, the first and last female President of the United States to re-establish the current dystopia they live in, now named the United Cities of America. It's evident Kojima Productions has gone to great lengths to ensure the quality of the narrative and the character development present throughout it, as this game can sometimes feel like a motion picture with the in-depth plot elements and unique character growth.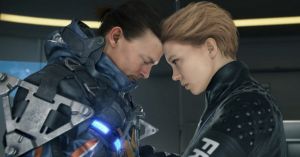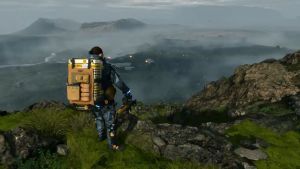 Gameplay Quality: PS4 vs PS4 Pro
This open-world epic comprises of technological achievements that have never been grasped, as the quality of gameplay aligns itself with the current wave of new console hardware rolling out in 2020. Since three and a half years ago when Kojima first revealed the initial E3 2016 teaser of Death Stranding, the race for finding the definitive gaming engine has been a quite long one, with Kojima Productions eventually choosing the Decima engine to power the game. To state the obvious, the 2160p rendering and 4K capabilities makes this quality of gameplay second to none, as Kojima Productions sets a defining benchmark for future games coming onto the PS4 Pro and subsequently the games to be released alongside the new consoles next year in 2020.
A lot of gamers are wondering how big the quality difference is from the PS4 Pro to the standard PS4 when playing Death Stranding, with it's insane 2160p resolution and life-like character renditions being specially designed for PS4 Pro gamers. The answer is for PS4 owners not to worry as Kojima Productions offer an excellent level of parity between the standard PS4 console and the enhanced PS4 Pro model, with the captaining difference being that the standard PS4 operates at an impressive 1080p while the PS4 Pro operates at a vivid and striking 2160p. Watch below for the official release Death Stranding trailer!
Is it worth it?
Game creator Hideo Kojima had been in the shadows for years in the lead up to Death Stranding's release, as now fans know why with this dedicated and compelling 40+ hour long storyline showcasing some of the best gameplay resolution and motion capture technology ever seen before in a video game. Death Stranding is out now exclusively on PlayStation 4 at all participating retailers.
 Game release date: Out now
Available on: PS4, PS4 Pro (PC Version available in early 2020)
RRP: $69.00
Internet Plans for Gamers
The following table shows a selection of published NBN 50 plans on Canstar Blue's database, listed in order of monthly cost, from lowest to highest, and then by alphabetical order. Use our comparison tool to see plans from a range of other providers. This is a selection of products with links to referral partners.
Photo Credit: Steam.com