Far Cry: New Dawn is the sixth first-person shooting chapter in the Far Cry series created by Ubisoft, as the 'New Dawn' serves as a standalone spinoff following the events of Far Cry 5 after 17 years in Hope County. New Dawn is the first direct narrative sequel to a Far Cry game as the atmosphere, high stakes and authenticity highlight the gameplay and story mode, making New Dawn a Far Cry to remember, writes Tom Doyle.
New Dawn positions the gamer to adapt quickly after nearly two decades have passed since the events surrounding Far Cry 5 occurred. With innovative and fresh environments, villains and expeditions, take your game to the next level as you fight for survival. Watch below for the official world premiere gameplay trailer for Far Cry: New Dawn!
What is the setting for Far Cry: New Dawn?
Far Cry: New Dawn is set in a post-apocalyptic world, but instead of the usual barren landscapes and withered trees that you'd expect, the developers have taken a different approach with what they call a super bloom. This atmosphere created causes flowers, trees and other flora to grow at a rapid rate, providing constant aesthetic visuals for the gamer.
In order to make the game feel more authentic as a post-apocalyptic environment, the majority of weapons you use through your time in Hope County will be crafted by yourself, unalike to previous Far Cry games where weaponry was more easily attainable. Ubisoft wanted to put a lot of emphasis and attention into the post-nuke ecosphere and narrative of the new world order, causing multiplayer elements of this game to consequently be lacking.
With villains always being a major attraction in the new Far Cry games for fans, Ubisoft didn't disappoint this time around. The Highwaymen are your main antagonists in the story's plot, as the gang is led by two ruthless twin sisters, Mickey and Lou, who prove to be the threat between yourself and the scarce resources remaining. The two motorsport Mad-Max like sisters are the first female antagonists in the Far Cry series, as developers Ubisoft reportedly were toying with the idea of a female villain for some time now. Watch below for the story trailer of New Dawn and check out the new villains!
What new expeditions are there in New Dawn?
Expedition missions can be played either solo or co-op and take place in separate locations functioning as new isolated maps, with locations and states, Louisiana, California and Arizona being included. These maps are smaller sections separate from the main layout, as they have been built from the ground up for New Dawn with more complex environments including a swamp, rocky canyon, abandoned theme park and infamous Alcatraz prison.
These missions will be lead by proud helicopter owner and pilot, Roger Cadoret as you hop aboard his ride, The Big Potato and fly to the locations mentioned. There are 3 difficulty levels for every expedition, as regardless of these difficulty level players will still get rewarded with rare loot at the completion of each mission which they can then use to upgrade weapons or improve their base.
Guns for Hire will return to the game with new characters to help fight the cause on the expeditions you take. The new characters available for recruit includes the hilarious sharp-shooting granny, Nana, an ex-Highwaymen soldier Gina focused on revenge and even Far Cry 5 protagonists Nick and Kim's offspring, Carmina. Fangs for Hire also returns to New Dawn, as your new side-kick animals includes Horatio the Boar and Timber the Atika.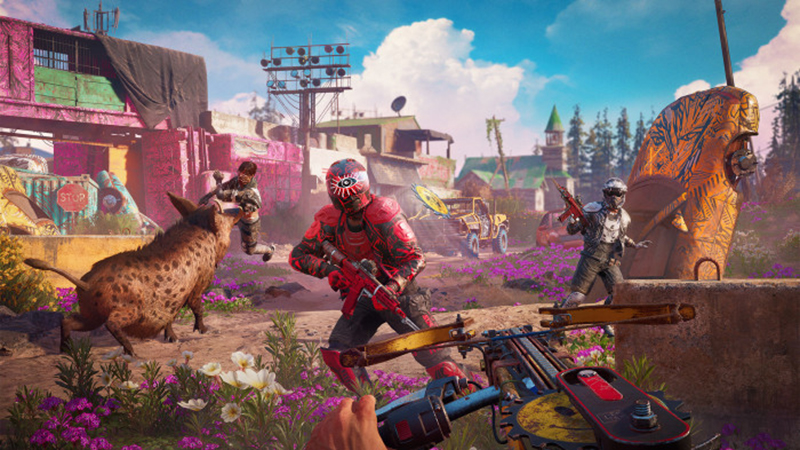 Is it Worth It?
While lacking in multiplayer facets of the game, there's not a lot bad to be said about New Dawn as most would agree that the developer's enhanced focus on the story narrative has greatly enriched the game's quality. It's nice to have a fresh and new environment alongside a storyline with lots of depth, as Ubisoft deliver in terms of transitioning and extending the Far Cry narrative as smoothly as possible. Far Cry: New Dawn is out now at all participating stores.
Game release date: February 15th 2019
Available on: Xbox One, PS4 and PC
RRP: $69.95
Internet Plans for Gamers
The following table shows a selection of published NBN 50 plans on Canstar Blue's database, listed in order of monthly cost, from lowest to highest, and then by alphabetical order. Use our comparison tool to see plans from a range of other providers. This is a selection of products with links to referral partners.