Gaming chairs are a staple in every dedicated gamer's home as they provide comfort and assistance in helping both professional and rookie gamers worldwide get better at their favourite games in style. Video-game lovers come in all different shapes and sizes, with some gaming chair suppliers specialising in small, compact and easily transportable chairs while others focus on the larger and more robust chairs to cater to people looking to be more comfortable.
Other than size and shape, gaming chairs can differ from each other immensely with features such as removable cushions, 180 degree recline, retractable table foot-rests, enhanced back support and more. It can be hard to choose a gaming chair as buyers are spoilt for choice, which is why we've formed a list of some of the best gaming chairs on the market, to help you decide what's best for you.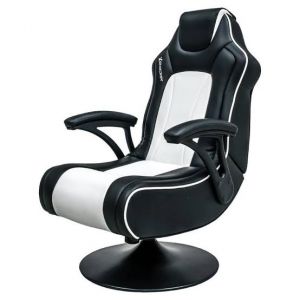 Audio System Gaming Chair
X Rocker Torque 2.1 Speaker Pedestal Gaming Chair
The X Rocker Torque 2.1 Speaker Pedestal is a versatile and stylish gaming chair with a 2.1 headrest mounted audio system that is equipped with a dual wireless/Bluetooth panel and wireless DAC transmitter claimed to provide gamers with an unforgettable experience. Deeply padded arm rests provide gamers with ample comfort, as you can literally sink into this chair as you play your favourite games. The audio system supports the following gaming consoles:
PlayStation1
PlayStation2
PlayStation3
PlayStation4
Nintendo Switch
Nintendo Wii
Nintendo Wii U
Xbox 360
Xbox 1
The X Rocker Torque 2.1 Speaker Pedestal is also surprisingly transportable as it is foldable which enables easy storage and movement, with the cushioning and design coming in two colour accents, being white/black or red/black. With a mounted subwoofer embedded into the backrest for immersive audio and vibration motors throughout the gaming chair, take your gaming to the next level with the X Rocker Torque 2.1 Speaker Pedestal!
Price: $449 | Colours: White/Black and Red/Black | Recommended Height: 140-200cm | Adjustable: Yes
Pros:
Attractive and sleek design
One-of-a-kind audio system
Embedded subwoofer and vibration motors
Bluetooth panel
Cons:
Non-adjustable (height or armrests)
Large in size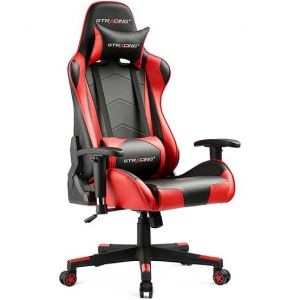 Affordable Gaming Chair
GTRACING Pro Series Red Gaming Chair
The GTRACING Pro Series Red Gaming chair provides a cheap alternative to the gaming chairs readily available in the market, given it still provides a quality and comfortable experience for any gamer looking to go safe when choosing a gaming chair. Its metal frame and heavy-duty chair base with castors makes it very stable as it comes with a height adjustable armrest and removable head pillow and lumbar cushions to provide gamers with superior comfort.
With a racing design on the chair, take your gaming experience to the next level with smooth PU leather and smooth-rolling casters offering great stability and mobility. Its ergonomic design is in place to help promote comfortable seating positions, given its padded back and seat will help provide support and enhance the gamer's experience with their favourite video games.
Price: $299 | Colour: Red | Recommended Height: 150cm-180cm | Adjustable: Yes
Pros:
Light and transportable despite its stability and steel frame
Unique racing design
Quality product for its price range
Adjustable backrest
Cons:
Doesn't support over 135kgs (300lbs)
Doesn't translate into home living (work, study)
Materials not built for long-term gaming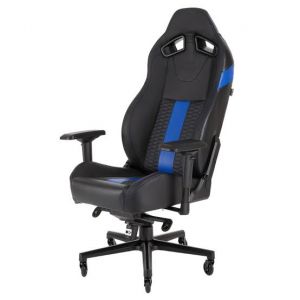 Up-Scale Gaming Chair
Corsair T2 Road Warrior
We'd be at a miss to not mention an entry by the masters of gaming tech, Corsair. Corsair is well-known for its high-end PC components, and now it's making its name popular elsewhere – in the gaming chair industry. This ambitious crossover to gaming chairs has caused Corsair to form one of the best gaming chairs on the market, the T2 Road Warrior. Breathable polyutherane leather covers the outsides of this chair as the Road Warrior has adjustable microfiber neck and lumbar pillows that make it easier on the sometimes-debilitated state gamers posture can be.
With rollerblade-style wheels, don't worry about you or another house member scratching up that precious floor. With a wide seat, tall back and its variety of colours, the Corsair T2 Road Warrior is a must for any gamer looking to spend some extra cash on comfort for those long-haul gaming sessions.
Price: $499 | Colours: Black, Blue, Red, White, Yellow | Recommended Height: 150 – 200cm | Adjustable: Yes
Pros:
Roller blade wheels prevent scratching surfaces
Adjustable neck and lumbar pillows
High end design and layout
Adjustable armrests (4D) and height
Cons:
Bulky design
Can be hard to transport
Very long in width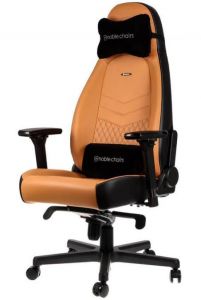 Mature Gaming Chair
Noblechairs ICON Real Leather Gaming Chair
Noblechairs fills the void for the traditional and more aged gamers with the ICON Leather gaming chair, with an incredible gunmetal stitching pattern and a classic feel that will be a great addition to any household. The distinct design of this gaming chair sets itself apart from the others on this list, as it is truly innovative in the fact that it's a one-of-a-kind in the gaming chair industry. The Noblechairs ICON chair has truly superb ergonomics due to its adjustability and 60mm castors, a showing of the detail that went into the craftsmanship of the gaming chair.
With the gaming chair having three colour accents, choose from cognac, midnight blue and black top grain leather as these custom colours provide the main elements of this gaming chair, with it being accompanied with a solid steel frame and fabricated with resistant and comfortable cold foam upholstery. This is a must have for any gamer on the older side who likes the finer things in life, as the Noblechair ICON can fit into most spaces whether they are gaming or not, with it also being able to be utilised for work quite comfortably.
Price: $1096 | Colours: Cognac, Midnight Blue and Black | Recommended Height: 160-180cm | Adjustable: Yes
Pros:
Adjustable armrests (4D)
Impressive build quality
Classy design
Recline up to 135 degrees
Armrest 4D adjustable
Cons:
Doesn't support over 150kgs (330.7lbs)
Extremely dear in price
Bulky and dense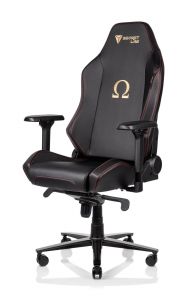 All-Round Gaming Chair
Secretlab OMEGA 2020 Series Gaming Chair
It wouldn't be a gaming chair list without including Secretlab chairs into the conversation, with them being a staple in the gaming chair community with their flagship best seller, Omega 2020 Series. Feel comfort for endless hours as this chair can slide into all gaming environments and can even be utilised for a place of work or study. Its distinct improvements to comfort, support and reliability just makes the 2020 Series update to the already award-winning Secretlab OMEGA a home run, as there is a reason it is hailed as the gold standard of gaming chairs.
Choose from premium NAPA leather, SoftWeave fabric or Prime 2.0 PU Leather as you assemble your chair with your preferred feel from the choices listed and choose its identity with base colours including classic, stealth, royal and ash. Gamers can also spend a little bit more (roughly $30) to get unique colours and themes on their chairs from the latest games, films and music artists which includes Overwatch, Dark Knight and deadmau5. This chair delivers unparalleled diversity and choice as with over 15+ colours or styles and three different chair materials to choose from, it is clear why they are considered the most comfortable and reliable gaming chair in the market.
Price: $579 | Colours: Classic, Stealth, Royal, Ash | Recommended Height: 160 – 180cm | Adjustable: Yes
Pros:
Diverse range of colours and themes to choose from
Can choose material of chair from three quality options
Comes with lumbar and head pillows
Height and armrest 4D adjustable
Cons:
Doesn't support over 110kgs (240lbs)
Pricey for the average gamer
What gaming chair is right for me?
With all of these gaming chair options and more out on the market, it can be hard to choose the right gaming chair that is the perfect fit for you. One thing's for sure though – a good gaming chair doesn't come cheap, so you'll want to hear from as many other gamers as possible about their experiences before getting your wallet out. Ask your friends about the chairs they use – they should give you some great advice. And remember that different chairs will suit varying body shapes and sizes so be sure to find the right match for your bum!

Internet Plans for Gamers
The following table shows a selection of published NBN 50 plans on Canstar Blue's database, listed in order of monthly cost, from lowest to highest, and then by alphabetical order. Use our comparison tool to see plans from a range of other providers. This is a selection of products with links to referral partners.
Image credit: Olena Yakobchuk/Shutterstock.com