The annual Consumer Electronics Show (CES) which took place in Las Vegas last week isn't normally a huge show for gaming, but that doesn't mean there wasn't plenty to get excited about for gamers. In fact, there was a wave of new gaming related hardware announced at this year's show – more so than in previous years, writes Krishan Sharma. Here are five of my favourites.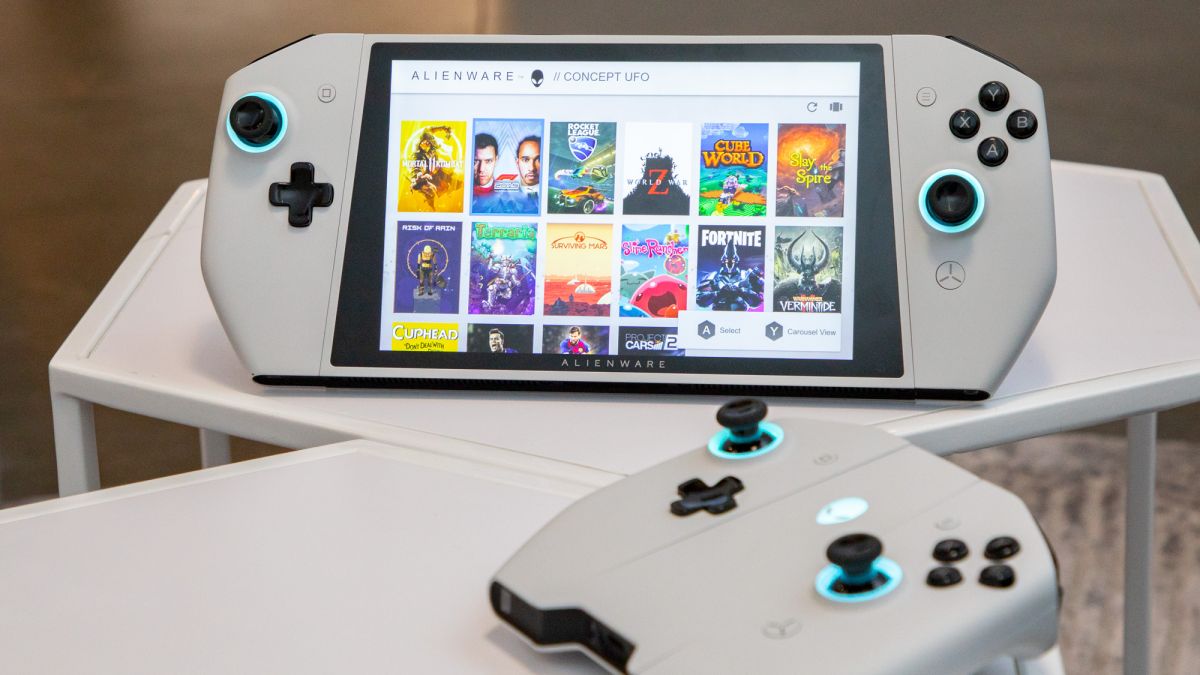 Alienware UFO: Nintendo Switch killer
Alienware, the Dell-owned gaming PC maker, is typically known for its line of laptops and desktops but it surprised everyone at CES by unveiling a handheld gaming device that brings all of the power of a gaming PC into a Nintendo Switch-like form factor. Dubbed 'UFO', the device consists of a tablet with two controller pieces that snap on to either side of the device and there's also a kickstand for propping up the tablet when you're not playing it in handheld mode much like the Switch. But most importantly the Alienware UFO is an actual Windows PC, meaning you can use it like a regular computer when you're not gaming by connecting it to an external display and using a mouse and keyboard as you would any other PC.
Although it is only a concept device at this stage, I was surprised at how polished it felt with an ultra sharp 1920×1200 resolution 8-inch display complete with a custom user interface that makes scrolling through your game library a breeze. It is noticeably heavier than a Nintendo Switch but not uncomfortably so.
Unfortunately, Alienware wasn't yet ready to reveal the specs of the device but most of the games I tried such as Mortal Kombat 11 and F1 2019 appeared to be playing smoothly at high graphics settings and running natively at 1200p which suggests that there's some decent power under the hood. Battery life is also a big question mark but if Alienware can get it to at least 4 hours while hitting a competitive price point, it may very well have a winner on its hands.
Cybershoes: walk, run and jump in VR without leaving your seat
VR is the best thing to happen to gaming in a long time but the medium has yet to nail movement without breaking the sense of immersion. Most games employ a teleport system or resort to traditional gameplay mechanics by using the analogue stick for moving your character around in the virtual world leading to a sense of disconnect but Cybershoes solves that problem entirely.
Cybershoes essentially look like a pair of skates that you strap onto your shoes and use while seated. It maps the analogue stick movement in a game to the roller wheels on the Cybershoes so that when you walk, your virtual character moves accordingly. It works with all major PC-based VR headsets from the Oculus Rift and HTC Vive to the Valve Index and is supported by some of the most popular VR games including Arizona Sunshine, Fallout VR and Skyrim VR.
Trying out Cybershoes on the showfloor, I was surprised at how accurate movement felt as I made my character walk, run and jump while dragging my feet across the floor on the rotating chair. It's the most elegant solution I've seen for nailing movement in VR and the fact that you play seated means you can play longer without getting tired.
At $US400, the Cybershoes is pricey as far as VR accessories go but it might be worth the investment for ardent VR fans.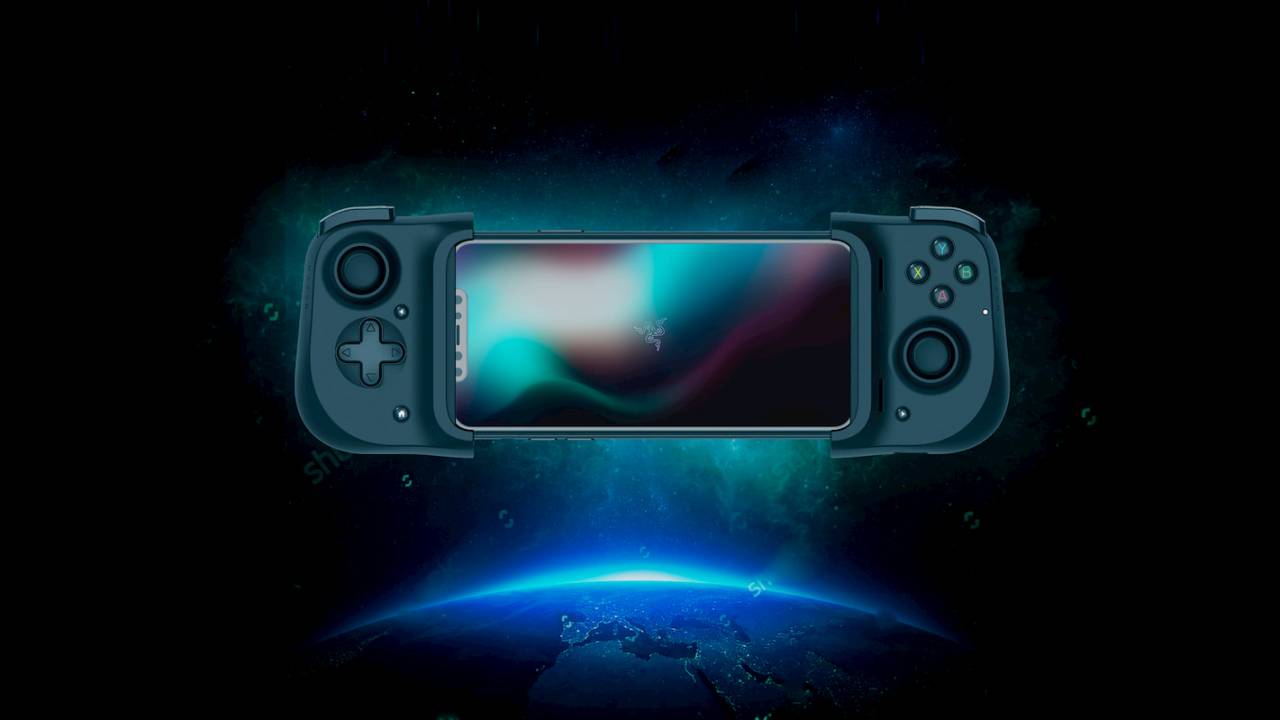 Razer Kishi: Turn your smartphone into a Nintendo Switch
Traditional gamers generally steer clear of playing games on their smartphones due to the touchscreen input but the Kishi from Razer could change all that.
The mobile gaming controller snaps onto the sides of any Android smartphone or iPhone, connecting via Apple Lightning or USB-C for low latency play and it supports pass through charging too. The Kishi essentially mimics the layout and feel of an Xbox One controller complete with clickable analogue buttons and sticks. It works with any mobile games that support game controllers so you can play the likes of Fortnite and older Final Fantasy games but it is also ideal for using cloud-based game streaming services such as Microsoft's Project xCloud and Google's Stadia.
Origin Big O: A PS4 Pro and Gaming PC in one
Origin PC – a well known boutique PC maker from the United States which was recently acquired by Corsair – turned heads at the show by showing off a wild new hybrid gaming device that essentially crams a top of the line gaming PC inside the same case as either an Xbox One S or Playstation 4 Pro.
Both the console and the PC will have seperate power plugs and HDMI outputs, so you can choose to use just one half of the system or both at the same time. The integrated nature means that it is the perfect streaming device, allowing you to play games on your console of choice while outputting streaming video on the PC half of the hardware. The system also uses a custom liquid cooling system that takes care of both the gaming PC and the console itself, resulting in whisper quiet operation.  The device is going on sale in the United States this week so hopefully we'll see it pop-up on our shores later this year.
LG's 2020 OLED line-up: The best television for gamers
4K TVs are almost always cheaper than 4K computer monitors particularly at larger sizes but they aren't practical for a lot of gamers since they normally lack the fast refresh rate essential for super smooth gameplay. LG changed all that at CES 2020 by announcing that its entire line-up of OLEDs will be capable of hitting 120Hz with support for Nivida's G-SYNC, AMD's FreeSync and Variable Refresh Rate (VRR). This is in addition to an incredibly low input lag of 13ms that goes down to half that when running games at 120fps. Plus, it's OLED which offers much better picture quality than the LCD displays we normally see on dedicated computer monitors.
To top it all off, LG also announced a new 48-inch 4K OLED model that has a pixel density akin to a 96-inch 8K television, which is something that desktop PC users who normally sit close up are likely to appreciate.
Internet Plans for Gamers
The following table shows a selection of published NBN 50 plans on Canstar Blue's database, listed in order of monthly cost, from lowest to highest, and then by alphabetical order. Use our comparison tool to see plans from a range of other providers. This is a selection of products with links to referral partners.