Racing wheels have become one of the must-have PC gaming essentials of recent years – sure, there were the doubters, but who could really argue against their benefits today? Typically connectable via USB, the gaming wheel is a peripheral controller which comes with brake/acceleration pedals to mimic the environment of a real driver's seat. Certain steering wheels can also come with gears and a clutch mechanism for gamers who prefer driving manually!
Gaming steering wheels offer much more immersive and accurate gameplay then a standard controller and with racing wheel set-ups costing anywhere from $50 to $5,000, it's key to know what features you want to help create an awesome car simulation setup! Canstar Blue investigates below with breakdowns of different gaming steering wheels at varying price points!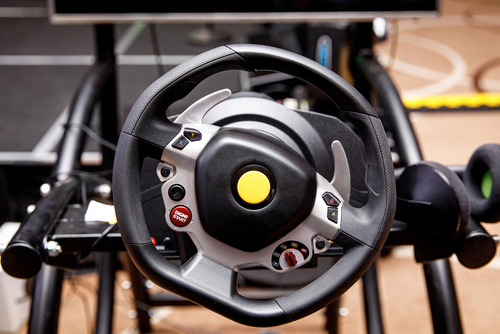 How do gaming steering wheels work?
With the inclusion of a gaming steering wheel and accelerate/brake pedals on PC, gamers are able to precisely manipulate steering angles and speed control to accurately simulate a race car experience, as these gaming wheels can differ immensely with style, quality, features and more all having an effect on choosing the perfect racing wheel for you!
Gaming steering wheel models and costs
Gaming steering wheel set-ups continue to provide speed-addicts and car lovers with an immersive racing experience from the comfort of their own home, but with more products and types of set-ups being released it can sometimes cause a bit of confusion when looking for your next purchase. Look below for a breakdown of some of the best racing wheels available online and in-store!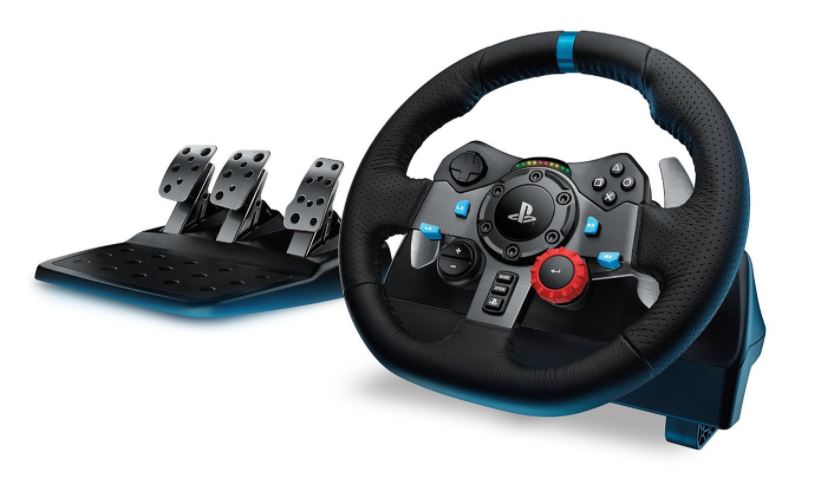 Logitech G29 Driving Force Racing Wheel
The Logitech G29 Driving Force Racing Wheel is a great option for people not wanting to break the bank but still looking for a high-quality car simulation. With the Logitech G29 featuring a 900-degree wheel rotation, dual motor force feedback and stainless-steel paddle shifters, this gaming steering wheel provides a list of essential features needed set at a reasonable price tag.
With helical gearing, adjustable floor pedals and full leather hand-stitching, the Logitech 29 Driving Force Racing Wheel is an awesome and unique addition to any car simulation setup. The retail price is $499 as this gaming steering wheel is recommended for people looking for a high-quality racing wheel set-up that will provide all the essentials at a reasonable price.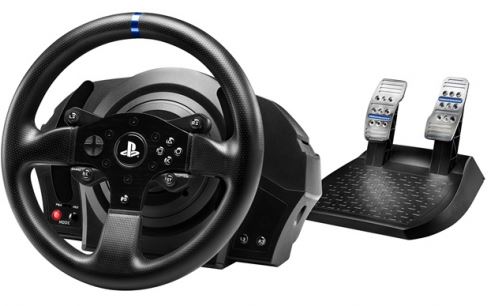 Thrustmaster T300 RS Racing Wheel
The Thrustmaster T300 RS Racing Wheel incorporates a 1080-degree force feedback servomotor wheelbase to provide awesome control of angular position, velocity and more with an industrial-class brushless motor coupled together to help offer gamers the very best efficiency, smoothest feeling and highest force feedback torque.
With the 28cm diameter wheel featuring brushed metal spokes, 13 action buttons and two 13cm fixed paddle shifters all bound with a reinforced rubber texture, this makes for one of the best racing wheels available on the market. Retailing for just $649, the Thrustmaster T300 RS is recommended for people looking for a top-quality racing wheel setup at a 3-digit price.
Fanatec Podium Racing Wheel F1
Fanatec's Podium Racing Wheel F1 is a freak of nature, with this 27cm diameter compact wheel featuring dual analogue carbon fibre clutch paddles and over 14 LEDs indicating motor RPM, optimal shifting point, tire slip, fuel level, incoming radio and more! The Podium Racing Wheel F1 is also wireless in terms of data and power, so this means no messy USB cords flying around!
It's no surprise the wheel is officially licensed by Formula 1, with the Fanatec Podium Racing Wheel F1 offering some of the most realistic force feedback ever seen in car simulating. Retailing at $3,200, this masterpiece is reserved for heavy racing enthusiasts and recommended if you're looking for a supreme car simulation experience.
Is it worth buying a gaming steering wheel?
Yes. Deciding on the right gaming steering wheel for you is going to be entirely based on your personal preferences and your budget, but it's totally worth the investment if you take your racing seriously.
If you enjoy the occasional car game and aren't looking to break the bank with your next racing wheel purchase, it's recommended you stick with a trustworthy and quality type of racing wheel. But if you're looking to invest in a high-quality simulation set-up with precise controls and dynamic force feedback, you should have another look above at Fanatec's Podium Racing Wheel F1 and similar products online! Enjoy the ride.
Internet Plans for Gamers
The following table shows a selection of published NBN 50 plans on Canstar Blue's database, listed in order of monthly cost, from lowest to highest, and then by alphabetical order. Use our comparison tool to see plans from a range of other providers. This is a selection of products with links to referral partners.

Photo credits: ymgerman/shutterstock.com, PiotrPiatrouski/shutterstock.com, fanatec.com, thrustmaster.com, gamesmen.com