Stadia is a cloud gaming service which was released in 14 countries last month by Google, as it boasts ready-to-play games without a console or pesky downloads and updates. Appearing as the Netflix of gaming, Stadia is offering subscribers a variety of pretty popular games ready to be streamed via the Chromecast Ultra dongle, Pixel phone or Chrome web browser on a desktop/laptop. With Stadia's release date in Australia yet to be confirmed, it's not far-fetched to say Australian gamers could have access to this new wave of gaming in the very near future, writes Tom Doyle.
With gameplay quality reaching 4K at 60 frames per second, it is recommended that you have a good internet connection and solid Wi-Fi router at the ready for the best Stadia experience. As poor quality gameplay and lagging lead the top criticisms for the service since its recent release, Google are working on evolving the cloud-based infrastructure to meet the demands of gamers all across the world. Watch below for the Google Stadia announcement trailer!
Games Available on Stadia
Initially it will cost roughly $130 for the hardware kit (controller, dongle etc) and $10 per month for Stadia Pro, the game-streaming subscription plan. With big titles being announced for release in 2020 on Stadia including Cyberpunk 2077, Watch Dogs Legion and more, the limited bundle of games currently available should keep gamers entertained in the meantime. Games that are ready to play now on the Google Stadia include:
Assassin's Creed Odyssey
Attack on Titan: Final Battle 2
Destiny 2: The Collection
Farming Simulator 2019
Final Fantasy XV
Football Manager 2020
Grid 2019
Gylt
Just Dance 2020
Kine
Metro Exodus
Mortal Kombat 11
NBA 2K20
Rage 2
Rise of the Tomb Raider
Red Dead Redemption 2
Samurai Shodown
Shadow of the Tomb Raider
Thumper
Tomb Raider 2013
Trials Rising
Wolfenstein: Youngblood
With a wide selection of games hand-picked and readily available for Stadia players in the permitted countries, it's just a matter of time till Aussies and other keen nations get to experience this new and exciting future of gaming! With a lot of the games listed already being available on Xbox One, PS4, PC and other popular consoles, Stadia relies on the unique and convenient experience being offered of streaming games directly from the cloud to attract gamers. Watch below for the Google Stadia launch trailer!
Stadia Gameplay
Use the Chromecast Ultra Dongle if you are wanting 4K resolution with high dynamic range (HDR), as playing via the Pixel phone or Chrome web browser will only provide max. 1080p resolution. The wireless Stadia controller is exclusive to Chromecast, as it feels similar to the Xbox One and Sony Dual Shock controllers to give gamers an easier transition. With the choice of playing across multiple devices including laptops, desktops and selected phones and tablets, it's hard to not give props to Google for the ambitious cross-over into the gaming industry as the release of Stadia is an exciting revelation for the future of easier and more convenient gaming.
The proposition of seamlessly transitioning from a video to a game in seconds is undeniably exciting, as the capabilities Stadia comprises of is endless for gaming wherever and whenever. With Google working on advancing the quality of streaming and growing the cloud-based infrastructure of Stadia, the current gameplay quality of 4K HDR resolution and 60fps are keeping the majority of gamers at bay for the meantime. As the prospect of Stadia neutralises the burden of a heavy console and frustrating delays, updates and downloads, it's obvious that while in its limited release there is definite potential for Stadia to change pre-conceived notions on what gaming really is.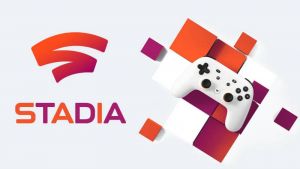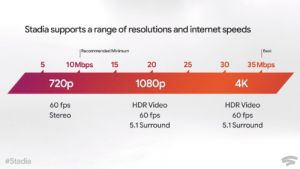 Is it worth it?
Despite criticisms of poor-quality gameplay since Stadia's initial release, this unique streaming service provides gamers with accessibility of some of their favourite titles like never before, as the evolving infrastructure of Stadia is exciting everyone for the future of gaming. Google Stadia is available now in selected countries with a release date in Australia to be confirmed.
Release date: TBC (Available in selected countries)
Available via: Chromecast Ultra Dongle, Pixel Phone or a Chrome Web Browser
RRP: Initial Monthly Subscription Fee – $9.99 | Hardware Kit – $130
Internet Plans for Gamers
The following table shows a selection of published NBN 50 plans on Canstar Blue's database, listed in order of monthly cost, from lowest to highest, and then by alphabetical order. Use our comparison tool to see plans from a range of other providers. This is a selection of products with links to referral partners.