Mario and Sonic at the Olympic Games Tokyo 2020 is a crossover sports and party game developed by Nintendo and Sega – and available exclusively on the Nintendo Switch, with it giving gamers another opportunity to use their favourite characters from the Nintendo and Sega universes while experiencing both first-hand and traditional Olympic sports that will be present at the Tokyo 2020 Olympics, writes Tom Doyle.
With the incredible cast of characters returning including Mario, Sonic, Luigi, Bowser and Dr. Eggman combined with the newly instated Olympic sports such as skateboarding, karate and more, this sixth instalment in the crossover Mario and Sonic series will prove to be a nostalgic and refreshing experience for Nintendo lovers across the world. Watch below for the Mario and Sonic at the Olympic Games Tokyo 2020 trailer!
New Sports and Characters
With the four new sports joining the 2020 Tokyo Olympics being skateboarding, surfing, karate and sport climbing, Nintendo and Sega would be at a miss to not include them in their sixth chapter of the successful Mario & Sonic at the Olympic Games franchise. The previous country hosts being lucky enough to be included in the series have games such as Mario and Sonic at the London 2012 Olympic Games, Mario and Sonic at the Rio 2016 Olympic Games and more, as multiple new sports were similarly introduced in the past.
Guest characters are available for certain mini-games, with Diddy Kong being exclusive to Rugby Sevens and Zazz being available in Table Tennis, as this provides an incentive to try new sports you may have been hesitant on.
The selection of 40 mini-games showcase the various Olympic sports being played next year in Tokyo, with three separate dream sport mini-games returning to the game being Dream Racing, Shooting and Karate. These dream modes channel themes and environments from the classic Mario and Sonic series, with Dream Racing drawing elements from the iconic Sega and Nintendo games Sonic Adventure 2 and Mario Kart. Classic sports returning to the series include Table Tennis, 100m, Javelin Throw, Fencing, Archery, Hurdles and many more as developers have made sure there is enough for gamers to sink their teeth into.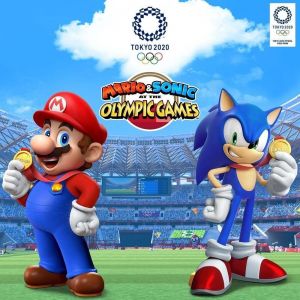 Story Mode and Nostalgic 2D Sports
The roughly six to eight-hour duration story mode might not grab the excitement of the older gamers due to the lack of substance in the plot, but will provide great entertainment for the young ones. The addition of occasional confusing script writing and the narrative of the story essentially consisting trying to save everyone from being trapped in a retro video game can prove to be quite cringe for the more mature audiences, as it's obvious the developers have catered to the younger audiences for this mode.
Gameplay can prove to be very satisfying and enjoyable as you try to lock down on the differing and unique gaming mechanics for each sport, whether it's perfecting the triple jump or trying to time the perfect karate kick.
Nintendo and Sega have introduced a new group of 2D Olympic mini-games including Volleyball, Kayak, 100m and more as this minimal but quality selection of 10 sports has proven to be the highlight of the Mario and Sonic 2020 Tokyo instalment in many people's eyes.
With the 2D mini-games taking inspiration from the classic Track and Field NES games first released in 1983 and using button controls similar to the 8-bit (Mario) and 16-bit (Sonic) styles, these games cater to the mature Nintendo gamers who are looking for a more nostalgic gaming experience. Watch below for the Classic 2D events reveal for Mario and Sonic at the Olympic Games Tokyo 2020!
Is it worth it?
Mario and Sonic at the Olympic Games Tokyo 2020 certainly carries the torch forward for the 12 year+ series, as its introduction of 2D mini-games provides gamers with a nostalgic experience bundled with the addition of four new Olympic events, making this instalment one of the top games in the franchise. It's out now exclusively on the Nintendo Switch at all participating stores.
Game release date: Out now
Available on: Nintendo Switch
RRP: $59.99
Internet Plans for Gamers
The following table shows a selection of published NBN 50 plans on Canstar Blue's database, listed in order of monthly cost, from lowest to highest, and then by alphabetical order. Use our comparison tool to see plans from a range of other providers. This is a selection of products with links to referral partners.
Photo Credit: EB Games