While many think of gaming mousepads as a trivial accessory for PC, there are actually several major benefits to using them over common mousepads, with gaming mousepads offering even better traction and increased precision to provide gamers with high-quality mouse control.
With an abundance of gaming mousepads and desk pads available for purchase, it can be confusing when looking to purchase one as there are differences in aesthetics, material and more surrounding every brand's product. In this Canstar Blue guide, we break down the most popular types of gaming mousepads and desk pads and what to consider before buying!
What's the difference between a gaming mousepad and regular mousepad?
While regular mousepads are awesome for everyday computer life, gaming mousepads offer an increased level of traction and precision that simply cannot be found with a common mousepad for PC. With better tracking and less friction, gamers are able to operate their mouse smoothly without any hiccups to create an optimised gaming experience.
Gaming mousepads and costs
There's a massive and diverse selection of gaming mousepads tailored for different purposes, so we've broken down some of the top brands and products below to showcase some of the best on offer!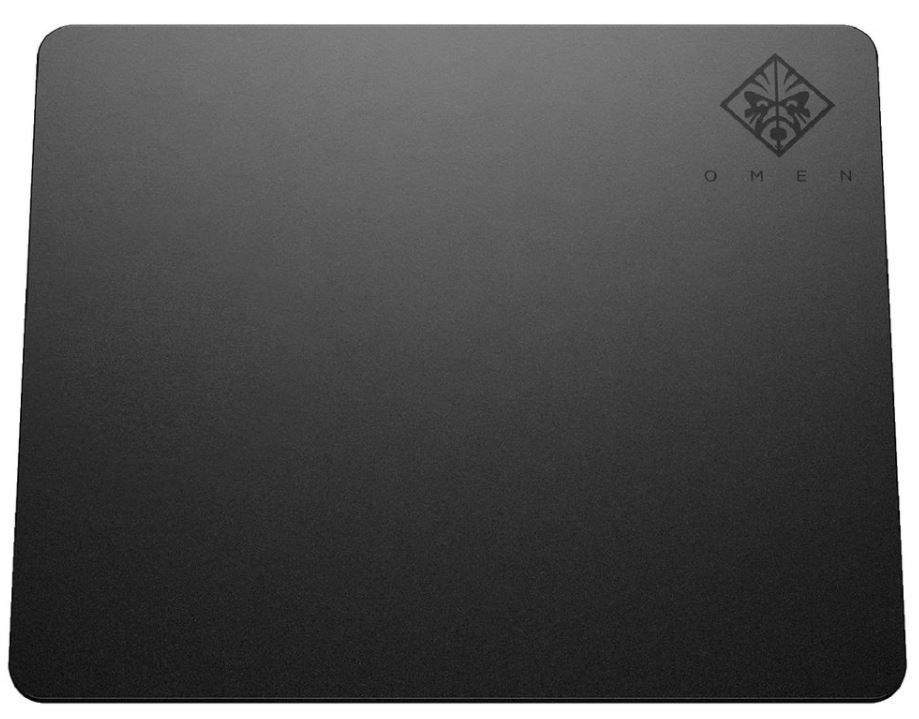 HP Omen 100 Mouse Pad
The HP Omen 100 Mouse Pad is a really awesome and cost-effective addition to any PC gaming setup, as its non-slip rubber base and surface friction makes it one of the best, wallet-friendly gaming mousepads on the market.
With the Omen 100 Mouse Pad being tested to withstand 250km of movement, this reliable and long-lasting mouse pad is perfect for gamers looking for a cheap gaming mousepad that gets the job done!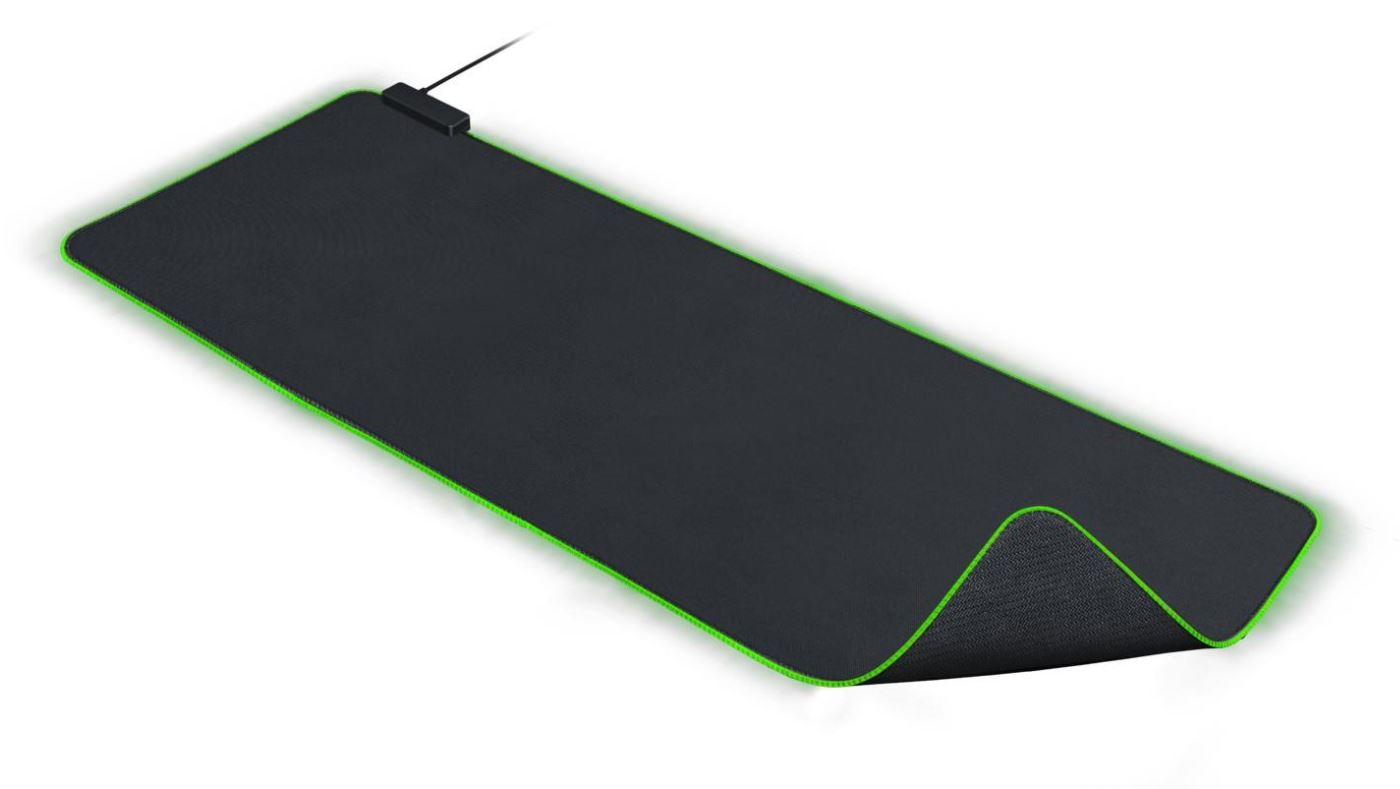 Razer Goliathus Chroma Gaming Mouse Pad
The Razer Goliathus Chroma Gaming Mouse Pad has a contemporary micro-textured surface which allows gamers to maximise their mouse responsiveness and be optimised for both speed and accuracy.
Razer Chroma customisable lighting also comes with the Goliathus mouse pad as you can connect via USB to get some cool light up effects while your gaming! Compatible with either laser or optical sensor mouse, the Razer Goliathus Chroma Gaming Mouse Pad is a pricey but top-tier addition to any gaming setup needing a mousepad.
What's a desk pad?
A desk pad, also referred to as a blotter, is a covering used to protect and prolong your working space. They're a flat rectangular surface which can be derived from materials such as plastic, vinyl, leather or textured linen. Sizes can range from very small to large tabletops as there are a variety of desk pads available for purchase in store or online, with differing colours, sizes and more!
Desk pads and costs
There are thousands of desk pads available for purchase online, but we've broken down some of the top brands and best products to make it easier for you to choose!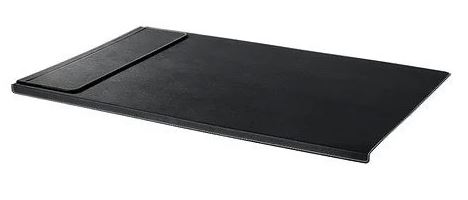 RISSLA Desk Pad
Hailing from IKEA, the RISSLA Desk Pad is an 86cm x 58cm nylon-threaded flat surface to help protect both your desk and your work.
With a steel base and anti-corrosive coating, this desk pad can apparently withstand coffee spills, scratches, sun and rubbing without losing any colouration, so it's perfect if you're prone to the occasional spill! With a bent front edge to seamlessly keep the desk pad in place, the RISSLA is an awesome and cost-effective desk pad that covers all the essentials.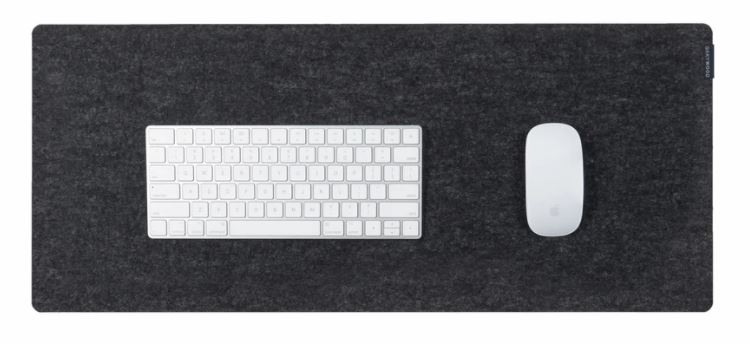 Oakywood Felt and Cork Anthracite Desk Mat
Available in either 70 x 30cm or 90 x 30cm, the Felt and Cork Anthracite Desk Mat is specially designed to protect your desk from scuffs, stains and other damaging elements. With the desk pad made out of durable Merino wool, the surface acts as an integrated mouse pad to provide a clean and smooth desk aesthetic.
A thick layer of organic eco-cork is built into the desk pad to prevent the mat from sliding, as the Oakywood Felt and Cork Anthracite Desk Mat is a stylish 2-in-1 protective pad that could be perfect for people looking for an up-market and comfortable desk mat!
Are gaming mousepads and desk pads worth buying?
Gaming mousepads are considered essential for PC gamers looking to take their gaming to the next level, or just wanting better precision and control, as the differences between a common mousepad and gaming pads are quite significant.
Desk pads are perfect for people wanting to define their own tabletop space as there are tons of unique styles and materials out there to suit every person and environment. So, if you want to protect your desk from the elements (and yourself), it's recommended you buy a desk pad to make your area more sustainable!
Have a look at the select products mentioned above to help narrow down your dream gaming mousepad and/or desk pad!

Photo credits: Ekkaphn Chimpalee/shutterstock.com, Pakito/shutterstock.com, officeworks.com, oakywood.com