Lace up your boots and get ready to experience the most realistic football title ever before with Next-Gen FIFA 21. Showcasing improved player realism, enhanced gameplay mechanics and outstanding cinematics, FIFA 21 is leading the wave of next-gen entertainment to create a stunningly crafted sporting title.
Available to play on the Xbox Series X and PlayStation 5, Next-Gen FIFA 21 provides gamers with fluid athlete movements and advanced rendering to allow you to play football with your favourite stars like never before. If you're on the fence about whether to pick up a next-gen copy or stick with the current-gen, find out more in this Canstar Blue review.
Next-Gen FIFA 21 Gameplay Mechanics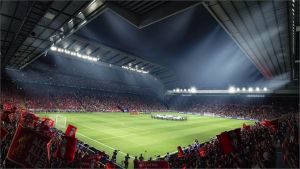 EA Sports uses Real Player Motion Tech to create authentic ball movement with push and pull physics, making players more reactive than ever before. With improved capabilities thanks to the Frostbite engine, Next-Gen FIFA 21 also showcases improved player realism, featuring incredible detailing, whether it's strand-based hair authentically reacting to player movement or muscles flexing after striking, the power of next-gen consoles has allowed FIFA 21 to take football games to a whole new level.
This cutting-edge tech has allowed EA Sports to overhaul the game mechanics, with responsive multi-touch animations allowing free-flowing gameplay for a seamless playing experience. With more realistic touches and a reduction in mechanical, lifeless player movement that has been seen in previous titles, Next-Gen FIFA 21 is bursting with engaging, fluid and most importantly – accurate gameplay!
EA Sports weren't lying when they were talking about lightning-fast load times, with players being able to go from the main menu to kick off in just 2 seconds! Next-Gen FIFA 21 also allows players to take their Volta and FUT Clubs from current-gen to next-gen and vice versa, enabling easy access and a seamless transition for gamers wanting to upgrade or go back to current gen.
Next-Gen FIFA 21 Enhanced Graphics + Cinematics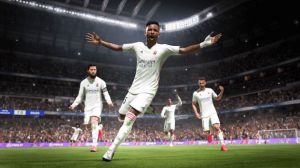 Inspired by the feel of top-level football broadcasts, the new Next-Gen GameCam allows players to experience a fresh perspective on the match, with more of the pitch available to see with earlier passing lanes and fan reactions from both home and away now being captured!
Experience LiveLight Rendering, Next-Gen FIFA 21's new deferred lighting system, which creates a visceral and dynamic environment for players to experience. From fine-tuned pitch surfaces and meticulous stadium details to substitutes and line referees, Next-Gen FIFA 21 visually enhances every aspect of the football pitch to deliver gamers with the most realistic football experience ever seen before. Big goal moments are also now prevalent in Next-Gen FIFA 21, with new player, bench and fan reactions responding to each moment differently, whether it's a last-minute winner or relegation-saving equaliser to make every game feel special.
Experience the deafening sounds of stadiums across the world with thousands of authentic chants taken from the Premier League, LaLiga Santander, Bundesliga and other major leagues as Next-Gen FIFA 21 brings you the ultimate EA SPORTS Atmospheric Audio experience.
Brand new pre-game cinematics offers gamers a visceral and unmatched game-day experience, whether its watching team transport arrive to the grounds, fans rushing through turnstiles or players walking onto the pitch, Next-Gen FIFA 21 showcases the pre-game excitement for an enhanced and cinematic introduction to each match-day, giving you those game-day chills.
Is FIFA 21 Next-Gen worth it?
Next-Gen FIFA 21 uses lightning-fast loading times, Frostbite tech and LiveLight rendering to deliver fans with the most visually striking and responsive FIFA game ever released, and looks to repair the damage of the last few entries to the series.
Enhanced gameplay coupled with dynamic environments makes every matchday feel like you're there, with fluid animations and new cinematics making the football experience as special as ever before. Next-Gen FIFA 21 is out now at all participating stores and available to play on both the Xbox Series X and PlayStation 5, and may be well-worth picking up a copy, regardless of how big a fan of the series you are.
FIFA 21 Next-Gen Details
Game Release Date: Out Now
Available on: Xbox Series X, PlayStation 5
RRP: $99.95
Internet Plans for Gamers
The following table shows a selection of published NBN 50 plans on Canstar Blue's database, listed in order of monthly cost, from lowest to highest, and then by alphabetical order. Use our comparison tool to see plans from a range of other providers. This is a selection of products with links to referral partners.
Photo Credit: ea.com, Microsoft.com