The gas price war in Western Australia has taken another twist with energy giant AGL offering a free month of gas usage and supply for new eligible customers.
Making inroads into the WA market, AGL now provides the biggest conditional discounts in the state in addition to its new sign-up offer.
The free month of gas usage and supply is available through the retailer's 'Set and Forget' and 'Savers' plans, the former of which also includes a 44% direct debit discount off usage charges, while the latter brings 43% off usage for paying on time. Both plans have variable rates and discounts apply for the first 24 months.
AGL provides a third gas offer in the Perth area, but this includes fixed rates for two years, with no discounts available. The AGL website suggests going with fixed rates currently works out marginally more expensive.
On its free month of gas deal, AGL outlines that: "Eligible customers receive 30 days free usage and supply charges calculated based on the customer's average daily usage in the first billing period. Estimated data may be used if actual data is not available. Other fees and charges will still apply."
It's the latest move from the retailer to attract residential customers away from WA's more established gas retailers, Alinta Energy and Kleenheat. Origin Energy and Simply Energy have also joined the WA market in recent times with big discounts.
In addition to conditional discounts and the free month of energy, AGL is also offering new customers 10,000 flybuys points when they sign up online, as well as access to its rewards program, AGL Rewards.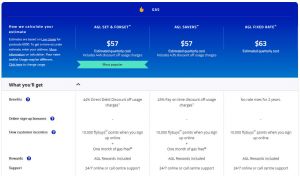 WA Gas Discounts
Here is a list of the biggest discounted residential gas plans available to WA households at the time of publication. One product per retailer shown:
AGL Set and Forget: This plan has a 44% discount off gas usage charges for 24 months. The discount is conditional on paying by direct debit.
Origin Maximiser: This plan comes with a 35% discount off gas usage charges for customers who set up eBilling and pay by direct debit.
Alinta Energy Fair Go 35: Providing a 35% discount off gas usage charges, the Fair Go 35 comes with a 12-month benefit period, as well as flexible payment options.
Kleenheat Monthly Energiser: This plan has a discount off 35% off gas usage charges for the first 12 months. Customers must pay by direct debit, with monthly email billing.
Simply Energy Plus: On this plan, customers receive 38% off gas usage charges when they pay their bills on time. In addition, the plan also offers $50 welcome credit.
Canstar Blue Editor-in-Chief, Simon Downes, said: "With a regulated cap on gas prices in WA, the bigger discounts generally do mean the biggest savings, unlike on the east coast where the big discounts have not always delivered the savings they appear to.
"The arrival of AGL, Origin and Simply Energy into the WA gas market has triggered an intense period of competition, with AGL in particular doing everything it can to attract customers away from the others. The challenge has been set for the other retailers to match or better what AGL is doing.
"The competition is great for consumers looking to save on their gas bills, but it's important to sign up to the right product with the right discount for your circumstances. Not everyone wants to pay by direct debit and pay on time discounts come with the risk of losing those savings if you fail to pay on time, so think carefully about what's best for you. Also keep in mind that most discounts are temporary for the first year or two.
"Other sign-up incentives are also becoming a major point of difference and giving consumers something else to consider. Ultimately, it's about which gas plan provides the best value to you as a customer, not just the cheapest prices. I would also encourage households to consider customer reviews of all retailers because we all want cheap prices, but not at the expense of good service."
Picture credits: Pavel Kapysh/shutterstock.com