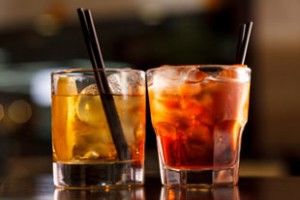 We love a good cocktail, so we tried our hand at inventing some…well, at modifying a few staples anyway! Some didn't quite make sense, but that's half the fun, so drink responsibly and have a happy New Year! See you in 2015.
Canstar Blue's Bayou (Blue Bayou)
Careful with this one – it's surprisingly potent when consumed from a punch bowl.
1 cup of ice
1 (and a nip) shot of vodka
A nip of blue curaçao
1/2 cup of orange juice
2 shots of grapefruit juice
Chunk of orange for garnish
Learn how to make this at http://cocktails.about.com/od/cocktailrecipes/r/blue_bayou.htm
The Strathspey (The Manhattan)
If you're a fan of the classic Manhattan, but would prefer the simple, smooth flavours of a Scottish single malt, we have just the thing.
2 shots single malt whisky (something smooth, perhaps from the Speyside or the Highlands
A nip of sweet vermouth
2-3 dashes Angostura bitters
Learn how to make this at http://cocktails.about.com/od/atozcocktailrecipes/r/mnhtn_cktl.htm
The Disney On Ice (Cosmo)
…Okay, we just want to see what happens when hundreds and thousands are thrown into a bottle of gin (preferably not one of the nicer bottles).
1/4 cup gin
1 tablespoon triple sec
1 tablespoon + 1 1/2 teaspoons lemonade juice
1 1/2 teaspoons to 3 teaspoons fresh lime juice
1 2-inch orange peel/twist
Ice
Hundreds and thousands
Sprinkle of shredded / desiccated coconut
Learn how to make this at http://www.inspiredtaste.net/19420/perfect-cosmopolitan-cocktail-recipe/
The New & Fashionable (Old Fashioned)
Nothing is quite so old fashioned as an Old Fashioned, but we'd be curious to fashion something a little more fashionable out of something not so old (*takes another sip*).
1 sugar cube
3 dashes Angostura bitters
Soda water
2 shots Australian whisky
Learn how to make this at http://www.esquire.com/drinks/old-fashioned-drink-recipe
All In (Long Island Ice Tea)
Equal parts delicious, delightful and deadly, this one is best saved until the end of the evening.
55g (1/4 cup) caster sugar
2 shots (1/4 cup) water
3 cups ice cubes
80ml (1/3 cup) chilled vodka
80ml (1/3 cup) tequila
80ml (1/3 cup) white rum
80ml (1/3 cup) gin
2 shots (1/4 cup) Cointreau liqueur
2 shots (1/4 cup) fresh lemon juice
250ml (1 cup) lemonade
A leaf of mint, torn up if possible