According to Canstar Blue's research, the average Australian spends a relatively lean $118 per month on alcohol purchases, or just $23 a week, according to the responses of the online liquor store shoppers we recently surveyed. This could encompass a bottle of 'bubbly' or two each week, perhaps a few drinks while out with work mates on a Friday night, or even the odd cleanskin wine for a slow cooked braised steak.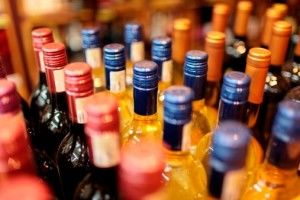 That said, one in three Australians say this is too high a price to pay – stating outright they spend too much money on alcohol. Younger Australians bucked the conception of being big spenders in this area; their monthly outlay is $89, versus $116 for Generation X'ers and $130 for Baby Boomers. We also found that men (on average) spend $31 more each month on liquor.
So, what does the money go towards?
The price of social drinking
Two in four Aussies are social animals; admitting they only drink among the company of others. Close to a third reportedly drink more than six drinks in one sitting at least once a week. But who are the worst offenders of binge drinking in this manner? That would be Generation X respondents, 43% of whom admit to regularly downing six of something. The consequences of this kind of behaviour are all too familiar to some. We found that one in two of our respondents had drunk too much and embarrassed themselves in the past. Some party animals recognise this phenomenon as a 'Saturday night'.
Sporting event costs
One arena (no pun intended) in which the consumption of alcohol is inextricably linked to is Australian sport. The problem is, 87% of survey respondents believe the prices they pay at sporting events are "a rort". There are a few good reasons why alcohol is so heavily pushed at sporting events – regardless of cost – according to the Australian National Preventive Health Agency (ANPHA).
A quarter of some sports annual income comes from "alcohol beverage sponsorship agreements and associated income".
Alcohol companies contribute $50 million in sponsorship for major sporting events every year in Australia.
The Australian Drug Foundation states, "Most major sporting competitions and teams promote and advertise alcohol consumption and many sports clubs have a tradition of heavy drinking. A large number of clubs depend on revenue from alcohol to finance club activities"
Source: Alcohol Advertising in Australia, updated on the ANPHA website 21/02/2014
While the price may be considered steep for many, it also seems to be a chief reason why some sport continues to prosper – both commercially and financially.