Almost half of Aussies are more likely to skip their breakfast than their morning coffee and two-thirds struggle to function properly without regular caffeine injections throughout the day.
That's the upshot of a new Canstar Blue survey, which found young people are the most likely to depend on their coffee fix to get them through the working day, with double or even triple shots common in takeaway orders.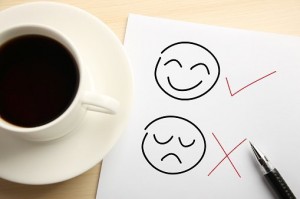 Overall survey outcomes
49% regularly just have coffee for breakfast
63% can't function properly without coffee
56% think they drink more coffee than they should
Head of Canstar Blue, Megan Doyle, said many Aussies are prioritising coffee at the expense of meals in a bid to get their day off to a flying start.
"Particularly on those cold mornings, it can be tempting to stay in bed for a few extra minutes and just grab a quick coffee for breakfast," she said. "Most people have probably done that at one time or another, but what this survey has found is that, for many of us, it is the norm rather than the exception.
"Aussies don't just love their coffee, many are clearly dependent on it – none more so than those in their 30s, we found, with a shocking 77% admitting they can't function properly without coffee. That age group was also the most likely to reach for coffee over food, even though many believe they drink too much.
"But it seems it's not just about getting a caffeine boost, with 49% of those in their 30s declaring that drinking coffee makes them feel sophisticated."
What coffee are we ordering?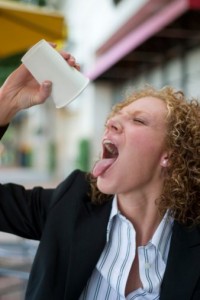 Just over half of the 1,876 survey respondents, who have purchased a drink from a coffee shop chain in the last six months, said they consume at least two cups of coffee every day.
When it comes to our most commonly ordered types of coffee, cappuccino (37%) proved most popular ahead of latte (21%) and flat white (17%).
However, there were some interesting variations across age groups, with mocha a popular choice for those aged 18-29, while flat white and long black were most commonly ordered by those in their 60s, and those in their 30s were most likely to order a latte.
Men (40%) were found to be bigger lovers of cappuccino than women (34%) and were also more likely to buy a flat white and long black. Women, however, were more likely to opt for a latte or mocha.
Overall 17% of adults said they usually order double shots and 9% go for triple shots on a regular basis, with men the most likely on both counts.
Also a quarter (23%) of respondents said they always order coffee made with single origin beans, while 45% try to buy coffee made with fair trade beans.
And consumers were found to be spend an average $16 a week on takeaway coffee, with those in their 40s ($19) splashing out the most and men ($18) spending more than women ($15).
Coffee drinking habits by state
Consumers in Victoria ($18) spend the most on takeaway coffee per week, with those in Western Australia ($13) the least. Cappuccino proved the most commonly ordered coffee in Queensland, New South Wales and South Australia, but latte was the most popular in Victoria and flat white was most loved in WA.
How do we rate coffee shop chains?
The taste of coffee (30%) was unsurprisingly found to be the greatest driver of customer satisfaction for those who visit coffee shops, followed by customer service (17%) and value for money (15%). Quality food (9%), loyalty programs (8%) and other drinks (8%) were less important for consumers.
Survey respondents were asked to rate the coffee shop chain they most frequently visit on the above variables and other criteria, with Zarraffa's Coffee the only chain to achieve a five-star rating from consumers for quality coffee.
However, Donut King scored an impressive set of results across the board and was the only chain to earn top marks for overall customer satisfaction and value for money.
"Naturally great tasting, quality coffee is hugely important, but there are a lot of factors that go into the overall coffee shop package and consumers are clearly happy with what they are getting from Donut King," said Mrs Doyle.
"An honourable mention also goes to Muffin Break, which picked up our Most Satisfied Customer Award for coffee shop chains in the previous three years. But this is Donut King's year."
Click here to read our customer satisfaction ratings report for coffee machines.