A relatively new addition to supermarket shelves has emerged as Australia's favourite brand of cheese.
Great Ocean Road, which was launched to the national market in 2012 after Victorian dairy Warrnambool Cheese & Butter agreed a deal to supply milk and cheese to Coles, has picked up Canstar Blue's Most Satisfied Customers Award for block cheese.
The Great Ocean Road brand was developed in partnership between Warrnambool Cheese & Butter and Coles, and is sold exclusively in Coles stores. It beat private label brands from all three big supermarkets, as well as a host of big name brands, for overall customer satisfaction. Great Ocean Road also got top marks for variety, taste and packaging appeal.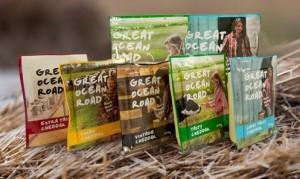 "Great Ocean Road is certainly a very strong, eye-catching brand, which helps it stand out from the crowd in supermarket fridges," said Head of Canstar Blue, Megan Doyle. "The name evokes imagery of the Australian coastline, its beauty, nature and purity – which helps make it appealing to consumers.
"However, the acid test is whether or not the tastes lives up to expectations and consumers are convinced it's more than a match for the big brands. It's a great success story for a brand that few consumers would have heard of just three years ago. It's made a big impression."
Earlier this year Warrnambool Cheese & Butter acquired some of Australia's most well-known cheese brands from Lion Dairy, including Coon and Cracker Barrel – which it already produced in south-west Victoria.
Mike Murray, Senior Brand Manager for Warrnambool Cheese & Butter, said the company's collaboration with Coles has helped bring its locally-produced products to the attention of consumers across Australia.
He said: "The partnership with Coles shows that working collaboratively on future innovation and brands can really drive a successful outcome. Winning this award is testament to consumers' love of a great high-quality product and a brand that consumers understand."
The Canstar Blue ratings are based on a survey of more than 2,100 Australian consumers who had purchased and eaten cheese within the last month. It found 31% of respondents always buy the same brand of cheese, while 32% tend to go for the cheapest one available. On average, families spend an average of almost $19 per month on block cheese, the survey found.
While taste was found to be the greatest driver of customer satisfaction, consumers are also keen to get good value for money when they buy cheese.
Drivers of customer satisfaction

Taste: 54%
Value for money: 27%
Variety / range: 11%
Packaging appeal: 8%
"Ultimately consumers want great-tasting cheese at a reasonable price and this year those who go home with Great Ocean Road are the most convinced they're getting it," said Mrs Doyle.