The Juice Brothers chill in top spot in chilled juice ratings
Is there a more refreshing way to quench your thirst on a hot summer's day than with a cold glass of fresh juice? The answer is no. In fact, nearly one in three of our survey respondents (27%) drink juice every day, according to our research. What's more, a quarter of people have even tried making their own batch (26%).
To help you find a chilled juice that tickles your tastebuds without squeezing your budget, we asked more than 700 Aussies for their feedback on the bottled cold fruit juices they purchased from a supermarket or grocer in the last month. Brands were rated on taste, texture, range variety, packaging design, value for money and overall satisfaction. Those which received the minimum required survey sample size of 30 responses are featured in our results.
The Juice Brothers squeezed into the number one spot in our first-ever chilled juice review, being the only brand to achieve a five-star rating for overall satisfaction. It also rated best for taste, texture and packaging design. The Juice Brothers additionally scored four stars for variety and three stars for value for money.
Best Chilled Juice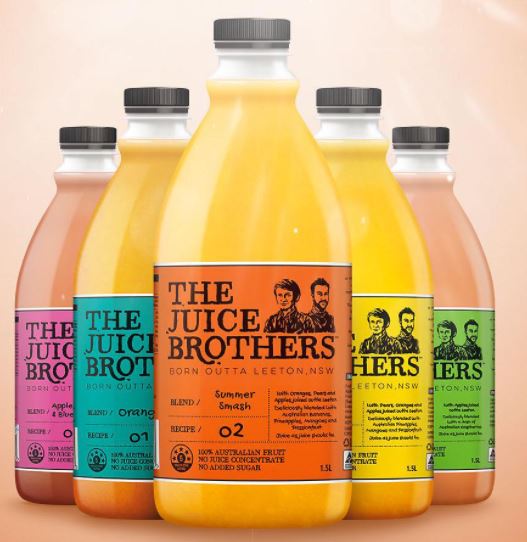 Here are the best brands of chilled juices in Australia, as rated by consumers in Canstar Blue's 2020 review:
The Juice Brothers
Mildura
Original Juice (Black Label)
Nudie
Coles
Berri
Daily Juice
Golden Circle
Woolworths
The Juice Brothers topped our chilled juice ratings, after filling its basket with five-star reviews for most categories. Most brands landed on four stars for overall customer satisfaction, with the exception of Golden Circle and Woolworths which landed on three stars overall.
The Juice Brothers wasn't the only chilled juice that tickled Aussies' tastebuds though. Both Mildura and Berri got the edge over this year's champion when it came to variety, with both achieving five-star ratings for the category. Mildura also rated best for value for money, before scoring more full marks for taste and packaging design.
Chilled Juices Compared
The Juice Brothers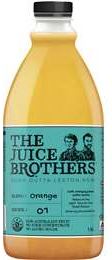 The Juice Brothers 'keep it real' by using 100% Australian fruit, collected from local growers in Leeton, NSW. The brand offers a variety of flavours in its 300ml, 500ml and 1.5L ranges, plus a handful of 275ml sparkling fruit drinks in flavours like sparkling tropical fruits, sparkling apple, pear & blueberry with a twist of ginger, etc. The Juice Brothers claims its fruit juice range does not contain any concentrated or added sugar.
A drink from The Juice Brothers usually costs around $3.50 and goes up to $7 for the larger 1.5L bottles. Some flavours you can expect include:
The Juice Brothers Apple & Raspberry (500ml): $3.50
The Juice Brothers Morning Start (500ml): $3.50
The Juice Brothers Mulberry & Strawberry (1.5L): $7
The Juice Brothers was rated best for taste, texture & consistency, packaging design and overall satisfaction. It also scored four stars for variety and three stars for value for money.
Mildura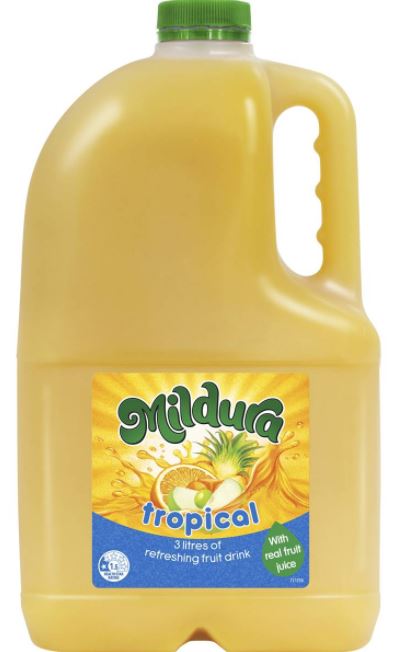 Operating under a name that pays homage to where it sources its fruits, Mildura sells a range of premium juices in a variety of flavours. And according to the brand, the fact that their fruits are collected locally allows the company to create products that are packed with live enzymes, vitamins, trace minerals and other elements. Bottles usually come in 500ml, 2L and 3L varieties.
Mildura keeps its prices fairly low, costing anywhere between $2.50 for a 500ml drink and reaching up to $4.95 for a large 3L bottle for the family. Some flavours you can check out include:
Mildura Apple Guava Fruit Drink (500ml): $2.50
Mildura Quencher Apple Watermelon & Strawberry Fruit Juice (2L): $4
Mildura Orange & Passionfruit Fruit Drink (3L): $4.95
Mildura earned five-star reviews for taste, variety, value for money and packaging design. But it landed on four stars for overall satisfaction and texture.
Original Juice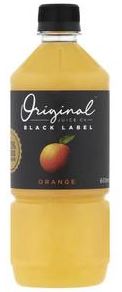 The Original Juice Black Label has been one of the major juice brands in Australia for more than 30 years. It's only one of several options under the Original Juice Co. range, alongside Pressed Juice, 50% Less Sugar, Bush Tucker, Fruit + Veg and Quenchers.
Black Label says its juice range is pressed and bottled on site in 12 hours, before being delivered to stores. You can find 500ml and 1.5L varieties available, usually for between $3.50 and $5.65. The brand states its products are made with 100% Australian fruits and no concentrate or added sugar.
Some flavours include:
Original Black Label Orange Juice Less Sugar (600ml): $3.50
Original Black Label Orange & Blood Orange (1.5L): $5.65
Original Black Label Pulp Free Orange Juice Chilled (1.5L): $5.65
Original Juice achieved a solid four-star rating across the board, including for taste, value for money and overall satisfaction.
Nudie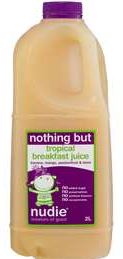 Nudie aims to keep its ingredients list pretty bare, claiming to use 'nothing but the fruit'. Naturally, the brand states its products are free from nasties like preservatives, colourings and concentrates. There are several flavours to choose from, each available in different sizes. Nudie also sells 400ml bottles targeted towards specific benefits like immunity and collagen supplementation. This includes products such as Nudie Extra Defence, Nudie Proactive Beauty and Nudie Proactive Antioxidant.
Prices are on the higher end compared to some other brands, usually costing between $3.60 to $10. There's also Nudie Kids Tetra, available for $1.50. Some Nudie juices include:
Nudie Proactive Antioxidant (400ml): $4.60
Nudie 100% Apple Juice (2L): $7.50
Nudie Nothing But Guava Apple Juice (2L): $8
Nudie scored four stars in most categories, such as taste and overall satisfaction. The only exception was value for money, where it got three stars.
Coles

For a quick and affordable juice on-the-go, it's hard to go past supermarket branded options. Coles' homebrand starts from just $2.10 and goes up to $5.25. Different flavour options are usually available in 300ml, 2L and 3L varieties. For anyone watching their sugar intake, Coles sells several No Added Sugar options. You'll also be able to spot a five-star health rating on some of these bottles.
Some Coles juices available include:
Coles Seasonal Juice (300ml): $2.50
Coles No Added Sugar Apple Juice Chilled (3L): $4.20
Coles Cloudy Apple Juice Chilled (2L): $5.25
Coles earned a respectable four-star review in majority of the categories rated, including taste, value for money and overall satisfaction. It got three stars for packaging design.
Berri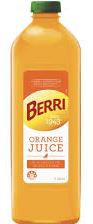 Originally called Quenchy, among other names, Berri is another brand using 100% Aussie grown fruit in its juices. It has a few flavours to choose from, such as breakfast and orange pulp free low acid. These come in 1L and 2L varieties. Many of these are said to contain no preservatives and no added sugar.
Other options include:
Orange (2L): $4.40
Apple Mango (2L): $4.80
Berri achieved a five-star rating for variety, before ending on four stars for overall satisfaction and everywhere else.
Daily Juice

Sometimes it's not just the kiddies who need to hide their veggies in something tasty. Thankfully, Daily Juice has created a few 'Nourish' juices to go along with its regular line. This small range offers a mix of veggie juices to suit different concerns, including energy, immunity and gut health. These are available in 1L bottles and usually have a five-star health rating displayed on the packaging.
For everything else, Daily Juice is easily recognisable with its blue and yellow packaging. Small 250ml poppers and regular 500ml, 2L and 3L bottles are available from $2, up to $7.50. Other options include:
Daily Juice Cloudy Apple Juice (250ml): $2
Daily Juice Apple Pie Juice (2L): $5
Daily Juice Pulp Free Orange Juice (3L): $7.50
Daily Juice maintained a four-star rating in all categories, including for taste, value for money and overall satisfaction.
Golden Circle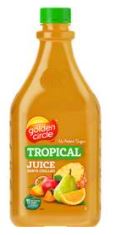 Golden Circle is one of the most well-known juice brands in Australia. It offers a variety of sizes, including 350ml, 1L, 2L and 3L bottles. There's also a lunchbox range for breaktime. If you want something low in sugar, Golden Circle offers an unsweetened pineapple option. Other flavours include family favourites such as breakfast juice and apple juice. Plus, the range has versatile juices that can be used for food as well as drinks, including tomato. Other options include:
Golden Circle Pineapple Juice: $2.25
Golden Circle Pine Orange Juice (2L): $3.80
Golden Circle Apple Blackcurrant Juice (2L): $3.80
Golden Circle got four stars for taste and variety, before ending on three stars in the remaining categories.
Woolworths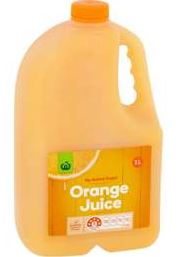 Another supermarket offering its own range of convenient and cheap juices is Woolworths. The 'Fresh Food People' stocks 500ml juice carton concentrates as well as 2L and 3L bottles of classic flavours like orange and apple. Prices usually range from $1.50 to $5.25. Products include:
Woolworths Orange Mango Drink (2L): $1.90
Woolworths Apple Juice (3L): $4.20
Woolworths Orange Juice Pulp Free (2L): $5.25
Woolworths earned a four-star review for value for money and three stars everywhere else.
What's Australia's favourite cold juice?
Did you know that nearly two-fifths (36%) of survey respondents consider orange juice as their favourite type of juice, with one in four (25%) preferring pulp-free? Our survey also revealed that 43% of people buy juice on their regular grocery shop, and half (52%) find it better to pick something up from the refrigerated section, instead of the concentrated or long life juice options on the shelves.
When deciding what makes the cut, two in five (44%) people have tried multiple juices from different brands. One in four (25%) stick to the same brand, while a small 7% opt for whichever is cheapest. It's also worth mentioning that while a whopping 41% believe fruit juice is healthy, 25% of shoppers make sure to read the nutritional information before purchasing.
About the author of this page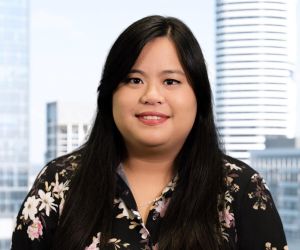 This report was written by Canstar Blue's home & lifestyle journalist, Tahnee-Jae Lopez-Vito. She's an expert on household appliances, grooming products and all things grocery and shopping. In addition to translating our expert research into consumer-friendly ratings reports, Tahnee spends her time helping consumers make better-informed purchase decisions on all manner of consumer goods and services, while highlighting the best deals and anything you need to be aware of.