It's one of the weirdest soft drink combinations to come out of Coca-Cola. But it might just work.
Coca-Cola Plus Coffee was released in Japan in August 2017, exclusively sold through vending machines, which are ubiquitous even in remote areas. Now, a similar product has hit Australian shelves – Coca-Cola Plus Coffee No Sugar. CCPCNS for short.
It's not a direct replacement for coffee – a 250mL can contains less than half the caffeine content of a regular latte or flat white, according to Coca-Cola. It does, however, contain a bit more caffeine than a standard Classic Coca-Cola, but doesn't contain any sugar.  And yes, it's real coffee.
While Japan was the first to get its hands on Coca-Cola Plus Coffee, Aussies will be the first in the world to try out the combo of coffee and the new Coca-Cola No Sugar. Given Coca-Cola No Sugar is meant to taste just like Coca-Cola Classic, we wonder whether the Japanese and Aussie versions will taste much different. There's obviously a big nutritional difference – the Japanese version uses real sugar, while the Aussie version has none.
Coca-Cola describes its new beverage as a 3pm pick-me-up. With unprecedented high temperatures hitting Australia, it may turn out to be a handy alternative to grabbing an iced coffee on the go. More likely, it'll be competing with energy drinks to keep us cool and caffeinated through this summer.
Why Coke and coffee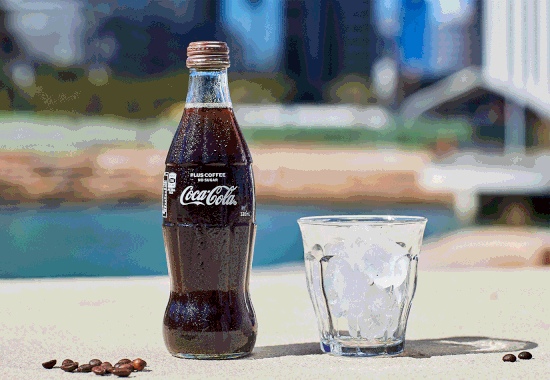 While Coca-Cola Plus Coffee No Sugar is only sticking around for the summer as a limited edition drink, it may be an attempt to grow sales as a breakfast beverage. Soft drink for breakfast or really any time before lunch isn't a particularly common choice, but it presents an opportunity for Coca-Cola to tap into a potential new market. It may well work – pairing coffee with the new No Sugar coke might be a solid match for health-conscious consumers looking for a quick caffeine fix on a hot morning.
If this is part of the thinking behind the new product, it's not a new idea for the company. Back in the 1980s, Coca-Cola ran an advertising campaign called 'Coke in the Morning' in the US. At the time, the company's soft drink sales for morning consumption made up just 12% of total sales.
Even the concept of Coke and coffee mixed together isn't new. In 2006 Coca-Cola released Coca-Cola Blāk, with "coffee essence" and about half the kilojoules of a Coke Classic. It was released first in France, followed by the US, Canada and a handful of Central European countries (the Czech Republic, Bosnia and Herzegovina, Bulgaria, and Lithuania). It was short lived – Coca-Cola Blāk was discontinued in 2008.
Coca-Cola also has a habit of releasing promotional drinks in Australia. In 2016, it was Coca-Cola Ginger.
Does Coca-Cola Plus Coffee pass the taste test?
It's certainly an unusual taste combination. Reviews on the Japanese Coca-Cola Plus Coffee have so far been a bit mixed, and it won't be surprising if the Aussie version turns out to be divisive. Coca-Cola Plus Coffee No Sugar may be an acquired taste – much like coffee itself is for many of us.
Coca-Cola Plus Coffee No Sugar is now available nationally, so keep an eye out if you want to try something different.