It's the first-world problem on everyone's lips: Which is better – Coke Zero, or Coke No Sugar? Canstar Blue has completed a survey of almost 3,000 fizzy drink fans to find which of the two sweet treats Aussies favour, and which Coca-Cola product is our overall favourite.
The soft drinks manufacturer has been known to shake things up in the past, but perhaps the biggest surprise of all came in June 2017 when it announced the Coke Zero brand would be retired, making way for another sugar-free alternative, Coke No Sugar. Apparently the change has been made because only one in two Coke consumers was aware that Coke Zero had no sugar. The switch would make the company's sugar-free options a little clearer.
However, the trouble is that Coke No Sugar tastes different to Coke Zero. It's designed to closely resemble Original Coke – just like Coke Zero was supposed to – which is great for fans of the 'proper' Coke who want to limit their sugar intake, but not so good for those who actually prefer the taste of Coke Zero. Keeping up?
This is all came after Coca-Cola ditched the green-labelled Coke Life drink, which was swiftly replaced by Coke with Stevia. This has left the company with FOUR different sugar-free or low-sugar versions of its staple beverage – Diet Coke, Coke Zero, Coke No Sugar and Coke with Stevia. But Coke Zero is slowly being ditched, much to the disappointment of some.
Coke Zero may not have fulfilled its purpose of delivering the same taste as Original Coke without the sugar, but it won over consumers with its unique taste. For some, going back to the overly sweet taste of Original Coke will leave a sour taste in the mouth.
Which Coke products are most popular in Australia?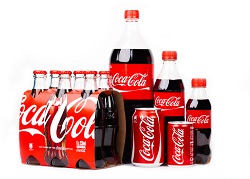 To find out which Coke products are most popular in Australia, Canstar Blue surveyed almost 3,000 adults across the country. Here's what we found:
58% of Australian adults have bought at least one Coke product in the month (survey conducted August 2017). Of those who have purchased a Coke product in the last month, Original Coke was the most commonly purchased:
Drinks purchased in the last month:
Original Coke: 58%
Coke Zero: 30%
Coke No Sugar: 17%
Diet Coke: 16%
Other flavours (e.g. vanilla, ginger): 10%
Coke Life / Coke with Stevia: 5%
There were only some slight variations between the states, with Original Coke most popular in South Australia and Queensland, while Victorians and Tasmanians were most likely to have bought Diet Coke and Western Australia were most likely to have purchased Coke Zero. Those in Victoria, NSW and WA were most likely to have bought Coke No Sugar.
What do we think of Coke No Sugar?
Of those Australians who have tried Coke No Sugar, the new drink seems to have gone down reasonably well. This is how respondents to our survey described it:
Very unenjoyable: 10%
Somewhat unenjoyable: 14%
Neither enjoyable nor unenjoyable: 17%
Somewhat enjoyable: 35%
Very enjoyable: 23%
More Victorians described Coke No Sugar as very enjoyable than anyone else, while Western Australians were most likely to call it very unenjoyable.

Coke Zero vs Coke No Sugar
Of those consumers who have tried both Coke Zero and Coke No Sugar:
43% prefer Coke Zero
22% prefer Coke No Sugar
35% have no preference
Queenslanders were most likely to have no preference for one drink or the other, while the most notable difference of opinion came from NSW where 47% favoured Coke Zero, 20% preferred Coke No Sugar, and 32% had no preference.
And that's it. I need a Coke.
Check out the Coca-Cola Australia website for details on Coke ingredients and nutritional information.
About this survey
Canstar Blue surveyed 3,000 Australian adults across a range of categories to measure and track customer satisfaction. Data was collected using Qualtrics' online sample aggregation from ISO accredited panels. The outcomes reported are the results from customers within the survey group who have purchased Cola-Cola – in this case, 2,821 people.
Original author: Simon Downes.