They're the little toys that have captured the imagination of children everywhere, but parents have been warned not to give Coles Little Shop collectables to young kids.
Coles shoppers receive one 'mini' collectable when they spend $30 in one transaction from July 18 to August 28.
Thirty miniature toys of different brands including Tim Tam, Vicks VapoRub, Colgate, Nutella, Vegemite, Milo, Lipton and Nescafe are up for grabs, but they come with a potentially dangerous twist.
While some consumers have found the giveaway adorable, posts have started to appear on social media warning parents that the small sizes of the collectables pose a potential choke hazards for young children.
Photos also show inside contents, which are made from polystyrene.
In its terms and conditions, Coles says "the Collectables are for those aged 3 years and older. Adult supervision is advised for those aged 0-3 years of age due to the risk of choking".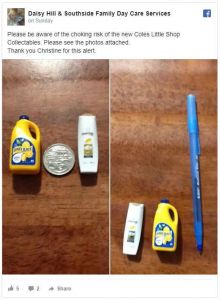 One Facebook comment read: "they are a choking hazard for 0-3 yr olds but they are the right size that they may pose a danger to older kids and pets. (Especially the food products)."
Coles has responded to comments, saying the collectables have been independently tested for compliance with Australian Standards and that customers have a choice whether to collect or not.
"We know many of our customers love collectables and we have designed them together with our suppliers to be miniature replicas of some of the most popular products on our supermarket shelves. The idea behind Little Shop is that customers can keep and collect them rather than throw them out," Coles replied to one of the comments.
"Additionally, all of our mini collectables have been independently tested for compliance with Australian Standards. This testing is specifically aimed at reducing risks and demonstrating the quality and safety of materials and products."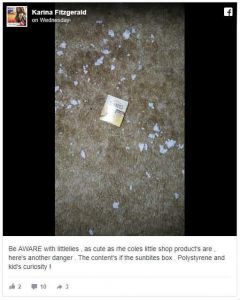 Coles Little Shop Swap Day
Coles' Swap Day is scheduled for August 11 where selected stores will provide a forum for customers to swap their Little Shop collectables.
However, those aged 14 and under will require adult supervision to attend.
Coles' T&Cs state: "All children under the age of 14 must be accompanied by an adult in order to swap Collectables with Coles and/or its contractors on the Swap Day."
Meanwhile those lucky enough to find a Coles Red Hand can win a $100 Coles gift card by redeeming the unique code found on the leaflet inside. There are 1,000 to be won.
And if you're not up for spending about $300 on eBay for the full collectables range, you could win a complete case by buying any participating brand and scanning your flybuys card at the checkout.