Get ready to see lots more private label products on the shelves at Coles supermarkets.
That's because the Australian supermarket chain has teamed up with its counterpart from the UK in a three-year deal to rapidly expand the number of Coles-branded items in store.
Coles will reportedly be working with Sainsbury's and gain access to its supply chain which should mean a plethora of new private labels goods in Coles stores in the coming months.
Coles' private label products already account for about 30 per cent of its sales, with the supermarket giant previously announcing its intention to increase this to 40 per cent in the coming years.
"We want to accelerate the introduction of innovative products to Coles Own Brand, and this partnership allows us to do that with a range of food and groceries that are already proven in the international market but not yet available in Australia," Coles Chief Executive – Commercial and Express, Greg Davis told Inside FMCG.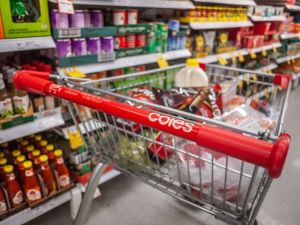 Coles has also reported that private label sales have been growing at twice the rate of other products, with healthier options a key focus in recent times, including its Wellness Road range of organic foods, seeds, flour, grains, noodles and oil.
Michael Luck, Director of Business Development at Sainsbury's, said the new Coles partnership will bring more choice and innovation to Australian customers.
"Great quality food has been at the heart of our business for 150 years and we're excited to bring Sainsbury's fantastic products to Australia, offering Coles customers a range of high quality, innovative products that they won't be able to find anywhere else," he said.
Currently, the majority of Coles' private label range is manufactured or grown in Australia, and the retailer said the Sainsbury's partnership will not change this.
"This deal will free up resources for our own product development team so that they can drive further innovation and help us fulfil our strategy to make Coles an Own Brand Powerhouse," Mr Davis said.
@Coles will gain access to a plethora of new products through @sainsburys supply chain. https://t.co/QVCaVJILxG

— InsideFMCG (@InsideFMCG) November 11, 2019
But do Aussie consumers want more private labels?
While the popularity of supermarket private labels has increased in recent years, Canstar Blue's latest study on the subject suggested that Australian consumers could be about to turn away from the budget buys.
The survey of more than 2,900 adults found that the number who believe private label products are good quality was just 46% – a huge drop from 76% at the same time in 2018.
The drop comes after three years of encouraging results for the big supermarkets, with 2017 research showing that 77% of shoppers thought private labels were good quality, up from 68% in 2016.
Additionally, this year only a quarter of consumers (27%) said they tend to buy supermarket private labels rather than big brands, down from 47% in 2018, 44% in 2017 and 43% in 2016.
The survey was conducted in July 2019.