It's official. Hot cross buns are no longer just for Easter, so if you're one of those people who complains when the supermarkets sell them too early, we have bad news.
Coles has announced it will trial selling hot cross buns outside of the Easter period, allowing shoppers to stock up all year round.
Coles Category Manager for In-Store Bread, Freddie Hancock, said the supermarket's reintroduction of hot cross buns is the result of customer demand.
"For weeks – and in some instances for months – our bakers were being asked by customers if we were still baking hot cross buns. So, we've made the decision to meet this demand by trialling a four-pack of hot cross buns available throughout the year," he said.
"From today, people whose desire for a rich buttery bun packed with 100% Aussie fruit didn't disappear on Easter Monday, can grab a four-pack of buns for just $3 from Coles supermarkets with in-store bakeries."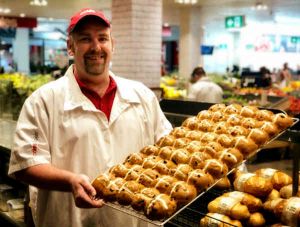 The annual hot cross bun debate kicked off earlier than ever before Easter 2019 when the supermarkets started selling hot cross buns in December!
Early this year, Canstar Blue conducted a survey of more than 1,000 adults in regards to hot cross buns.
A third of respondents (32%) said they bought hot cross buns as soon as they were available in supermarkets and 30% wished they were available all year round.
Just two in five (38%) said they think supermarkets sell hot cross buns too early.
The survey also found that the hot cross bun debate divided the generations, with a majority of over 60s (55%) more likely to say supermarkets sell hot cross buns too early, while the youngsters (aged 18 to 39) are much less likely to object (27%).
Additionally, a Coles customer survey revealed that of those who enjoy hot cross buns, more than half (53.6%) had enjoyed them outside of the Easter period.
Overall, Coles sold more than 12.5 million packs of hot cross buns from the end of 2018, through to Easter Monday.
Canstar Blue's hot cross bun survey saw Costco rated best for its buns, with Coles ranked fourth out of the five supermarket chains.