Dick Smith has decided to close shop on his long-running food business, blaming the competitive market and one supermarket in particular – ALDI.
Dick Smith Foods, which works with local suppliers to make 13 products – including a range of jam and fruit spreads, tomato sauce and cereal – will be phased out over the next 12 months.
Mr Smith rose to business prominence in Australia after founding Dick Smith Electronics in 1968, before later turning his hand to food manufacturing and retail.
Dick Smith Foods was claimed to be "As Australian as you can get", supporting Australian farmers and manufacturers. Some of the proceeds from sales were donated to charity.
Dick Smith Foods topped Canstar Blue's customer satisfaction ratings for jams and fruit spreads in 2015.
In recent times, however – and despite several products still being stocked in Coles and Woolworths – the only way the company was able to achieve significant sales was by discounting so much that it was often losing money, it's claimed.
Some products including cream cheese, canola oil and some fruit spreads have already been dropped from supermarket shelves because of low sales.
"It is my melancholy duty to inform everyone that after 19 years, I've had to make the decision to close Dick Smith Foods," Mr Smith wrote in a statement.
"In two years' time we will go out of business, so I'm closing it down now when times are good.
"I thank everyone for the incredible support over the years."
Entrepreneur Dick Smith has today shocked the retail industry by announcing he will close his eponymous Dick Smith Foods business, claiming that the rise and rise of German discount supermarket chain Aldi in Australia has "basically destroyed us" https://t.co/t8iErtdz1b #ausbiz

— Business Review (@aus_business) July 26, 2018
Dick Smith slams ALDI over "extreme capitalism"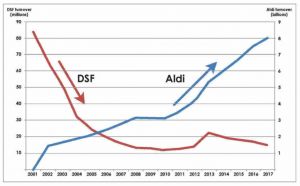 The announcement comes a day after the 74-year-old slammed German supermarket giant ALDI in an open letter to owners Karl Albrecht Jr and Beate Heister, stating "the driving force of our closure, however, is ALDI".
"I have always predicted that ALDI will be incredibly successful in Australia, and they are. In fact, it is clear they will completely change the face of retailing in this country.
"It won't just be ALDI, it will be Costco and Amazon as well.
"The ALDI formula is simple. That is, reduce the number of products available – allowing staffing costs to be reduced – and primarily sell in-house brands. This means that prices cannot be compared.
"I am not complaining about ALDI. They are brilliant in the global stakes of 'extreme capitalism', as most consumers always want the cheapest products."
Mr Smith praised Coles and Woolworths for doing "everything they can to keep us on the shelves", while claiming ALDI used its networks in cheaper markets to keep costs down, and said that meant Australian producers suffered.
However, in a statement, ALDI Australia CEO Tom Daunt hit back, saying the business employed 11,500 Australians and partners with more than 1,000 local suppliers.
Mr Daunt did not reference the company's imported products in his statement but did say the company wanted to keep items on the shelves "affordable".
"At ALDI we strive to provide our customers with high-quality products at affordable prices. Losing focus of this purpose just adds costs," Mr Daunt said.
"We are proud of the reputation we have built and feel strongly that the recognition we have earned as Australia's most trusted brand is a result of our commitment to openness, honesty and integrity in all our dealings."