Pizza is a popular convenience food in Australia and Canstar Blue's recent survey of almost 1,900 Australian adults found that we have somewhat gourmet taste: 58% of respondents said that they prefer to buy from the gourmet range of pizza offerings if they can afford it. Only 28% of respondents said that they go for quantity over quality.
So – what's your favourite pizza topping? A quick pop quiz around the Canstar office found more than a few pizza fans – and they came up with these nominations:
The store bought options
"Mine has to be spicy pepperoni!!! With Black olives too!! The spicy with the salty is very good!"
"The best pizza's I've had are the traditional ones in Italy.  I forget the exact topping but it would be something like: prosciutto, artichokes, mushroom, cheese. They never have more than 4 toppings."
"I'm a big fan of the Double Bacon Cheese Burger pizza from Domino's.
"It's the combination of the BBQ sauce and the cheese that gives a tangy and creamy flavor.  I normally take the bacon out and put pepperoni instead, which to me combines well with the ground beef, and it's topped off with the mayonnaise swirl to add a little flavor."
"Mine would be the margehrita. The beauty of it is in its simplicity –  tomato sauce based pizza topped with mozzarella, maybe some fresh tomato and basil. Classic flavour combination that set the tastebuds alight."
"Mine's from Dominoes and I get the supreme, but I remove olives, change to BBQ sauce, add chicken and cherry tomatoes on thin 'n crispy J"
"The New Orleans pizza from Pizza Capers! The combination of chicken, potato and sweet chilli works so well together."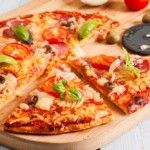 How much exercise does it take to burn off a slice of pizza?
The "make your own" variety
"I generally make my own – Friday night is 'pizza-night' at my house. My favourite pizza topping:chopped up Tandoori chicken with mushrooms and goats cheese. I like the lightly spicy chicken with the combination of the decadent goats cheese flavour mixed in with the flavour of the mushrooms! It's a simple yet tasty option and it is a 'relatively' healthy option too – depending on the amount of cheese you prefer….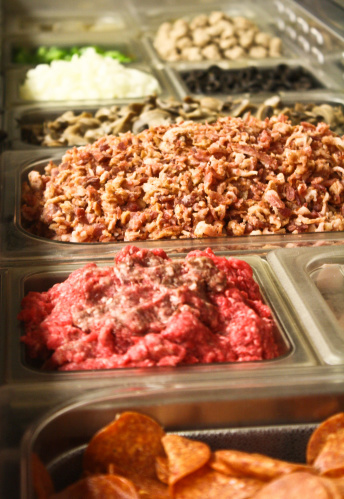 "I feel like pizza right now!!! "
"Peperoni and mushroom, I like the combination because the mushrooms juices blend well with the peperoni juices when they cook together on top of a pizza."
"Olives, prosciutto, anchovies, garlic, chilli and cheese – I call it the 'salt lick' and it goes really well with a cold, hoppy beer."
"Love seafood on pizza, especially local Aussie prawns! A bit of chilli is good too…
"Ultimately, Thai Prawn Tomato, coriander, capsicum & fresh chilli."
"Do you remember the old school thin and crispy pizza bases? The ones that were actually crispy and flaky and delicious. One of those with tomato sauce, pepperoni, mushrooms, fresh tomato and olives (with cheese of course) is awesome-sauce. Same toppings on any crust is also suitable but those thin and crispy bases were the bomb diggity.
" And for dessert… Nutella and marshmallows…… folded up in to a calzone. Sticky hot choc hazelnut deliciousness!"
And finally, one very succinct reply: "It's just not pizza without olives."
Want to know which pizza store has won the Canstar Blue award for most satisfied customers? Click here to find out.