Nothing says class like a wine and cheese party, but with so many options for both food and drink, what should you serve at your next gathering?
Selecting the perfect cheeses and drinks comes down to the intermingling of the flavours that you have. The age, texture, and flavour of the cheese, as well as tannins in the wine, interact and leave different tastes and sensations in the mouth.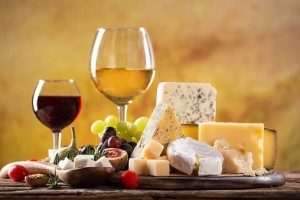 So have a think about which cheeses you buy, and the wines to pair with them. Here are some classic combinations:
Aged Gouda and Merlot: a hard cheese pairs perfectly with a tannic red wine, because tannins bind to proteins and fats, cleansing the palate so you're ready for another bite.
Gorgonzola and Port: a wine with a bit of a kick and some sweetness is what you really need with a blue cheese. The sweet wine and the salty cheese balance each other out and make for an indulgent combination.
Camembert and Champagne: you can't get much more classic than this elegant pair. A glass of bubbles scrubs the tongue and counters the richness of a creamy cheese. Once you start with this harmonious union, you won't stop!
A creamy cheese also works well with a buttery or oaky white wine.
In general, it is a good idea to have at least three cheeses on offer in order to have a variation in flavour. However, as the saying goes, 'the more the merrier' – lots of cheese is a decadent treat and is a sure-fire way to impress your guests.
A general rule
If you're only planning on having one type of wine, it is important to make an appropriate selection. You'll need to find something that can suit all of the cheeses you plan to serve.
Meg Houston Maker of seriouseats.com recommends Riesling or Alsatian Gewürtstraminer; both are sweet with aromas that waft above your savoury cheeses. In a more general sense, a sparkling wine is always a good choice, as it can complement a wide variety of cheeses. Who would say no to another bottle of champagne?!
Anything else?
Keep things fresh by offering more than just cheese to your guests. Fruits and nuts are a cheese platter essential, because your guests are going to want more than just fermented grapes. As well as being a great (and healthy) to break up the cheese samples, fruits add a bit of colour to your platters and make them look even more beautiful.
Other articles you might like
Aussies turn to Great Ocean Road for quality cheese