Feel like a sugary drink to beat the summer heat? That's 25 teaspoons of sugar, thank you very much.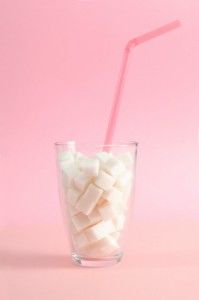 According to Rethink Sugary Drink (a partnership between the Cancer Council, Diabetes Australia and the National Heart Foundation) that 25 teaspoons of sugar – or 101 grams – applies to 7-Eleven's Mega Slurp Slurpee with popping candy 'shocks'. That's some sugar-hit shock!
Chair of the Public Health Committee at Cancer Council Australia, Craig Sinclair, said that the health impact of these "treats" can be significant if regularly consumed – and some retailers don't make it easy to work out the real nutritional impacts.
"During the summer months, when some stores charge just three cents on Mondays for an icy drink or $1 for a large one, these incredibly cheap and creative offers can be difficult for both children and adults to resist," Mr Sinclair said.
"Some brands make nutrition information difficult to access. Our researchers had to take kitchen scales into stores to weigh the cups and multiply the sugar content to estimate the total sugar delivered."
So just how much sugar is in some of those popular kiddie (and, ahem, adult) drinks? And how much exercise do you need to do to work those kilojoules off?
According to Rethink Sugary Drink, the following drinks have the following approximate amount of sugar:
| | | |
| --- | --- | --- |
| Frozen drink | Sugar per serve+ | Would take to burn off* |
| 7-Eleven Slurpee Mega Slurp (Cola) with 'Slurpee Shocks' popping candy | 25 tsp (101g) | 1.5 hours walking at medium place |
| McDonald's Bubble Gum Frozen Sprite Splash with popping candy | 18 tsp (73g) | 65 minutes walking |
| Hungry Jacks Extra Large Frozen Coke | 18 tsp (71g) | 63 minutes walking |
| Donut King Fruit Freeze Strawberry (Regular) | 14 tsp (55g) | 48 mins walking |
+ based on 4g of sugar per teaspoon
¥ based on estimates of the sugar content provided by McDonalds Australia for a Frozen Sprite Splash Green Apple
product in January 2014 (no longer available), and the labelled sugar contained in accompanying 'popping candy'. The sugar content of the Frozen Sprite Splash Bubble Gum could not be ascertained through investigations.
*Based on an 80kg person walking at medium pace (5km per hour). Source: MyFitnessPal
So how about Coca Cola, Sprite, Fanta and more? Click here for the sugar content of other popular drinks.
Other options?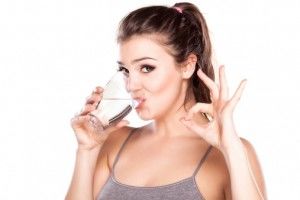 Water! It has the benefit of being kilojoule and cost-free (from a tap) and great for your health – not to mention your teeth.
Alternatively, why not whiz up a fruit smoothie at home – although make sure you don't consume more calories than you intended. Dr Peter Alldritt, Chairman of the Australian Dental Association Oral Health Committee, says that low-fat milk can also be a tooth-friendly option.
After all, as the Rethink Sugary Drink campaign observes, you wouldn't eat multiple teaspoons of sugar in one hit (well, we hope not, anyway), so why would you drink them all in one go?