One retail giant's attempt to roast the competition may soon see customers as the real winner in the latest supermarket price war.
Coles will be selling chicken breasts for what is apparently the lowest price in years, with costs expected to drop by 50 cents nationwide.
The cost of the RSCPA-approved fresh deli chicken breasts will be cut from $9/kg to $8.50/kg, making the product available for a few cents cheaper than in some of its competitors' stores.
Woolworths has similarly sliced the price of its $10/kg chicken breasts to $9/kg, but will return to offering the item for $10 next week.
Coles Director of Fresh, Alex Freudmann, believes the move will motivate more people to shop at its stores, especially as the rising cost of the popular product has been criticised by some experts earlier this year.
"We believe that dropping the price of our RSPCA-approved chicken breasts, along with the great value Coles delivers on poultry across the deli and meat case, will encourage customers to stick with our chicken, when its price is going up elsewhere," he said.
"This is yet another example of Coles working closely with our suppliers to invest in value for our customers and lower the cost of living for Australian families."
The price drop is not Coles' first attempt to attract a meaty rise in sales, with the supermarket giant offering its vegan and vegetarian shoppers plant-based alternatives like Beyond Burger in some of its stores.
More recently, Coles also revealed plans to use recyclable packaging for a number of its own brand of meat and poultry products as part of its partnership with bio-plastic manufacturer Plantic Technologies.
"We know that poultry products are bought by three-quarters of all households and that chicken breasts are our customers' favourite cut, because they buy tens of millions of kilograms over the course of a year," Mr Freudmann said.
Yash Gandhi, Marketing Director of Coles' chicken supplier, Steggles, said: "We are delighted to be able to work with Coles to ensure that the humble fresh chicken breast continues to be a favourite on dinner tables across the country."
Coles introduces recyclable meat packaging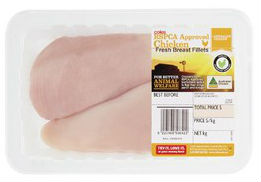 Since rolling out the single-use plastic bag ban last month, Coles continues to take extra steps to reduce its carbon footprint by introducing recyclable packaging for home brand meat and poultry products.
It will work with Australian manufacturer Plantic Technologies to replace plastic meat and poultry trays with more sustainable materials, a move consistent with its plans to make all its home brand packaging recyclable by 2020, Coles says.
"We now want to take the next step by transitioning a wider range of our fresh meat and poultry trays to Plantic's new packaging, so that it is not just recyclable, but also made from recycled plastics and renewable plant materials, including corn," announced Mr Freudmann in a recent statement.
"We understand the important role that packaging plays in maintaining food safety, supporting product longevity and reducing food waste.
"At the same time, we're committed to reducing our impact on the environment. We continue to look for opportunities to increase the content of recycled material in Coles Brand packaging."
The supermarket heavyweight predicts it will purchase 121 million recyclable meat and poultry trays from Plantic in 2018.
Meanwhile social media users argue promotions like the Coles' Little Shop collectable campaign doesn't make sense as the company continues its apparent war on waste.
Coles has defended the promotion, posting that the Little Shop campaign is a limited-time promotion and shoppers can head to their local Coles store to recycle the plastic packaging through the in-store REDCycle program.