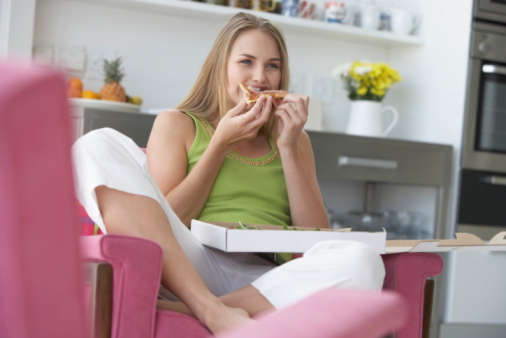 Queenslanders do it online, South Australians look for quantity over quality, and in New South Wales… they prefer to go gourmet!
Pizza is one of the most popular takeaway foods across the world and a new survey has revealed what drives Australia's love-affair with the tomatoey, cheesy circles – and which store we prefer to spend our hard-earned dough at.
Canstar Blue has surveyed almost 2,000 Aussies who have ordered takeaway pizza in the last three months to find out about our munching habits.
Getting a pizza the action
The survey found that 38% of pizza-lovers can't resist adding extras like garlic bread, chicken bites or desserts to their order, especially those in their late 20s (50%). However, less than half of us (47%) always order from the same pizza store.
"Everyone wants to get a great deal, but for most consumers it's the taste of pizza that keeps them coming back for more," said Head of Canstar Blue, Megan Doyle. "If a particular chain isn't tickling our tastebuds, we don't mind taking our cash elsewhere.
"Ordering pizza has never been so easy, and with so much competition out there, the big chains have to try harder than ever to entice us – and then keep us. There's a reason why they often bombard you with flyers and special offer vouchers!
"The pizza store that can cook up the perfect balance of fresh ideas and great-tasting pizzas – at an affordable price – will be onto a winner. Even slow delivery time could be forgiven if your overriding memory at the end of the night is delicious pizza."
Just 15% of survey respondents said they tend to order low-fat options and a whopping 44% were perfectly happy to eat a whole large pizza on their own – with men (55%) more likely than women (33%) to go it alone.
One in four (25%) tend to buy the cheapest pizza available, while 28% opt for quantity over quality from their order. But that might turn into regret for some people, with one in three (33%) feeling conscious about their size or appearance after eating pizza.
Pizza takes a slice out of fine dining
Aussies are increasing favouring premium pizza options, the survey found. Almost three out of five (58%) adults prefer to buy from the gourmet range of offerings – up from 52% in 2014. But we still love a bargain, with just 11% spending $50 or more on their orders.
"Consumers are demanding more adventurous options, so the pizza chains need to regularly refresh their menus to keep us interested – whether it's the toppings on offer, or what they stuff in their crust!" said Mrs Doyle. "Taste is king, but no one wants to eat the same pizza every time!
"As consumers, we like to try something new and tell our friends about it. The pizza chains that deliver the big ideas are the most likely to attract our attention and get us talking, but if those latest creations don't hit the right notes, it could be for all the wrong reasons. There is a fine line between genius and madness!"
Our increasing app-etite for pizza
Not only do 36% of survey respondents always order pizza online, but 22% have an app to do so, with those in their 30s (35%) the most likely to order with their smartphone.
"Being able to easily modify your order, search through additional extras, and even track your order's progress as it's prepared, cooked and delivered, have become part of the pizza-ordering experience for many people," said Mrs Doyle. "As a result, a pizza chain's online service has never been so important, with consumers able to take their business elsewhere in a split second if a website isn't easy to navigate."
How Aussies eat their pizza
The survey revealed some interesting variations in our pizza-eating habits across the states. Respondents in Queensland (31%) had the biggest appetite for cheap deals and were most likely to order their pizza online (47%). Those in Victoria (25%) were least likely to order online.
South Australians (37%) were the hungriest for quantity over quality from their order, the most likely to eat a whole large pizza on their own (50%) and the least image conscious after enjoying their feast (26%).
West Australians (57%) were the most loyal to their favourite pizza chain and most likely to have a mobile app for ordering (27%), while those in New South Wales were most tempted by additional extras (40%), the most likely to order low-fat pizzas (17%) and the biggest fans of gourmet options (64%).
What we want from different pizza chains
The survey also revealed some fascinating insights into which pizza chains Aussies gravitate towards depending on what – or how much – we're hungry for. Pizza-lovers looking for cheap deals and quantity over quality were drawn to Pizza Hut more than anywhere else, while those who ordered from Eagle Boys were most likely to include extra sides. And consumers who favour gourmet options were most likely to order from Pizza Capers.
Which pizza chain do Aussies rate highest?
The Canstar Blue survey asked respondents to rate the pizza chain they most recently ordered from across a range of categories, including menu options, special deals, delivery, taste and value for money.
Pizza Capers and Crust earned five-star ratings for taste and menu variety, while Eagle Boys and Dominos got top marks for their special offers. Eagle Boys was deemed to offer the best value for money, but for the fifth year in a row, Pizza Cappers beat the rest for overall customer satisfaction. Click here to read more about the results.
"Those who ordered through Pizza Capers reported fresh, quality ingredients, a great variety of unique – and unusual – toppings, and quick delivery time. That's a recipe for success in anyone's book," said Mrs Doyle. "It also earned several nods of recognition for its vegetarian and gluten-free options.
"Consumers are increasingly demanding high-quality, premium pizzas – and Pizza Capers is leading this pizza evolution."