Australians love their tea, but did you know you can actually share a pot with the Queen?
The ABS has found that 38% of Aussies primarily drink tea. For the most part, it's older age groups that make up this percentage, with people aged over 71 leading the charge (presumably at a fairly slow pace – no need to rush when you're enjoying a good cuppa).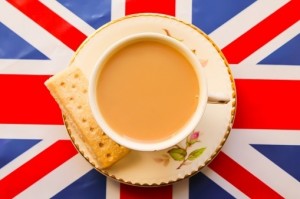 While a fair share of Aussies love their tea, we probably don't enjoy it as much as the average Brit. It's quintessentially British to drink tea, with the ultimate tea experience being tea with Her Majesty, The Queen.
For many, it's a dream to have tea with the Queen and for some 30,000 people each year, that dream becomes a reality when they are invited to one of her four yearly garden parties.
With 8,000 guests, it's one of the biggest afternoon teas you'll come across if you have the chance to go. Apparently, Her Majesty and other members of the Royal Family who attend try their best to have a chat with everyone there. So what's it all about?
The Garden Party by Numbers
4 – Garden Parties start at 4pm. There are also four held each year in the UK.
2 – They will go for at least two hours. Two separate military bands provide entertainment at the event.
400 – The approximate number of wait staff at a Royal garden party.
1860 – The year in which the first garden party was held by Queen Victoria.
20,000 – The number of sandwiches eaten at the average garden party. Slices of cake are consumed in about the same quantity.
6 – The Royal Family leaves the party at 6pm.
27,000 – This is how many cups of tea are consumed during the garden party. That is around 3.3 cups per person.
So how do I get in?
Unfortunately, you can't just pop by for an impromptu cuppa, because the guards in their big hats will chase you out of the palace. Instead, all guests are invited by the palace following the submission of nominees from British organisations such as charities and the civil service.
All of the organisations have a certain number of people they can send to a Garden Party. If the party is a special event, such as a special anniversary, invites are for British citizens who fit specific criteria, such as being born on February 6, 1952 – the day Elizabeth II became Queen.
For Australians, the High Commission is given a limited number of invitations, and those who have applied to attend are selected from a ballot. There are specific rules for each different event, as well as a cost of anywhere between $20 and $60.
If you are keen on visiting Her Majesty, perhaps you should check the rules first.
What is the dress code like?
In one word: fancy. Suits are a requirement for gentlemen and for ladies 'afternoon dress' with a hat or a fascinator (as stated on the official website of the British Monarchy). If you dress like the royal family do, you should be fine.
The Tea
According to The Independent, Her Majesty favours Earl Grey, but other reports suggest she also enjoys Darjeeling. To be sure, maybe you should take both just in case…
Other articles you might like
Australia's favourite cuppa revealed
Jam flavours from around the world