What do you get when you cross an office space with a coffee shop? Well, a 'coffice' of course, and it's no joke.
In fact the only surprise is that it's taken as long as it has to finally catch on for so many small or start-up businesses. In this age of easy internet access, email and smartphones, going completely 'mobile' makes perfect business sense for some.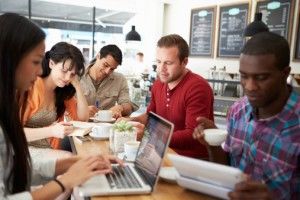 Who wants to waste money on costly office overheads when you could set up shop in the relaxed ambience of your favourite coffee house, with a professional barista replacing your mediocre espresso machine?
You would probably leave your dull office to meet a client in a local coffee shop anyway. So why not just stay there all day with your laptop or tablet? It really is a no brainer to those actively involved in this growing trend.
Joshua Strawczynski is the Managing Director of JMarketing, and together with his staff, works from a cafe in Melbourne.
"We decided that we love the vibe, the coffee and the food, so instead of renting an office space, we work there all day," he said.
"I run a digital advertising agency, so we have a series of developers, designers, strategists and copy writers. For most of us, we can work from anywhere, so doing the coffice thing is really good for us.
"I don't pay rent, I just have a deal with the cafe that we will work from there at least three days a week, hold client meetings there, and just generally make the place look busy.
"For the cafe it works really well. It's guaranteed business and we make the place look busy. A truth about the cafe trade is that people attract people, so whilst in some ways they are subsidising us to be there, they are making it back in different ways."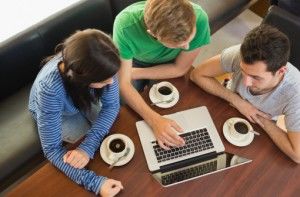 Mr Strawczynski says he and four staff spend an average of $140 a day on food and drinks, but as part of the deal for being there, he receives a generous discount from the coffee house. He has worked from an office before, but now says he enjoys the coffee shop atmosphere so much he doesn't want to go back.
That's a sentiment echoed by Nathan Hague who runs his fitness software business, AustraliaWOW!, from the comfort of various coffices at home and abroad.
"Quite often I'll sit there all day from 7.45am through to 3pm," he said. "I'll always have two coffees straight up, and then eat brekky. I'll usually have a drink every two hours and get lunch too.
"I'm acutely aware of my surroundings and always sit at tables for two, or on those community tables that are hot right now. If I have to sit at a table for four I'll move at the earliest available opportunity.
"I never use power and rarely the internet in these places – usually it's awful anyway. There are a lot of software people doing the same as me, and there are good and truly bad coffices."
The coffice trend has coincided with dramatic growth in the cafes and coffee shops industry in Australia over the last five years, with around 6,700 businesses employing more than 86,000 Australians. But of course not all coffee shops will appreciate someone setting up camp there for hours on end – particularly if they're already busy.
"When I work there on the weekend I keep an eye out. If the place is getting busy I offer up my table and go for a walk," added Mr Strawczynski. "The rush periods never last for more than an hour and it's good for me to get some time out anyway.
"I believe in offering value, so I will often clear the table for staff, taking our dirty dishes over towards the sink, or somewhere handy. The staff and owners love that, because you are spending money, making the place look busy and you are no hassle."
If you're looking for quality coffee and great food to help you power through your working day, then check out our Coffee Shop Chains ratings for some inspiration.