Most Australian adults enjoy an alcoholic beverage or two during various social occasions. In fact, we seem to enjoy it a lot. According to the Australian Bureau of Statistics (ABS), there were 9.9 litres of pure alcohol available for consumption in 2012-13 for every person in Australia aged 15 years and over. The good news is that we are drinking less alcohol overall than any time in the previous 15 years!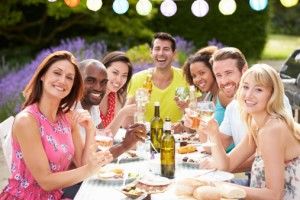 According to the ABS statistics, the consumption of beer has more than halved since its peak in the mid-1970s while wine has enjoyed increasing popularity. These findings are reflected in the Canstar Blue 2015 Online Liquor Stores survey, which found that while beer is the most enjoyed alcohol for 22% of survey respondents, red and white wine between them took 44% of the vote. Champagne (generally known as sparkling wine) garnered only 5% of the vote as most enjoyed, behind both whiskey and vodka.
Overall, the most enjoyed types of alcohol across the 702 survey respondents were as follows:
| | |
| --- | --- |
| Type of alcohol | % favourite |
| Red wine | 28% |
| Beer | 22% |
| White wine | 16% |
| Whiskey | 9% |
| Vodka | 7% |
| Champagne | 5% |
| Cider | 5% |
| Rum | 2% |
| Tequila | 1% |
| Other | 6% |
Source: www.canstarblue.com.au Online Liquor Stores survey, 2015
There was some variation in alcohol preferences between the generations, with 14% of Gen Y survey respondents nominating cider as their most enjoyed alcohol, compared to just 2% of Baby Boomers. On the other hand, Baby Boomers particularly appreciated red wine at 36% (compared to just 10% of Gen Y). Is it perhaps a taste acquired with age? White wine was far more uniform across the generations, with 14% of Gen Ys, 12% of Gen Xs and 17% of Baby Boomers nominating it as their most enjoyed alcohol.
When it comes to differentiation between the sexes, it's probably not surprising that three times as many men as women (32% and 10%) nominated beer as their most enjoyed alcohol. Women at 24% were far more likely than men (9%) to nominate white wine. Red wine, on the other hand, was fairly evenly split between men and women, at 29% and 26% respectively.
In good news for public health, the majority of both men and women and every generation stated that they only drink socially.