It hasn't been long since McDonald's dished up the McVeggie Burger and Hungry Jack's started serving its own vegan burger and breakfast muffin – and let's not forget Four n' Twenty's not-so-meaty meat-free pie. But it looks like vegans, flexitarians, and lactose-intolerant Aussies can celebrate another sweet victory as Nestlé moo-ves towards a more plant-based friendly range with Milo!
Delicious for you and for the planet – we're launching in Australia a #plantbased version of Milo, the iconic cocoa malt powder, as we continue to expand our plant-based portfolio. Get the full story here: https://t.co/I3hPXuKR19 #plantbased #vegan #flexitarian pic.twitter.com/wKPAVbZS40

— Nestlé (@Nestle) March 10, 2020
Stirring away from the controversy that some brands have received over whether their products are actually vegan-friendly, it's been confirmed that Milo Plant-Based will still have the same malt, barley and cocoa that gives the iconic drink its delicious chocolatey goodness.
"People are looking to vary their diets with more plant-based options, including to lower their environmental footprint and for health reasons," Trevor Clayton, head of the Dairy business unit at Nestlé, announced.
"We already have some great plant-based products and are now adding one of our biggest global brands with Milo. We're continuing to make good on our promise to offer consumers food that is right for them and right for the planet."
"As we know people are looking for more plant-based products, it was time to look at how Milo could evolve to offer more options that don't compromise on taste," a representative for Milo told media.
The cruelty-free option will be free from milk powder. The new Milo on the block will have less added sugars and instead contain more plant-based ingredients derived from soy and oats.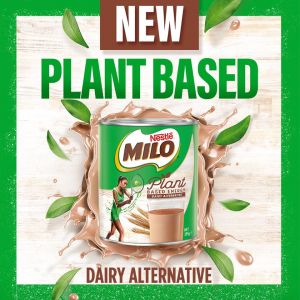 Milo Plant-Based will be available at Coles from Monday, but some social media users revealed the dairy alternative powder is already in some stores.
Word on the street is that a 395g tin of 'vegan' Milo will cost $7, which is what regular Nestle Milo and the Nestle Milo 30% Less Added Sugar retail for.
It's not the first time Nestlé has given vegans something to rejoice about, with the company having previously released a Harvest Gourmet Incredible Burger in October last year and even hinting at more plans to release plant-based alternatives.
"We believe this trend is here to stay, as consumers look at different ways to enjoy and balance their protein intake and eat more meat-free meals," Nestlé Marketing Manager Foods Tracy Hardwick said at the time.
Picture credits: Accidentallyveganaustralia / Instagram, jonnyhireath / Instagram