The next time you sit down to eat a mango, pomegranate or pineapple, take a moment to consider what could be done with the wasted skin, seeds and husk from these fruits and others like them.
That's the message from a group of researchers at the Monash University School of Chemistry who are working with the food industry and farmers to help them transform food waste into… profits.
They say your leftover fruit waste could be transformed into everyday health supplements, oils, and even cosmetics.
With more than $5.4 billion worth of food being dumped annually in Victoria alone, Monash University claims it is using an holistic approach to 'biomass valorisation' to help the food industry extract high value components such as the antioxidants, oils, pectin and protein from food disposal, including fruits, spent coffee grounds and almond ash.
This also extends to fresh produce that is disposed for not meeting the 'cosmetic standards' of supermarkets, the researchers say.
"This biomass valorisation approach looks at the entire fruit or vegetable and not just the part that is eaten or the juice extracted that currently provides the value to the grower," Professor Tony Patti said.
"The skins, seeds, kernels, leaves and off-cuts were seen as 'waste', adding to their disposal costs. These by-products are not waste, but a potential valuable resource, providing several components, identified as being of high market value.
"Monash is working with Australian growers and businesses to diversify the potential market opportunities, including expansion into the pharmaceutical, cosmetic and pet food industries.
"Using this research, food and agricultural companies can tackle costly waste challenges, improve their environmental footprint and create a sustainable business that takes full advantage of growing demand in domestic and export markets for high quality food products."
How much food is Australia wasting?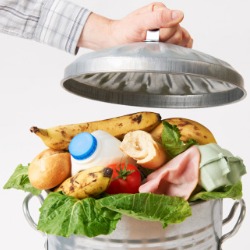 Throwing away food is unfortunately nothing new for Australians, with the Federal Government estimating that food waste costs the economy $20 billion every year, with households throwing out almost $4,000 worth of groceries annually.
If you're wondering what all that waste looks like, food waste equates to around 35% of your household bin, adding up to more than four million tonnes of landfill – the equivalent of 8,400 Olympic-sized swimming pools.
But with the promise of potentially not only saving money – but making money – by simply hanging onto your scraps, households may find a new approach to tackling food waste.