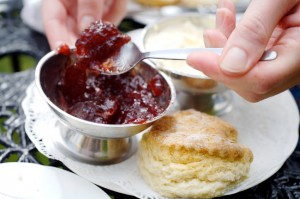 The statistics are in and it seems that Aussies are big supporters of strawberry jam. That's according to recent findings from Canstar Blue, based on a survey of 1,600 Australians. A full 42% of survey respondents nominated strawberry as their favourite flavor of jam, with raspberry jam the closest contender at 20% of respondents.
Which jam brand do we like?
When it comes to the brand of jam, Dick Smith's too out the Most Satisfied Customers award, scoring five stars for overall satisfaction, taste and packaging and four stars for variety and value for money.
Dick Smith's spreadables include orange, raspberry, apricot and, of course, the all-important strawberry. You can read more about our customer satisfaction ratings here.
Some easy ways to enjoy jam
Sure, you can spread jam on your toast for breakfast (or for a quick afternoon snack) and in fact 78% of the Canstar Blue survey respondents do just that. But there are plenty of other ways to enjoy jam, including:
If you're having people around for morning or afternoon tea, whip up some scones and apply jam and clotted cream liberally
For something new for your breakfast, put some jam on top of muesli or some porridge
Only have boring vanilla ice cream in the freezer? It will taste amazing with a thin layer of jam, overlaid with a thin layer of cream. Pop it all back in the freezer to harden it up and enjoy
Making a cake using a packet mix? Make it a little more flashy by cutting your cake in half and spreading on a middle layer of jam
Whatever your favourite type of jam is, it's never a bad idea to check the ingredients list for anything obnoxiously artificial or unhealthy sounding. You might even be tempted into trying something new and more natural.