The humble acai berry has come a long way from the branches of the acai palms in Central America, to the blenders of your local cafes. This purple berry is hailed as a superfood for its superior level of nutrients – mainly its rich levels of antioxidants which can help boost energy levels, support the immune system, and even provide anti-aging properties to the skin.
If you've heard of acai but still have no idea what it actually is, don't stress, here's what you need to know about the berry that's taking over Australian kitchens – one blender, bowl and berry-loving health nut at a time.
What is Acai?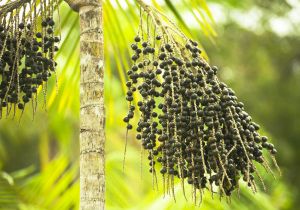 Acai refers to acai berries, which grow on a slender palm tree (pictured) and can be found in the Amazon and all throughout Central America. The palm grows in warm climates and produce the small, round blackish-purple berries which are packed together in big bunches of about 500-900 berries a bunch.
The acai berry is actually just 10% fruit, 10% pulp and 80% seed, making most of the acai berry actually inedible! Because of this, acai is most commonly consumed in the Western world as a powder or a frozen pulpy dessert and added to smoothies, opposed to eating the straight berries like we would a bunch of grapes.
Where can you buy Acai?
Acai is easily available from health food stores, and now most supermarkets will sell some kind of acai products. You can pick up packs of acai powder like Nature's Way Super Acai + Berries from Coles or these cool Organic Pure Acai Frozen Pulp Pouches from Purple Foods. Acai products are readily available and can be enjoyed in everything from protein powders to granola or the very popular smoothie packs.
What makes Acai a superfood?
Acai has been given the title of a superfood because of its super high level of antioxidants. Antioxidants can be found in many fruits and vegetables, but acai berries are said to be one of the best sources of these free-radical fighting compounds. Free radicals are toxins in the body, which can cause a host of complications, according to Better Health. Free radicals contribute to
Deterioration of the eye lens, which contributes to blindness
Inflammation of the joints (arthritis)
Damage to nerve cells in the brain, which contributes to conditions such as Parkinson's or Alzheimer's disease
Acceleration of the ageing process
Increased risk of coronary heart disease, since free radicals encourage low-density lipoprotein (LDL) cholesterol to stick to artery walls
Certain cancers, triggered by damaged cell DNA.
This is why it's important to consume foods that help fight these concerns, and antioxidants are the best way to do this! According to Mayo Clinic, acai berries may have more antioxidants than other berries: "Acai berries contain antioxidants… They may have more antioxidant content than other commonly eaten berries, such as cranberries, blueberries and strawberries."
Every day, our bodies are exposed to toxins which can cause a lot of harm by producing these free radicals. According to Victoria Health it is important to take steps to reduce the effect of free radicals in the body. One way of doing this is by enjoying acai berries. Having a diet rich in antioxidants is the first step, and introducing Acai into your regime is another possible way of preventing free radical damage.
You may also be interested in:
What are the health benefits of Acai?
Because of Acai's high level of antioxidants, these little berries boast endless health benefits. They include:
Clearer, healthier skin due to the essential fatty acids
Improved cellular health
Improved digestion
Increase in energy levels
High fibre which will aid in digestion
Supports the immune system
How to use acai
You can use acai by adding a teaspoon or two of the powdered variety into smoothies, breakfast cereals, sprinkled on top of porridge or oats or drink it straight with a glass of water. You can pick up a bottle of acai juice and sip on it through the day or freeze it for an icy treat in the warmer months.
The most common and probably on-trend way to eat acai is either using the frozen acai smoothie pouches, or ordering up an acai bowl at your local cafe. Most sell acai bowls these days, but a good way to tell is if there's a hipster or two lingering around out front, or of course, you could check the menu too. What's an acai bowl you ask? Here's the basics…
What are Acai bowls?
Acai bowls are these pretty things (pictured) and are made from pouches of blended frozen acai berries. The consistency is like a super thick smoothie, so it's easier to eat it than attempt to drink it. The bowls are decorated with healthy bits and pieces like: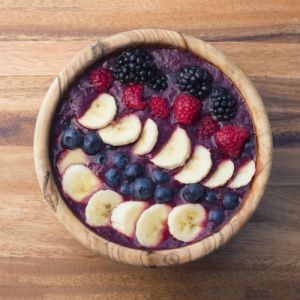 Crushed or chopped nuts
Banana slices or banana chips
Chia seeds
Flaxseeds
LSA (ground linseed, sunflower seeds and almonds)
Sliced strawberries
Blueberries
Healthy granola, muesli or oats
Coconut slices, chips or shavings
Goji berries
Cocoa nibs
Where to get the best Acai bowl?
Bare Naked Bowls – hands down absolutely amazing place for some seriously beautiful, organic and utterly delicious smoothies, bowls and treats. The acai bowls at Bare Naked Bowls are incredible. Try the Power Bowl with ingredients like organic acai, peanut butter, banana, strawberry and almond milk, or the Paleo Bowl with organic acai, avocado, raspberry, blueberries and coconut water. You can also choose from toppings like hempseeds, organic activated chocolate buckinis, raw cocoa nibs, coconut chips, goji berries, honey, almonds or blueberries – to name just a few.
What's even better about this little health-conscious cafe is that owners Josh and Ashley Porteous have partnered with The International Brothers and Sisters house, which is a charity supporting children that have been orphaned in developing nations, including Nepal, Tanzania and Cambodia. 10% of the profits from Bare Naked Bowls goes to this charity, so pop in for a beautiful bowl of goodness and spread a little love.
How to make your own Acai bowl?
An acai bowl makes the most amazing breakfast, packed with health benefits, vitamins, minerals and feel-good vibes. You can have one of these delicious bowls for breakfast every day (or lunch, or dinner!). They are super easy to make, so why not give it a go and make one at home, like this Coconut and Cocoa Acai Bowl. Just pick up some frozen acai pouches from your local health food store, supermarket or online or get ready to chop, slice and sprinkle some delicious ingredients on top!
Coconut and Cocoa Acai Bowl
Blend one pouch of frozen acai with half a fresh banana, a handful of strawberries and half a cup of coconut milk. Top with toasted coconut shavings, cocoa nibs and a few slices of fresh banana, then dust with a little more cocoa. Delicious! Check out this awesome video by Sambazon for an easy how-to on building your own acai bowl.