Amid all the talk of superfoods, there's one little berry that takes the cake in terms of popularity. You can find them covered in chocolate, bouncing around with coffee beans, or juiced in pretty bottles inside the trendiest health food cafes. You can buy them powdered on their own, or blended with other fruits, in pulpy jams, or as frozen treats. They're tiny but pack a punch of health benefits in every bite. And going by the number of fans they have, it looks like goji berries are here to stay.
So, here's the lowdown on 'the new strawberry' and a little history behind what makes the goji berry such a powerful superfood.
What are goji berries?
Goji berries are the berries that look like they've been left in the bath too long. The wrinkly flesh of the goji berry gives it a rough texture, and despite being a berry, it has a reputation for being more bitter than sweet.
The bright red colour of the goji berry makes it stand out amongst the nuts and seeds it's usually paired with at your local organic cafe. Usually found dozing on top of a chia seed muffin or hiding within a raw, oat muesli bar, the humble goji berry is full of flavour with health benefits in every bite. Although the goji berry has been around for generations, it's only recently hit the western world, and in the short time that it has, the goji berry has been enjoying the spotlight, rising to berry fame pretty quickly.
Hailed as a superfood, the goji berry originates from north-west China and has been linked to better athletic performance, improved sleep, weight loss, and even promoting feelings of calmness within the body. But is this famous little berry worthy of all the fuss?
You may also be interested in:
What are the health benefits of goji berries?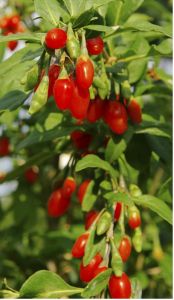 The health benefits of goji berries are pretty impressive – so impressive in fact that it's going to require a mini-breakdown of exactly what's inside. Let's start with amino acids. In a study on goji berries by the Journal of Agroalimentary Processes and Technologies, it was found that this little red berry contains 19 amino acids, which are required by the body to build protein.
Our bodies make some amino acids themselves, but there are others we require that are only available from food sources. Goji berries contain eight of these amino acids that are essential for life. According to this study, goji berries also contain:
A varied range of antioxidants
Rich in vitamin C (more than oranges)
B Vitamins – essential for energy levels and athletic performance
Vitamin E
Anti – inflammatory properties
Fatty acids – essential for brain functioning and nervous system
Goji berries also contain betaine, which is an amino acid commonly found in plants. It is used by the liver to produce choline "a compound that calms nervousness, enhances memory, promotes muscle growth and protects against fatty liver disease".
Where do goji berries come from?
Goji berries have been used for centuries in Tibet, Mongolia and China, for both food and medical purposes. They can grow in a variety of climates on shrubs or vines, or even in a plastic container! Yep, you can grow goji berries yourself! Check out this cool blog by Garden Harvest Supply to learn how.
Are there any side-effects to eating goji berries?
There has been some talk about goji berries interacting with certain medications for high blood pressure and diabetes. It's also a good idea to remember that goji berries are a dried fruit, which means they are high in fibre and could have a laxative effect if you eat too many. Although this little berry does have many amazing health benefits, the hype hasn't impressed everyone. Some authorities like the U.S Food and Drug Administration are currently investigating goji berries due to claims the berry can help cure cancer.
How to incorporate goji berries into your diet
Goji berries were once only available from health food stores or online, but now you can find goji berries alongside a plethora of goji berry products from your local supermarket. They are available in packets in the natural state of the dried berry, or as a juice like this one from Coles. You can sprinkle them in cereal, add to baked goods, or try some on top of pancakes or in a low sugar yogurt.
Homemade Goji Berry & Banana Breakfast Bread
If you'd like to start incorporating a few healthy handfuls of goji berries into your regular diet, why not try this amazing recipe for a quick and easy Goji Berry & Banana Breakfast Bread? Although the taste of the berries alone might be an acquired one for some, this recipe has just a subtle taste of the berries, while still getting all of the nutritional benefits. You can make a loaf on the weekend and grab a slice or two for breakfast on your way out the door.
Got a little more time? Why not try it topped with mashed banana and cinnamon, or a tablespoon of peanut butter and sliced banana. You could even chop up a few walnuts and sprinkle them on top for a little extra crunch and a boost of vitamin E, folate and omega 3 fatty-acid.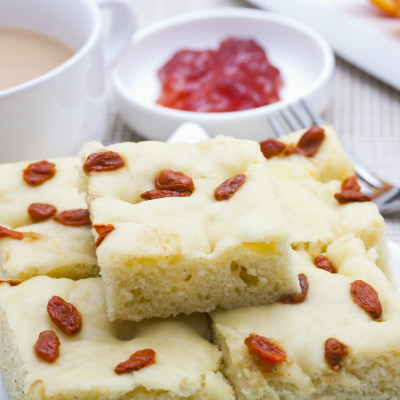 Ingredients
1/2 cup Gluten-free oats
1 cup Almond meal
1 cup almond flour
2 very ripe mashed banana
2 teaspoons baking powder
3 Tbs goji berries
1 Tbs flaxseeds
3 teaspoons coconut sugar
3 eggs
¾ cup coconut milk
Method
Combine all dry ingredients into a bowl, ensuring the bananas are mashed up as much as possible! Whisk eggs and add them to the mixture then slowly pour in coconut milk and stir. Add more coconut milk or water if needed until mixture is of the same consistency as a cake mix. Pour into a lightly greased loaf tray and bake in the oven for 45 minutes or until loaf is golden brown on top. Let cool for 10 minutes in pan and then transfer over to a wire rack to cool further or serve warm.
Want to make it a healthy dessert? Chop the loaf into cubes and serve warm with coconut ice-cream like these dairy and gluten free options from Cocofrio or one of these luscious organic flavours from Zebra Dream. You can pair flavours like salted caramel or mint chocolate chip alongside a sprinkling of fresh goji berries and chopped hazelnuts, or try this delicious Goi Berry Citrus High 'C' Smoothie from the hilariously entertaining superfood expert himself, Jason Wrobel.
Want to know more?
If you'd like to find out more about how to incorporate goji berries into your diet, then check out the following resources for more inspiration!
The Superfoods Cookbook – a fantastic source of superfood inspiration with over 80 amazing recipes combining cool flavours like Coconut Curry and Tuscan Style Kale Soup.
Goji Berries: The Ultimate Recipe Guide – with over 30 original recipes like Goji Berry Energy Bars, Goji Berry and Wild Rice Salad, Goji Berry Ice-cream with Coconut and Chocolate, and even a Vodka martini infused with goji berries!
Goji Berry Salad Dressing – this is a quick and simple video with an easy goji berry salad dressing using soaked goji berries. You can use this dressing over salads or as a dip with fruit and vege sticks!