It's the dark green algae that's become one of the richest sources of nutrients in the world, but spirulina isn't just your average pond scum!
For centuries, spirulina has been sourced and loved by civilizations across the world for its endless health benefits. Some of these include high levels of antioxidants, protein, B vitamins and minerals like calcium, iron and magnesium, just to name a few. It's perfect for athletes who need to replenish their bodies or teenagers who are growing rapidly. Read on to discover more about the superfood that's come from the bottom of the pond to the top of the list as one of nature's most incredible food sources.
What is spirulina?
Spirulina is a superfood because it contains high levels of nutrients (over 100!) in such a small serve. In fact, a single serve of spirulina powder is as small as half a teaspoon and can be easily consumed by mixing with a glass of water.
Specifically, spirulina is algae that is made up of vegetable proteins and a diverse range of multivitamins like Vitamin B 12 and minerals including phosphorus, calcium, iron and potassium. Spirulina promotes healthy skin and supports the immune system because it contains very high levels of Beta-carotene. Beta-carotene is a pigment found in some plants, fruits and vegetables and is used by the body to make Vitamin A, which is necessary for healthy skin and eye protection.
Other nutrients in high quantities found in spirulina include:
Folic acid – essential for producing new red blood cells in the body
Inositol – helps to keep the liver healthy
Thiamine – stabilises blood glucose level in the body
Carotenoids – carotenoids act as a protector to the body's cells against toxins and free radicals
Contains all of the eight essential amino acids
Contains high levels of leucine – helps to increase muscular energy levels
High levels of chlorophyll – used by the body to aid heart muscles and boost immunity
What is spirulina made of?
Spirulina is a nutrient dense, micro salt water algae plant. According to Australian Spirulina, this dark green plant is "often described as the most complete food source in the world". Spirulina is such an incredible food source that it is actually being used by The American National Aeronautical and Space Agency as part of its astronaut's diet plans! In fact, science has determined that "spirulina was actually responsible for producing much of the oxygen on the planet that allowed the earliest organisms to develop".
Spirulina is not a medicine but its endless health benefits make it a great way to avoid nutrient deficiencies in your diet and ensure you are getting all the good stuff in!
Why are we drinking this green stuff?!
Spirulina has become popular in recent years because it really is an amazing source of natural supplementation to almost every diet. A few more of the amazing benefits of spirulina include
High protein levels
High levels of calcium
Aids digestion
Supports healthy immune function
Detoxifies heavy metals
Some studies have shown that consuming spirulina as part of a healthy diet can also have a positive impact on improving the symptoms of HIV/AIDS. The algae superfood has even been shown to reduce the risk of cancer. According to this report by the University of Maryland Medical Centre "a number of animal and test tube studies suggest that spirulina increases production of antibodies, infection-fighting proteins, and other cells that improve immunity and help ward off infection and chronic illnesses such as cancer."
The report also explored the results of a placebo-controlled study, where one group of people who chewed tobacco and also took spirulina "seemed to reduce a precancerous lesion known as leukoplasia". The Lesions were shown to be more likely reduced or "to go away in the spirulina group, than in the placebo group". However, there is more research that needs to be conducted in this area.
You may also be interested in:
What are the side effects of eating spirulina?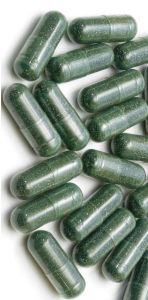 There are some things that need to be considered before purchasing and consuming a spirulina product. Due to the fact that spirulina acts like a sponge in its natural habitat, it absorbs toxins within its natural environment which can then be transferred to the consumer. According to Australian Spirulina "If the water contains any heavy metal which will accumulate in the growing system, then Spirulina will absorb it. Water pollution is a big issue as even the water pumped from the sea or surface can contain certain amounts of possible pollutants which will eventually accumulate in Spirulina".
For this reason, some brands recommend the product not be consumed by pregnant women or small children.
How to use spirulina
Spirulina comes in powder, tablets or liquid, and can easily be taken with water once or twice a day. You can include a serve or two in smoothies, protein shakes or muffins. Check out these brands for natural spirulina products"
Cacao, Spirulina and Banana Muffins
These are the go-to muffins for any occasion when you want a lusciously scrumptious treat without the guilt. So why not make it a superfood infused treat at the same time? Check out these amazing muffins with all the benefits of spirulina, fibre, protein and a stack of vitamins and minerals to help you feeling good all day long. This recipe serves 12:
Ingredients
1 cup coconut flour
1⁄2 cup cacao powder
2 ripe mashed bananas
1⁄2 teaspoon bicarb soda
½ cup maple syrup
1⁄2 cup extra-virgin coconut oil, melted
5 organic eggs
2 teaspoons spirulina
Icing
100g butter
1/2 cups coconut sugar
1⁄4 coconut milk
2 tbs cocoa
1⁄4 cup organic desiccated coconut (for decorating)
Method
Preheat oven to 180°C.  In a large bowl combine all dry ingredients and then add in the eggs and coconut oil. Stir well until combined then pour muffin mixture evenly into a greased cupcake tray. Bake for 10-15 minutes or until a skewer comes out clean. Cool for a few minutes in the tray then move to a wire rack to cool completely. While this is cooling, it's time to make the icing!
Start by grinding the coconut sugar in a food processor until it is of the consistency of a fine powder. Using an electric mixer, cream the butter in a large bowl then slowly add the powdered coconut sugar while beating. Add the coconut milk and cacao and continue beating until well-combined. Spread icing over the muffins and decorate with desiccated coconut! Yummy!
Spirulina Superfood Smoothie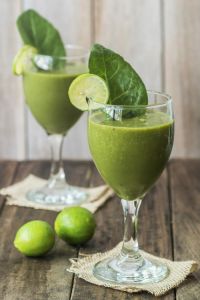 Perfect for any time of day, a superfood smoothie starring the amazing spirulina will perk up your mood, improve your digestion and give you a massive boost of energy. It's also a much healthier choice than a calorie and sugar rich snack bar. Check out this super tasty recipe for a spirulina superfood smoothie like no other. You can also mix it up by adding ice and making a smoothie bowl, or adding a few more greens like avocado to make it a super smooth ice-creamy consistency!
Ingredients
1 cup almond, coconut or cow's milk
1 frozen banana
1 tbs LSA (linseed, sunflower seed, almond seeds)
½ cup frozen berries
1 teaspoon maple syrup
1 teaspoon spirulina
1 handful fresh spinach
Blend all ingredients in a blender or food processor. You can top this delicious smoothie with more superfood sweetness, like cocoa nibs, goji berries or chia seeds.