If you thought the supermarket price war was over – well, think again. Woolworths is holding a one-day only super-sale in its freezer aisles, with selected products cut to HALF-PRICE! But there is a catch…
The Fresh (or should that be Frozen) Food People will be holding the sale from 12am until 11.59pm on Thursday (14 March). The only thing is, you won't be able to bag the bargains in-store.
The sale is only open to online shoppers, and if you're thinking about filling up your virtual cart to take advantage of the sale, you'll have to make sure you do so within the designated timeframe. So, customers must complete their orders and pay for their goods between the hours of the sale for the discounts to apply.
The offer is available for both delivery and in-store collections, Australia-wide.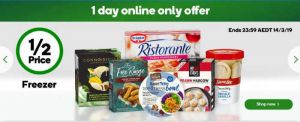 The big frozen food sale includes many big-name brands, but excludes any Woolworths branded, Low Price Always and Prices Dropped products. It has also been reported that shoppers are only permitted to purchase "max 30 items" during the sale.
Word of the savings spread through social media pages before Woolworths had officially confirmed the sale. Some Facebook users had even filled their online shopping carts in preparation for the sale to begin.
Sale items include frozen meals (including pizzas), frozen vegetables and ice creams.

Woolworths to launch MASSIVE half price sale on items from the freezer section for just 24 hours https://t.co/aSzH8VF2CE

— Daily Mail Australia (@DailyMailAU) March 13, 2019
Woolworths 50% off freezer items sale is happening RIGHT NOW!

More details here >> https://t.co/N4jBLoGWGu pic.twitter.com/deaMJqNT3e

— KIIS 1065 (@KIIS1065) March 13, 2019
#Woolworths has an entire aisle for sale at half price – The 50 per cent off sale is only available #today so you have to get in quick. >>> https://t.co/S0Vw61PgBV pic.twitter.com/03eVbyj1vX

— Kidspot (@KidspotSocial) March 13, 2019